Elly Jackson rose to popularity as the lead singer-songwriter for the English synth-pop band, La Roux. Elly formed la Roux with producer/keyboardist Ben Langmaid in 2006. The combination of the splendid duo, Elly and Ben, made it big in the industry within a short time.
The first ever single La Roux released was Quicksand in December 2008. Then, they released their next single, In For the Kill in March 2009. In For the Kill was a big hit and gained the duo more considerable value of recognition and a greater audience.
It was then when the band decided to release their self-named debut album, "La Roux" in June 2009. The album peaked the chart of the best album and was certified with Platinum from British Phonographic Industry.
The turning point was after Ben decided to leave the band. It was a harsh time for Elly as she professionally began her career in music from La Roux itself. However, she didn't give her guts up and released their second album in July 2014. Many songs from the album were chartbusters in the time.
Although Elly has time and again mentioned that she doesn't get her actual due for the greater hit of her songs, the fact that she has marked some of the greatest ones already makes one believe the fact that she has already garnered a massive amount of net worth.
You May Also Like: Karen Fairchild Bio, Husband, Divorce, Married, Net Worth, Height, Family
As of now, it seems like Elly is up for a huge comeback again. In the name La Roux, Elly has provided the vocals for many other songs but has not released her own single.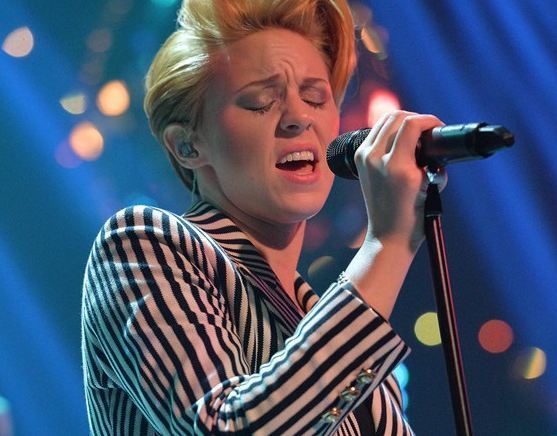 Elly Jackson performs during her Brazil concert in January 2015 (Photo: rollingstone.uol.com.br)
Hopefully, the lady soon makes it big again with her further comeback.
Elly Jackson's Bio: Age, Real Life
The popular singer-songwriter, Elly Jackson, is 31 years of age. The London, England born pop singer is the daughter of the TV actors, Trudie Goodwin and Kit Jackson. 
Though all of Elly's family has been a part of show-biz life, they've all always tried to put their personal life details in shadow. Thus, the Jackson family has not opened much about their actual ethnicity and family background. 
When it comes to the life of Elly, at a very young age, the lady went through some callous times that helped her to come back stronger. Despite her set family fame, Elly entered the show-biz industry with a unique identity of her own. 
Ever since an early age, Elly knew what she wanted to take up as a career. Thus, she entered the music sector with a lot of passion within herself and undoubtedly, achieved heights very early in her career. 
However, Elly's real life was not as cool as her looks and music. Despite her early success, Elly went through a lot of anxiety and emotional fall down in her life after her split with her songwriting partner. This led her to take many years of leap in her career. 
See Also: Aubrey Joseph Wiki, Bio, Age, Birthday, Height, Parents, Family, TV Shows
Nevertheless, what is more important, is how you deal with your hard times and find that one reason that leads you to the place where you've always wanted to be. 
For Elly, it was music. Thus, her passion led her to make a successful comeback in the musical field and stand as an inspiration to many. 
Elly Jackson Dating Girlfriend, Gay?
There have been many rumors about Elly being gay. But, the lady has cleared out to the public that she is neither gay nor lesbian, and not even a bisexual.
Elly has confirmed to her fans and followers that, she has no sexuality and doesn't feel like "a male or a female." Moreover, Elly has said that she doesn't want people to put a label to her sexuality.
To add to that, Elly has never specified her sexual preferance on whether she likes dating a girlfriend or a boyfriend.
From what she has spoken on her sexuality and sexual preferences, it can be assured that Elly is androgynous. Not only has she been open on her sexuality but also very positive towards how people have taken it. 
When it comes to the singer's relationship status, there has never been any reports of Elly's affair with anyone. The only person Elly has been linked with from the industry is her former La Roux project mate, record producer Ben Langmaid.
Know More: Matthew Moy Wife, Gay, Net Worth, Family
No reports confirmed Elly and Ben's dating rumors. However, after their split, Elly later revealed that there were personal issues and fundamental differences that happened to break their creative partnership.