"Everybody was excited, I was excited, my girlfriend was excited... it was just a moment man!" were the words of the Guinness World Record holder, Zion Clark, who smashed the record of fastest 20m walking on hands. 
It might surprise you that he has lived all his life without legs and a significant part of his spine. Nevertheless, Zion has beaten incredible odds to become a Guinness Record holder, which is truly inspiring. 
His journey towards the top was not very lonely as he always had incredible support from his adoptive mother and soon-to-be-wife. 
Who Is Zion Clark's Wife? 
Zion is not a married man, but he is in a serious relationship with his girlfriend, who goes by the name Bodacious Tei Tei. Tei describes herself as a fashion model and content creator. 
According to her 'Gram, the couple started dating on January 4, 2021. Ever since then, she has shared plenty of pictures with Zion. 
Zion has absolutely No Excuses not to love his partner, who has been his backbone for a long time now. 
Over the last two years, Zion has been staying on and off in San Diego for work. Six months ago, he moved to Pacific Beach with his wife-to-be, and the couple recently relocated to Little Italy. Zion, while laughing, said, 
"I just love the weather in San Diego. It's not too hot, not too cold — good weather year-round. I'm not pushing my wheelchair through snow anymore," 
Sharing the news, Tei posted a series of pictures on her 'Gram to announce the two getting an apartment in San Diego.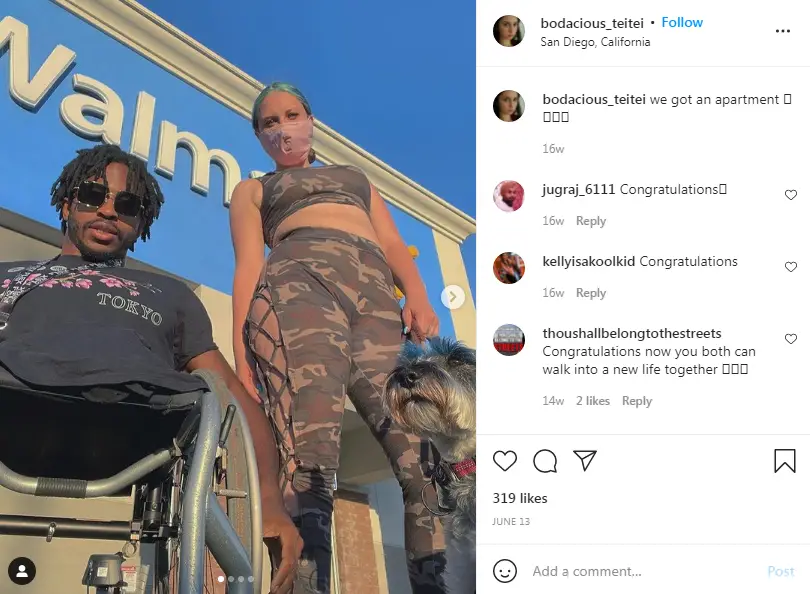 Zion Clark and Bodacious Tei Tei Announcement Of Their Apartment (Source: Instagram)
 He is currently living a lavish lifestyle, and none of these things would have been possible without Zion's hard work and struggles.
You  might be interested in: Is Kacy Catanzaro Married? Relationship Status: Husband, Boyfriend & More
Zion's Net Worth
Apart from Zion's athletic career, he has also featured as an actor for his short documentary, based on his life entitled Zion. The documentary is available on Netflix. 
(Zion Clark's Documentary Official Trailer on Netflix)
Besides, he is the winner of two Sports Emmy's and not only that, but he was also nominated for Short Film Grand Jury Prize at the Sundance Film Festival. 
Clark has also made appearances in talk shows and interviews with famous media outlets like ESPN and others. Zion is also an author and a motivational speaker. 
Zion's book "Zion Unmatched" is written by Zion and James S. Hirsch, which tells the amazing story of himself in inspiring words and photographs showcasing his journey. 
(Book Trailer of Zion Unmatched Released by Candlewick Press)
Looking at his achievements, Zion's net worth can be estimated to be between $1million and $5 million. 
The journey from getting bullied to being one of the most inspiring athletes was not easy for Zion, as he had to face many more obstacles than a normal human being. However, he channeled all the negative energy to work on his body, and the rest is history. 
Find More: Alex Anderson Bio, Married, Net Worth
More About Zion Clark
Zion was born on September 29, 1997, in Columbus, Ohio.  Due to his condition (Caudal Regression Syndrome) and his birth mother's inability to take care of him, Zion was sent to the foster care system. 
Zion changed homes and a lot of families for 16 years of his life.  
Even though Zion's family abandoned him, he still kept moving forward with sheer motivation and positivity. He finally found a loving home after Kimberlli Hawkins adopted him. 
The mother-son duo even appeared in The Ellen Show, where Clark gave details about his foster life and how the two finally met and bonded. 
Currently, at 24 years of age, Zion has tremendous upper body strength making him one of the inspiring athletes.