The Remington Steele actress Stephanie Zimbalist is well remembered for her astonishing portrayals on screens, but she is barely remembered for her relationship gossip.
One might wonder why she has not been married yet, but she has a different take on having a partner.
Stephanie's Thought On Relationship
"This town is full of terrific women, but where are all the good men?"
The actress dropped an intriguing question during her interview back in 1984 at the age of 27. 
Coming from a woman of that age, the question indeed makes us think she has had her share of disappointment in finding a suitable partner. 
Dwelling further on the same thought, she curiously asked where one could find what she was looking for. 
She added, 
Women still pretty much wait to see who's going to come and sign their dance cards. If I see an interesting man, I sit and wonder if he's going to approach me. If he doesn't, I think, Oh, well, that was that. We've been trained that way. 
Describing her dissatisfaction, she further said, 
I know so many women in this town who are just terrific, and they're still single. Still waiting. And I'm talking about intelligent, warm, funny, caring, talented, affectionate women. I know hardly any single men like that.
Besides, Stephanie barely had any time to haunt the mister right, given her tight schedule from dusk to dawn. So she instead focused on herself and let the right guy come along.  
Did She Have A Partner?
Well, the 'almost' right guy for her did come along after years of waiting patiently. 
Her relationship with Peter Medak, a film director, became a hot topic after it hit the tabloids.
The film director had just separated from his then-wife and had begun dating Stephanie, who was 47 at the time. 
Later the pair parted their ways on a friendly note, and ever since the separation, the actress has not been linked with anyone who could turn into her husband.
But, despite a big halt in her love life, her professional life kept excelling with back-to-back films and TV series. 
What Is Her Net Worth Now? 
As a result of her successful career of several decades, the actress has amassed a wealth of 3 million dollars, as a source confirms.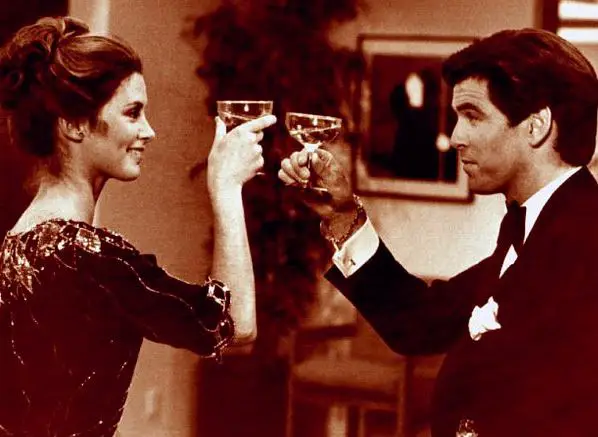 Stephanie Zimbalist with co-actor Pierce Brosnan in a scene from Remington Steele (Source: Facebook)
Beginning her acting career in 1977, the actress has been in dozens of films and series, out of which her most notable ones are Remington Steele, Centennial, The Awakening, and so on.
But, the 64-years-old took a break from her long-running career in 2008 after doing the film The Delivery. However, she made her comeback in 2015 with Hamlet's Ghost. 
After her reasonably recent release, A Timeless Love, the actress is currently busy with her upcoming film Lucky Louie, directed by Daniel Roebuck and Grace Roebuck.