6x NBA All-Star Shawn "Reign Man" Kemp has a pretty fun story for his grandkids. Whether it's about his incredible NBA journey or his several relationships, his stories will definitely be pretty interesting to listen to.
When NBA viewers learned about Shawn, they were more eager to know about his personal life as Shawn is known for having more than enough wives. But even after having multiple wives, he always talked about his first wife during his interviews. 
Who Is Shawn Kemp's First Wife?
Born on February 19, 1967, Marvena L. Kemp is the first wife of Shawn. The couple got married on July 4, 2001, and were blessed with three children.
His oldest son, Shawn Kemp Jr., is a senior basketball player at the University of Washington, and his other son, Jamon, plays at Southeastern Louisana University. 
Shawn was known as the notorious womanizer by the critiques for his irresponsible marriages as he is the father of 7 children from 6 different marriages. 
Even though he had different wives, his wife Marvena forgave the NBA star and supported him during difficult times, which is why he can be seen talking about his first wife the most. 
Learn About a WNBA Player: Reliving the Moments Before Retirement: WNBA's Swin Cash, Married in 2015 with Longtime Boyfriend. Husband?
As Shawn's accolades are well known, his wife Marvena's are not so less. Marvena has over two decades of basketball experience at all levels, particularly in the area of event hosting. 
Shawn's wife, Marvena, was a co-director alongside Cliff Brown of the NCAA-sanctioned Northwest College Summer League, the only of its kind in the west. She has also organized several pro-am basketball tournaments.
Further, Marvena is the Founder & Director of the Marvin Thomas Foundation, which is committed to impacting the lives of youth in the Seattle area. This foundation is named after her father, Marvin Thomas. He is described as:
"From humble beginnings as a child in rural Mississippi, Marvin Thomas set an example of living generously and setting a foundation of hard work, athletics, and joyful giving that stays with us today even over 20 years after his passing."
Shawn Kemp's Controversial Life
Shawn being a womanizer was not the only thing he was criticized for. He had other controversies revolving around him as well.
His first controversy ignited when he was caught stealing a gold chain from his teammate, allegedly the son of his own coach. 
Likewise, his career-damaging controversy came out when he was arrested for possessing drugs (a small amount of cocaine, about 60 grams of marijuana) and a semi-automatic pistol in 2006. The King County Sheriff's Office released a statement saying the arrest took place around 1 a.m in Shoreline, a suburb north of Seattle. 
The same year, police arrested him for misdemeanor marijuana possession in Houston, Texas, according to ESPN.
The persona he made while playing his heart out was almost destroyed when people found him not paying child support to his seven children from his six different wives.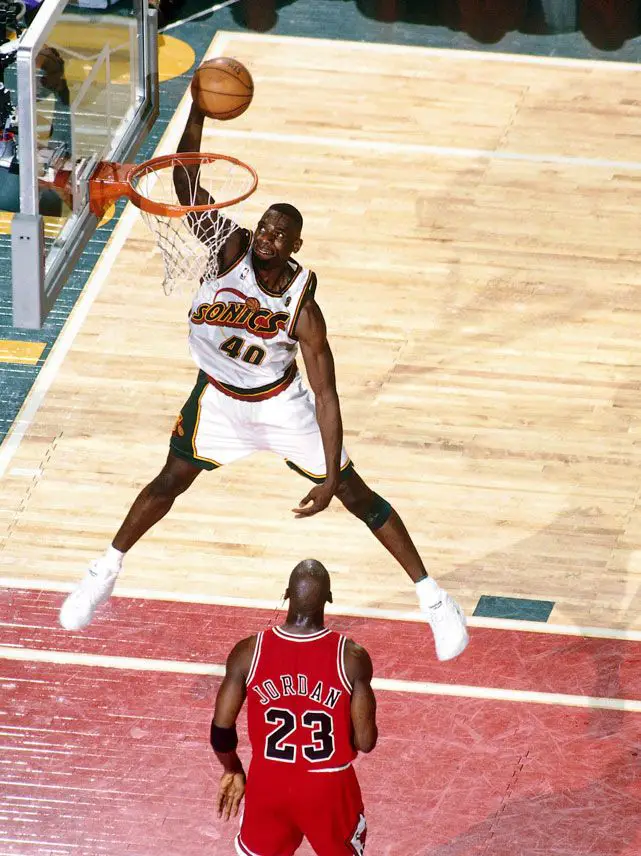 Shawn Kemp Dunking Infront of Micheal Jordan (Source- Pinterest)
Kemp had the potential to become an all-time great as he was compared to Michael Jordan at the age of 19, but his several controversies over the years put him down from what he was recognized for in the past. 
Learn More About Another NBA's Legend: Tim Duncan's Remarkable Journey To San Antonio Spurs With Challenges And Opportunities:-Inspirational Lesson
Where Is Shawn Kemp Today? 
Shawn Kemp was born on November 26, 26, 1969, in Elkhart, Indiana.
His mother's name is Barbara Kemp, whereas his father's name or details are not specified.
He attended Concord High School, where he got a scholarship due to his excellent hooping skills. 
He later went to the University of Kentucky but was later removed by the college due to low grades, which led him to join Trinity Valley College to complete his graduation.
Further, Kemp was a proficient player with exceptional hopping skills. He gained popularity in the world of basketball when he and the Seattle Supersonics made it to the NBA finals in 1995-96, where they lost to the legend Michael Jordan's team Chicago Bulls.
Currently, he is living a happy and retired life in Seattle now.