American basketball player Sam Cassell has made a name for himself, garnering an impressive net worth, as a proficient basketball player with three championship wins throughout his career.
But as much as he is known for his basketball achievements, he is also known for his romantic involvements, which surfaced in the media despite trying to keep it low-key.
Ever since his divorce from his first wife, Tonya Cassell, the basketball player has been in a few relationships but has he tied the knot yet?
Is Sam Cassell Married?
The three-time NBA champion and assistant coach of Philadelphia 76ers, who tied the knot with Tonya Cassell several years ago, is yet to remarry.
Although Sam doesn't fancy keeping his love life in the limelight, later, the news of his separation from Tonya somehow stirred the media.
As his former wife is not as well known as Sam, she stepped out of the public attention, keeping her whereabouts unknown since her separation from the Philadelphia coach.
On the other hand, since the divorce, Sam has been tagged with different partners for his romantic involvement.
His Relationship History
In 2006, the former basketball player reportedly dated Amanda Lewis, a renowned TV personality and social activist.
Both being famous personalities, they instantly gained attention for their newfound relationship and were even spotted together in a restaurant on a dinner date in L.A.
However, the relationship was short-lived, and the two split after being together for almost a year.
Sam stirred the media once again with his alleged relationship with Anitra Griffin shortly after his breakup.
But as sources report, his relationship with Anitra also seemed to be short-lived.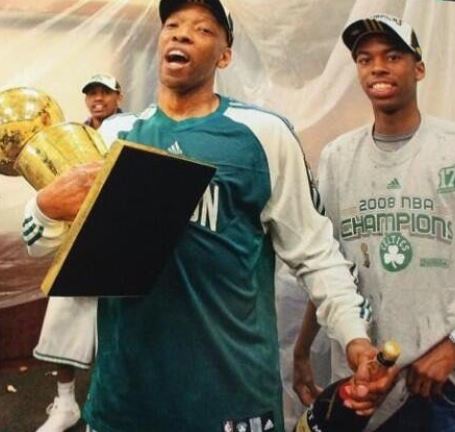 Sam Cassell celebrating his championship win with his son (Source: Instagram)
Though Sam has never gone public with his romantic relationship, he is a proud father to his son Sam Cassell Jr., who followed his father's career path as a basketball player.
Interestingly, the Philadelphia coach's silence regarding his son's mother has kept people in a dilemma, having them speculate the mysterious mother could be his first wife, Tonya.
Sam Cassell Controversy
Even before his relationship rumors, the NBA champion had his way into tabloid headlines when he was found alleged for an assault against an exotic male dancer, Adrian Cimpean, in 2003.
As CBC Sports reported, Sam, accompanied by other NBA players Gary Payton and Jason Caffey, was involved in a physical assault against Cimpean, which escalated after verbal abuse.
The incident which occured in a Toronto strip club remained headlines for some time, but the players were off the hook due to the inconsistency of the alleged victim's testimony.
What Is His Net Worth?
Regardless of his controversial relationships and scandal, the career achievement of the former basketball player is the highlight of his life.
Having played for eight NBA teams throughout his basketball career since 1993 when he was first drafted by Houston Rockets, Sam has won three championship rings, twice with Houston Rockets and once while playing for Boston Celtics.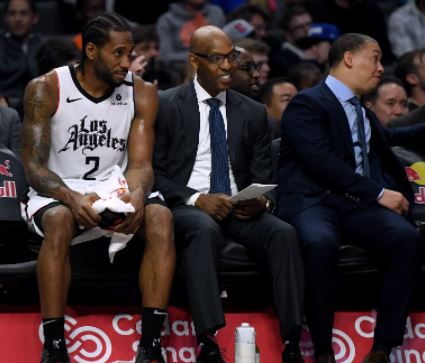 Sam sitting court-side besides Kawhi Leonardanalyzing the gameplay as an assistant coach (Source: Heavy)
Given his astonishing career, he has amassed a net worth of 23 million dollars and leads a luxurious lifestyle.
In 2016, the ex-NBA player listed his 11 thousand square foot Fresno mansion for 3.1 million dollars.
Besides, since his retirement as a basketball player, Sam took on the role of an assistant coach for the Philadelphia 76ers.