The American model Rikkie Leigh Robertson ties the knot again after years of separation from her former husband, A.B. Quintanilla.
Who Is Rikkie Leigh Robertson Married To? 
After almost four years of divorce with A.B. Quintanilla, Rikkie shared vows with David Gonzalez in February 2021. 
Sharing her big day with her followers, she took to Instagram to flaunt her wedding picture with her husband on February 24, 2021. 
Rikkie looked flawless in her scoop down strapless white dress, which perfectly complemented her physique with its column silhouette design, while David looked well-groomed in his dark blue suit paired with a black bowtie.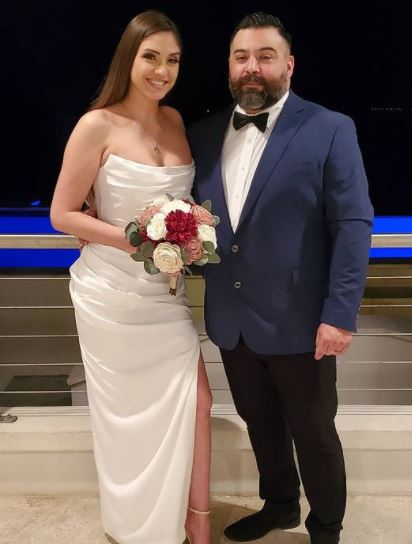 Rikkie Leigh Robertson and her husband, David Gonzalez, from their wedding day (Source: Instagram)
The happy bride paired the wedding picture with a caption saying, 
"The greatest anniversary gift we could have ever had! February 23. 3years together, 1 day married"
However, Rikkie had already given out the news of becoming a bride soon when she shared a picture with a beautiful engagement ring on her ring finger on July 19, 2020. 
Rikkie's Life Before Getting Married To David? 
As Rikkie had gone off the radar since her divorce from the musician Quintanilla, she came up with a half an hour-long video on her YouTube channel on January 20, 2019, where she discussed her post-divorce update and meeting her husband, David. 
Having gone through an ugly divorce in May 2016, Rikkie was left heartbroken. 
She immediately jumped into another relationship right after her divorce, trying to find solace for her broken heart. 
Rikkie Leigh Robertson talks about her relationship update after her divorce with former husband, A.B. Quintanilla (Source: YouTube)
But, as she said, the relationship turned out to be a terrible idea for her. She mentioned being in a year-long relationship with a guy and described it as horrible. In her words, 
"That [relationship] went from kinda taking my mind off of things, then being a year-long relationship.But that relationship was just horrible, terrible, a bad idea...I regret this relationship."
She explained how he would constantly nitpick her with his false judgments. 
Having had enough with that relationship, she broke up with him and took her time before moving onto the next one. 
Found A Perfect Partner 
In the YouTube video, she talked about how she would always find herself involved in a relationship as soon as she had separated from her previous partner. 
However, this time she did not rush into another relationship, and after several months of breakup, she found her now-boyfriend, David Gonzalez. 
She met David through the mutual connections of her ex-husband, Quintanilla. The pair already knew each other before Rikkie separated from her ex-husband, but they never talked in person. 
The first time David approached Rikkie was through an Instagram message in 2017. 
A few months later, the pair began dating, and the rest is history. 
Further, into the video, she explained that everything felt perfect with David, unlike any relationships she had been in the past. She further said, 
"I can be myself a hundred percent with him, and he is so supportive of everything that I do as far as my modeling goes, as far as the YouTube channel goes. He has my back a hundred percent...I have never felt his type of love for somebody, and I have never felt this love from somebody."
Currently, the happily married pair reside together in Texas. Rikkie, age 33, works as a receptionist at a law firm while her boyfriend, David, is a photographer. 
Rikkie's Failed Marriage With A.B. Quintanilla
Rikkie grabbed public attention after her relationship with the record producer Quintanilla. 
Rikkie Leigh Robertson on her YouTube video with her former husband, A.B. Quintanilla (Source: YouTube)
Rikkie and Quintanilla tied the knot on November 12, 2011. After over five years of relationship, they separated in 2016. 
They did not have children together, but the musician was a father of eight children from his previous relationships. 
Rikkie still has several of her past videos with Quintanilla on her YouTube channel that gives us glimpses of her relationship before she divorced him.