Patty and Mike and Molly actor Billy Gardell have been cherishing their married life for almost two decades now and to her husband, his son is the greatest gift Patty has given him.
Patty Gardell's Happy Married Life
Having tied the knot in 2001, Patty and her husband welcomed their son, William Gardell, in 2003. The happy family of three share a tight-knitted bond about which Billy often mentions in his interviews.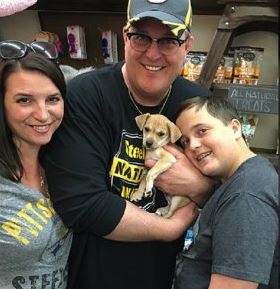 Patty Gardell with her husband, Billy Gardell, and her son, William Gardell (Source: biogossipy)
Speaking to USA Today, the comedian once talked about getting retired by the time his son reached the age of 15 in order to be a doting father who could spend more time with his son. In his words,
"Being a dad is my favorite job. My favorite thing is hanging out with my son. I'm hoping to be done with all of this by the time he's 15 or 16 so I can follow him around like that crazy dad who's a fan of everything his kid does."
Although Patty and Billy do not share much of their family moments on social handles, they are often spotted together attending public events flaunting their adorable chemistry.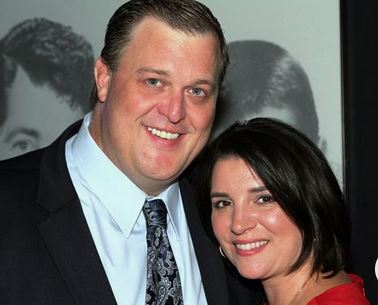 Patty Gardell attaining a public event with her husband Billy Gardell (Source: Pinterest)
The duo was once pictured together in the red carpet event for the premiere of the film Tammy in 2014.
On a similar event, they were seen paired up for a snap at the red carpet event of the 2016 CMT Music Awards. Both posed for the camera, standing side by side with bright smiles on their faces.
Though it is hard to get a glimpse of the long-time married couple on a regular basis, their chemistry never fails to shine whenever they appear together. 
Who Is Patty's Husband Gardell? 
Patty's husband, Billy Gardell, age 52, is a well-established American actor and stand-up comedian who has been in the entertainment industry since 2000.
Mostly known for the American television sitcom Mike & Molly, the actor has garnered significant recognition for his brilliant portrayal.
Besides, some of his most notable works include, Yes, Dear, My Name Is Earl, Ice Age: A Mammoth Christmas, Sullivan & Son, and so on.
The celebrated comedian has garnered a net worth of 8 million dollars through his successful career.
Although Billy had a flourishing career, he always struggled with being overweight his whole life.
Patty's Support In Her Husband's Weight Loss Journey
Patty has been upfront supporting her husband in every phase of his life. Being there at the humble beginning of his career, now Patty is all up for helping her husband towards a healthy lifestyle. 
Although Billy seems to be the perfect cast for Mike & Molly given his talent and partly his physique, the actor always desired to lose weight and turn to a healthy lifestyle.
Billy, sharing his experience of difficulties due to being overweight, said, "I feel like my whole life has been quitting things," while talking with Wicked Local Cambridge.
He shared how his habit of drinking and smoking had largely contributed to his health issues. But, determined to get his health back on track, Billy quit smoking and drinking several years ago.
Patty Gardell's husband, Billy Gardell, sharing his journey as a type 2 diabetes patient 
The actor, who has once reached 350 pounds, revealed that he had lost over 70 pounds since including proper diet and exercise in his daily routine.
It wasn't until he was diagnosed with diabetes that he began taking proper action regarding his health. He recently appeared on a YouTube episode where he shared how he tackles his type 2 diabetes.
Billy has been a great inspiration for several struggling with body weight, and he continues to inspire people with his praise-worthy transformation.