The famous Hawaiian entertainment reporter McKenna Maduli has grabbed subsequent attention for interviewing Hollywood stars. But besides her profession, her almost decade-long relationship is another attention grabber. 
On the occasion of their seventh anniversary, Maduli took to her Instagram to share a video encapsulating all her fond memories with Kimo since the day she met him. 
McKenna Maduli's Long-Running Relationship
Celebrating her seventh anniversary in 2019, Maduli dedicated a post to her beau, Kimo Kennedy, sharing how Kimo approached her to be his girlfriend. She wrote, 
"So one day in 2012 I get this random text from @kimokennedy that says "maybe you let me love you forever one day dummy" and seven years later I'm like happy 7 my heart."
Maduli And Her Husband's 7th Anniversary Video
The beginning of Maduli's long-term relationship with her boyfriend Kimo, an artist manager, dates back to 2012. 
Having been friends for several years, the couple took their friendship a notch ahead when Kimo made the first move. Ever since they began dating, they have always been open about their togetherness.
Kimo also timely makes online posts dedicated to her, reciprocating the same love. Showing his support for Maduli on the release of her dream show, Talk Story, he shared a post describing his proud moment as such, 
Let me first say that Im incredibly proud of this woman right here. Over the years, I've seen McKenna cover premieres, award shows, and events on the biggest stages...She's had to be patient and learn to take no for an answer (incredibly hard for her lol) but the time has come, "Talk Story" is here. Congrats my love, you've earned this and Im happy to share this moment with you.
The couple's endless saga of uploading their cozy pictures together has been a treat to their social media followers. But they have not shared their plan of becoming husband and wife yet.
All in all, the two have been each other's most powerful support system in every aspect of their lives, setting the couple-goals standard very high. 
Maduli is not only blessed to have such an adoring partner but is also lucky to have a family sharing a tight knitted bond. 
A Short Bio
Growing up in Kalihi Valley, Hawaiian culture is deeply rooted in her heart.
More so, having the renowned Hawaiian music personalities, Kata and Janet Maduli, as her parents, she has learned to embrace Hawaiian music from an early age.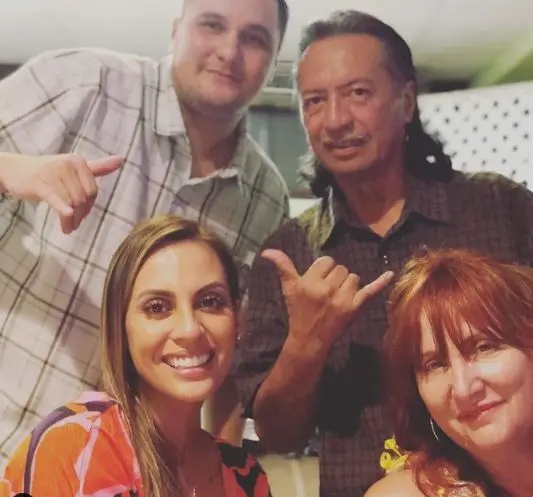 McKenna with her father, mother, and brother (Source: Instagram)
Her father, a producer, and mother, a promoter, have produced several unforgettable concerts and managed prominent artists, including Teresa Bright, Cyril Pahinui, and others. 
Been in the limelight as a celebrity kid, she later chose a career in entertainment and establishing her name amongst renowned reporters in Hollywood, interviewing several prestigious personalities. 
With a dream of sharing the stories of Hawaiian people to the world, Maduli came back home to start her show, Talk Story, which sheds light on Hawai and the talents who belong to the island.  
Having worked for Access Hollywood, MTV, VH1, and Billboard Magazine, her expertise has led her to become one of the most well-known reporters in the entertainment industry. With her self-created show, her career is excelling at full pace.