"We were friends who just developed naturally into a relationship. It was nothing that I really had experienced before but that's how it happened for us", said Matthew Atkinson in an interview while talking about his girlfriend.
Atkinson Met The Love Of His Life In A Movie
While talking to Soapoperadigest, Atkinson revealed that his girlfriend, Karissa Lee Staples chased him around with a knife on the first day of the set as she played the role of a crazy person. Matthew, in that interview, said,
 I like the crazy ones, so that just worked out really well. I'm kidding. She's actually one of the sweetest human beings I've ever met.
In the movie, Inspired To Kill, Karissa played the leading role of Kara while Matthew played the character of Jason. After Kara lost her love, she moved to L.A., where she fell in love with a crime novelist, Paul, played by Antonio Sabàto Jr.
Eventually, as the movie progressed, Kara sought the help of Jason to unravel the truth when people started to die suddenly, and she suspected it was her boyfriend's doing.
Matthew's relationship kicked off with a friendship when he and his girlfriend hung out after their shoot. Ultimately, their friendship blossomed into a love that the world knows of today.
Since then, the couple has been vocal about expressing their emotion on the internet. Matthew shared a beautiful post of them on the occasion of Valentine's Day on Instagram in 2017. 
#HappyValentinesDay from me, my incredible valentine @karissaleelee, and an adorable pup to you and yours!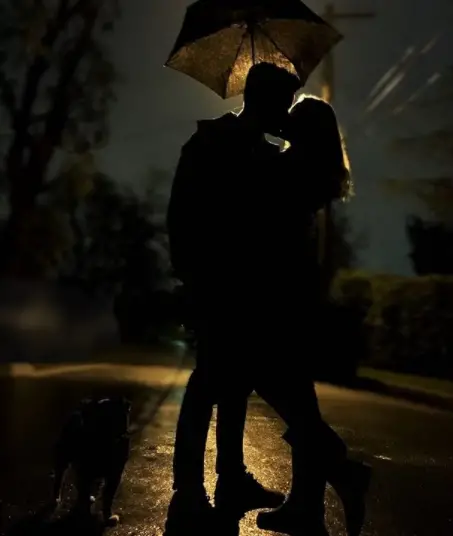 Matthew And His Girlfriend, Karissa (Source: Instagram)
Like Matthew, his girlfriend, Karissa, is also an actress best known for the role of Paloma Madsen from Necessary Roughness. She was also titled Miss Maine in 2006 and was the youngest contestant to compete in Miss America in 2007.
Atkinson's thousands of followers wonder when the couple will exchange the vows, but they have not opened up anything regarding it. So to clear the air, Karissa is not his wife yet.
Who Is Matthew Atkinson?
Belonging to the Caucasian White ethnicity and American nationality, Matthew was born on 31st December 1988 in Marietta, Georgia, US. His family moved from Alabama and Mississippi before finally settling down to Kennesaw, Georgia.
A fascinating piece of information about the actor is that Matthew is actually his middle name, and John is his first name. His parents, Jimmy and Connie, call him and his brother, Paul, by their middle name. 
After graduating high school, Matthew moved to Atlanta for college before settling down in Los Angeles for his acting career.
A Sneak-Peek Into Atinkson's Career
Matthew debuted in the entertainment industry from the American television drama series, One Hill Tree, in which he played the character of Nathan Actor. He is best known for his role as Nick Fadden in the ABC Family series, Jane By Design, and Austin Travers on The Young And Restless.
Later, he appeared in CSI: Crime Scene Investigation 2010 series in the role of Barry. He has also made his appearance in the American television soap opera, Parenthood as Zach for eight episodes from 2013 to 2015.
The 32-year-old actor has not only appeared in series but also has also contributed to the movies. Matthew acted in The Award-winning Academy film, The Blind Side, in the role of Valet Parker. 
Aside from acting, Matthew is also a musician. At present, Matthew is engaged with the Bold & Beautiful series in the role of Thomas Forrester, which is aired on CBS.