The American Restoration couple, Kelly Dale and Rick Dale, are busy vacationing, while some of their fans are busy questioning if they are still married.
Is Rick Dale Still Married To Kelly?
Yes! The couple is still together and thriving.
The Los Angeles residents most recently took to their joint Instagram account to share their quality family time, spending their weekends with grandkids and riding a boat in Nevada.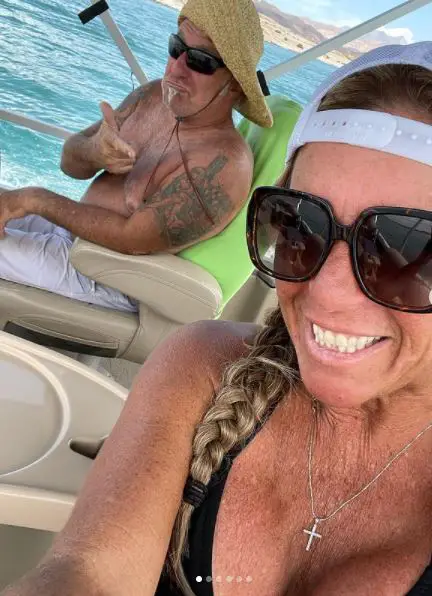 Kelly Dale spending weekend with her husband Rick Dale in Nevada (Source: Instagram)
The pair posted a series of selfies on a boat and pictures of their adorable three grandkids, flaunting their happy weekend. 
Moreover, the pair, married since 1994, frequently treat their followers with their family moments, which clears the air surrounding the queries of their relationship status.
Kelly And Rick's Love Story
It all began in 1993 when Rick had recently come out of a failed marriage with his first wife.
Kelly and Rick first crossed paths in a gym, and after a few encounters, the two went on their first date.
Kelly described her first impression of Rick as,
"I wasn't interested in his long hair, and I didn't like the way he dressed. When he came in there that night, he looked so good, and he smelled so good that I walked up to him and gave him a big hug and got him drunk."
Since everything worked out between the two, they shared vows in 1994 and have been relishing their married life ever since.
Describing their compatibility, Rick said,
"We're pretty yin and yang. She's East Coast; I'm West Coast. We've got a good balance of skills. We're an incredible team together. It's an awesome relationship."
Kelly's Children
The couple shares two children, Tyler and Alexandra, from their marriage.
Besides, Kelly also has a son, Bretty, from her previous relationship.
Bretty is a father to three kids, Halo, Asher, and Jasper, while Alexandra married in 2019 and is expecting a child.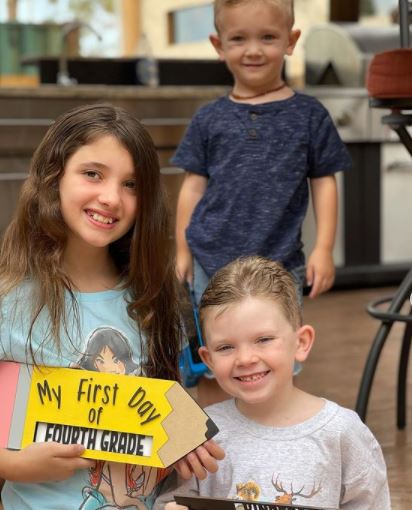 Kelly and Rick's grandchildren (Source: Instagram)
Moreover, Kelly and Rick are lucky to have their children's support in their restoration business, Ricks Restoration as Tyler runs the restoration shop, Bretty plays his part as a salesman while Alexandra manages the office.
Wiki On Kelly Dale
Kelly, the co-owner of Ricks Restoration, came to public attention after appearing in the History channel's reality show, American Restoration, alongside her husband.
Besides the show, Kelly, probably at the age of early 50s, is a certified realtor, working as a real estate agent for almost 20 years. 
Apart from her professional success, the realtor and her husband engage in fundraising and charity events. On that note, Kelly once participated in Tour de Cure to help raise funds for diabetes treatment.
Likewise, Kelly and her husband have contributed to their community with thousands of dollars of charity support over the years.
What Is Her Net Worth?
Having had a successful career in restoration and real estate, Kelly has undoubtedly garnered a hefty sum. But the exact figure remains under wraps.
On the other hand, Rick has amassed a net worth of 2.5 million dollars, as a source reports, and his wealth mostly comes from the restoration business that he has been running for several years now.