While Keith Washington was at the peak of his career with his Billboard chart-topping hit single Kissing You, the fame brought him everything but with a cost. The heartthrob R&B singer's sudden success led his marriage with his partner to shatter into pieces.
Fame With A Price
At the time of his rise, Keith was married to Marsha Jenkins, with whom he separated after his 'lady's man' persona began seriously affecting his love life.
A recently released series, Unsung, debunks their unfortunate separation, where Marsha explains her side of the story of how their divorce came to be.
Keith Washington and his former wife sharing their story (Source: YouTube)
After dropping back-to-back hit love songs, the Kissing You singer's popularity had gone through the roof. More so, his popularity among his female fanbase was unreal, with his image as the 'ladie's man.'
Although his marketed persona was advantageous in terms of his profession, it did take a toll on his personal life. 
Marsha said the turning point in their relationship was when she witnessed the unsettling craze of his female fans for him in a ladies-only event performed by Keith.
Keith, commenting on his fame and its degrading impact on his marriage, said,
"You know all of this was brand new to me, and the whole world opened up to me with opportunities."
He further added,
"My regret is that because I knew I had a good wife, I know I had a great wife, actually, someone who really stood by me through my hardship of coming up, I became more of acting as though I am a single man than a married man. You know you can't do wrong and expect the right to come out of it was tough on her."
Although Marsha's faith in her husband left her unbothered by the whole situation, eventually, Keith's temptation for his new persona took over their marriage. 
Later, the pair ended their marriage, and their divorce became a major talk of the town. The widely anticipated reason behind their divorce was revealed when Marsha published a book surrounding her love story. 
The Tell-All Book | Did He Remarry?
Taming people's curiosity regarding their separation, Marsha published a self-authored book titled The Other Side of Through in 2007.
The fictional book tells all about their love story, from their beautiful beginning to a devastating end and everything in between.
Although the book is based on real-life, Marsha used the fictional characters, Katlyn and Justin, to tell her story.
Following the divorce, Marsha remarried and has two children with her second husband. Likewise, Keith also shared vows with his then-girlfriend but has no children to this date.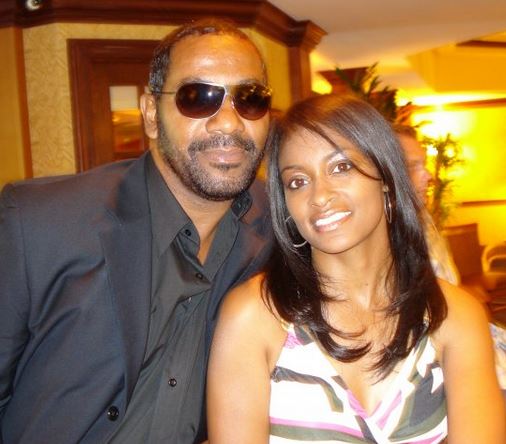 Keith Washington and his second wife, Stephanie Grimes (Source: I love old school music)
He remarried his long-time girlfriend, Stephanie Grimes, in June 2009.
His second wife, a Villanova University graduate, is currently a director of government affairs in Detroit and previously worked on radio channels as a sales manager.
Later, Keith also explored his possibilities in radio during his later years and is now hosting the show Kisses After Dark airing on WDMK-FM.
Keith Washington's Net Worth
Blessing the music industry with some of the greatest hits of all time, the Bring It On singer, age 61, became the heartbeat of millions of fans worldwide during the 90s.
Keith, who dominated the R&B genera for decades during his era, is still active as a singer, but not as much as he used to be.
However, as a source reports, the singer-turned-radio-host is now relishing a net worth of 500 thousand dollars, and a more significant chunk of his fortune comes from his music that still holds a special place in people's hearts.