Juanita Tolliver, a political analyst for MSNBC, and director of campaigns, modestly announced her wedding. On June 26, 2019, she shared a snap of a couple on the horizon and captioned it, "6.23.19."
Juanita's followers were quick to shower congratulations as their favorite media personality was finally married.
Juanita Tolliver's Husband & Wedding
The couple met with each other for the first time while working together for Martha Coakley's Campaign. It has been reported that Juanita and Chris dated for several years before finally getting married.
On June 23, 2019, Juanita tied the know with Chris Leist, a former senior digital advertising manager at Mother Strategies, in a ceremony officiated by 90 West's Harry Shipps.
The wedding was attended by 50-100 people, who worked under Kamala Harris, Ayanna Pressley, and Coakley.
Just recently, the couple celebrated their third year of togetherness, and Tolliver shared a couple of never-seen wedding photos with the caption "The Lost Files."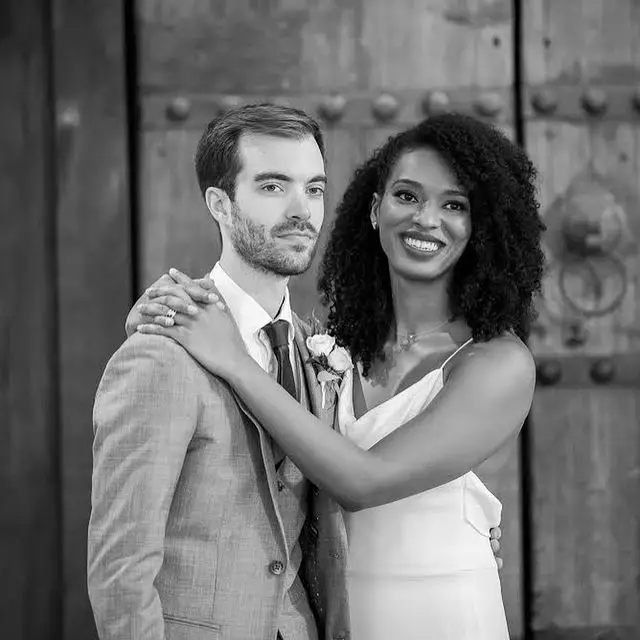 Wedding Picture of Juanita Tolliver and Chris Leist (Source: Instagram)
Talking about her husband, Chris Leist was born on June 18, 1991, to Emily Leist Vatis in Westborough, Massachusetts. His family also includes his two sisters, Kate and Erin.
According to Chris's Linkedin, he graduated in 2014 with a BA in political science and policy studies from Syracuse University, New York. Chris is currently working as a Senior Vice President of Digital at SWAY. 
Juanita and Chris do not have any children yet, but they are parents to two fur babies. 
Juanita Tolliver's Early Life
Juanita was born on June 22, 1985, and grew up in Tennessee with her siblings. As of 2021, she is around 36 years of age. 
She attended East High School in Memphis, Tennessee. After that, Juanita relocated to North Carolina and attended North Carolina University at Chapel Hill, where she graduated with a bachelor's degree in political science.
Juanita then attended Fletcher Law and Diplomacy School at Tufts University and graduated with Masters in Arts degree.
Even though her exact height is unknown, some sites have reported her height to be 5 feet and 6 inches. 
Due to her massive rising popularity, her fans are also curious about her professional life earnings along with her salary in the MSNBC. 
Juanita Tolliver's Net Worth
Juanita became the manager of the American Maverick Policy Initiative Program after graduating from the Faculty of Foreign Affairs. From 2016 to 2017, she worked as a director and senior officer of Arlington Young Democrats.
Juanita worked as an Opportunity Nation Partner, a campaign aiming to expand the economic movement and restore the legendary American dream and Support Manager in Washington, D.C., from 2017 to 2018.
Juanita's main source of income is from Journalism and she currently works at MSNBC as a senior analyst. 
Even though her exact net worth is unknown, according to Glassdoor, the average salary for the Senior Analyst at MSNBC ranges from $60,409 to $65,773 per year. Thus, looking at her career and the average salary range, Juanita Tolliver's estimated net worth must be over $60 thousand.