Juana Ahumada and her husband, Pedro Rivera, finally revealed their marriage that they hid from the public.
Pedro Rivera And Juana Ahumada Turned Husband-Wife
Juana and the Mexican regional artist Pedro Rivera made their first television appearance together on a Mexican TV show Un Nuevo Dia on February 7, 2020.
The pair, who had been the talk of the town for a long time, exclusively shared about their relationship.
They shared that they tied the marital knot a few months before appearing on the show and took their time to break the news to the world.
Pedro Rivera and Juana Ahumada make their first television appearance (Source: YouTube)
When asked about what made her fall for Pedro, Juana replied,
"He is a person who has a lot of passion for what he does, I love that, and he does not give up on anything, not even if he is trampled on, he does not give up; he's very respectful of people, and I love that."
Although their relationship came into public attention fairly recently, their ties date several years back to when Juana worked as Pedro's assistant for almost eight years. The couple shared vows in 2019.
Despite being criticized for their wide age gap, they seem to be happy with each other, and Pedro speaks highly of Juana whenever he gets a chance to talk about her.
Further, sharing his blooming love life in the interview, Pedro mentioned he would refrain from making the same mistakes that led him to end his decades-long marriage with Rosa Saabedra.
Who Is Pedro Rivera's First Wife? 
Before sharing vows with Juana, Pedro was in a long-term marriage with Rosa Saavedra. But the marriage ended in 2008.
Rosa and Pedro share six children, including the late artist Jenni Rivera who passed away in a plane crash in 2012.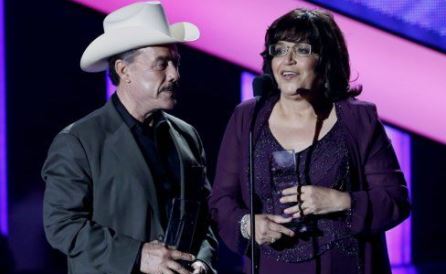 Pedro Rivera and his ex-wife receiving an award on behalf of their late daughter, Jenni Rivera (Source: Pinterest)
Following the saddening death of Jenni, Rosa was diagnosed with cancer, from which she fortunately recovered.
Moreover, though the Rivera family often makes headlines for their family feud, Rosa maintains a low-key life and has not publicly spoken of Pedro's current relationship.
Does Juana Have Kids?
Juana and the 78-year-old have not welcomed a child together yet, nor have they been open about their plans of having a child.
However, Juana's marriage with Pedro ultimately makes her a stepmother to his six children, Rosie Rivera, Pedro Rivera Jr., Gustavo Rivera, Juan Rivera, Jenni Rivera, Lupillo Rivera, from his previous relationship.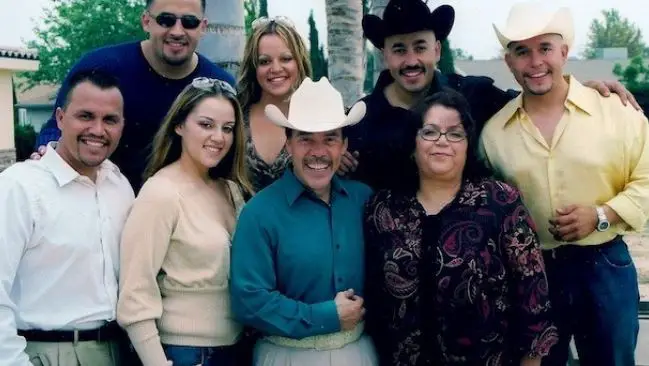 Pedro Rivera posing with his former wife, Rosa Saavedra, and his children (Source: Billboard)
Like Pedro, all his kids are involved in the music industry, while Jenni and Lupillo are widely recognized artists with a hefty net worth.
What Is Her Net Worth?
Juana has kept her details regarding her profession and net worth under wraps. However, her husband, Pedro, who has been dominating the Latino music industry, is certainly entitled to a net worth of millions of dollars.
Besides, Pedro's daughter, Jenni Rivera, was entitled to a whooping net worth of 25 million dollars before she passed away. At the same time, his son, Lupillo Rivera, has an estimated net worth of 12.5 million dollars.