On June 29, 2021, Jose Mangin, a natural headbanger, celebrated his 20 years of togetherness with his wife. Mangin took to his Instagram and expressed how he has no clue how he managed to marry a wife who was totally out of his league.
"20 years ago today I married @melissammangin a hottie from Pennsylvania that's way out of my league. I'm still not quite sure how I tricked her into marrying me?"
So How Did Jose Trick His Wife?
While wishing his wife, Melissa, on their 20th anniversary, Jose revealed that from the moment he saw his wife, he knew that she would be the mother of his children.
In two decades of togetherness, Jose and his wife have faced both high and low points in their life, but as per Jose, Melissa is his angel sent from heaven to be his plus one for eternity. The couple celebrated their anniversary in Mexico with their family and friends.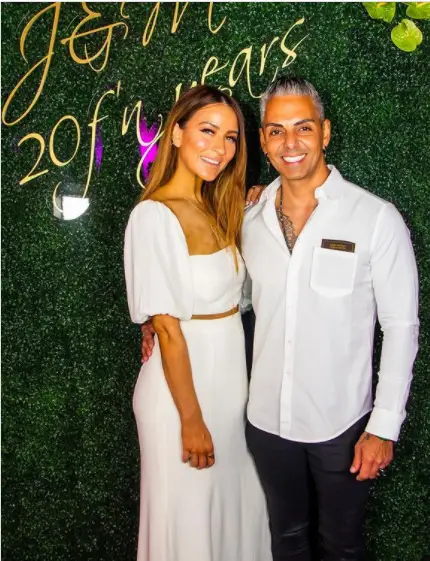 Jose And His Wife, Melissa, On Their 20th Anniversary Source:(Instagram)
In a blog by SiriusXM, Jose talked about how meeting his wife was purely a coincidence. The couple had first encountered when Melissa was interning at TVT Records. A week later of their first meeting, they moved in together, after which they tied the knot nine months later. Since then, the couple has been happily married.
The couple is blessed with two beautiful daughters, Mya and Ava. Presently, Mya has graduated from her high school, whereas Ava turned 15 this year,
From sharing family moments to wishing each other on their birthday and anniversary, the couple never fails to flaunt their love on the internet. Jose's family surprised him with an early birthday dinner on the beach for his 44th birthday, which he shared on Instagram.
Melissa, Mya & Ava surprised me w an early Birthday dinner on the beach @marivaldistinct. My absolute favorite part of being on vacation is being with all my girls ALL THE TIME. It's the most we actually get to be with each other, and I love it.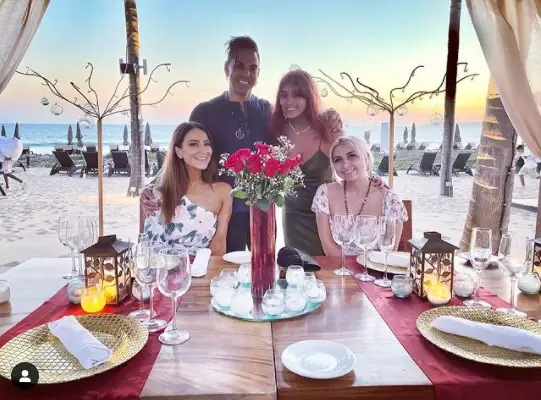 Jose And His Family For His 44th Birthday Dinner Source: (Instagram)
Jose would have been a pharmacist and not a headbanger. If he had not won an opportunity to work in the music industry. 
A Pharmacist Turned Headbanger
Jose Mangin has his first taste of metal in kindergarten with Motley Crue's Shout at the Devil. From his childhood itself, he was a big metalhead. In his sixth grade, he went to his first Anthrax concert and met Pantera's Dimebag Darrell in high school.
Despite being a big metalhead, Jose did not pursue his career in this industry and opted for a pharmacy degree at the University of Tennessee.
But, after winning an award for his on-air skills, the offers to work in the music industry started pouring in for Jose. He then left his pharmacist aspiration behind to become a role model in the metal world.
Not long after he chose a new career, he landed in SiriusXM to launch the rock department. In addition, Jose marked his 20th year of employment at SiriusXM recently on September 2020.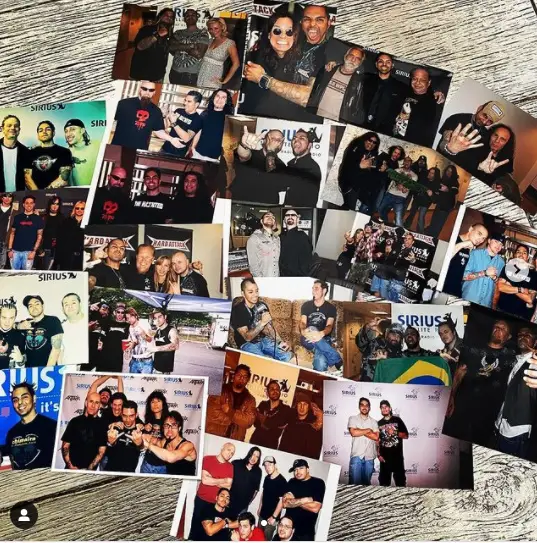 Jose's Photo With SiriusXM For 20 Years Source:(Instagram)
Jose has also worked for Octane for seven years, hosted weekday shown on Liquid Metal, and hosted weekends on Octane. He has also fulfilled his childhood dream of hosting the legendary MTV Headbangers Ball for two years.
Jose Mangin's Net Worth
Associating with the metal music industry for over two decades, Jose has earned name, fame, and wealth to this date. As he has worked for SiriusXM, Octane, and even hosted the legendary headbangers ball, it can be estimated that Jose has garnered a hefty sum to this date.
Apart from that, he is also a businessman and is the sponsor of Mexican beer maker Modelo, co-owner of Riazul premium tequila and rock 'n roll clothing company, Affliction.