Despite garnering a successful career as a novelist and journalist, J.R. Moehringer's rough childhood never really left his memories.
In an interview, the Pulitzer Prize-winning journalist shared his bestselling memoir, The Tender Bar, reminiscing his early days and relationship with his father, Johnny Michaels.
J.R. Moehringer's Rough Childhood
Encapsulating his experiences from his early years, the novelist wrote a memoir, The Tender Bar, which explores everything from his relationship with his father and mother to his adulthood.
J.R.'s memoir, which centers on his story of growing up in the absence of a father figure, details his childhood and his effort to discover himself.
The author grew up in Long Island, in a household handled by his single mother, Dorothy Moehringer.
His father had abandoned both wife and son when J.R. was still a child, which eventually led to his bitterness towards his father add up with each passing year.
More so, the award-winning journalist even hated the fact that his name referred to Junior, associating him with his father, who was a disc jockey in New York.
His parents split before J.R. got the chance to know his father. Since then, the absence of a father in his life has left him with a feeling of melancholy that persisted his entire adulthood.
Trying to find solace in his emptiness, he hung out often in a bar in his hometown, creating memories about which he talks in a wistful tone in his memoir.
He often lightens his heart, penning down about his father, reflecting on how greatly he missed the care and affection from a father figure growing up, which he never had. Sharing a few words on one of the several fatherly moments he missed as a child, he wrote,
Baseball always gets credit for the foundational part of masculinity - the father thing. The eternal game of backyard catch, 'Field of Dreams', the Ripkens, the Griffeys, the Bondses, so on. But football is the real paternal game, because it's a conveyor belt of father figures, in the form of coaches.
A Short Bio
J.R. never had the privilege of a father's love since his young age, but his mother, Dorothy, was all he had who would do everything in her power to give him the best life she could offer.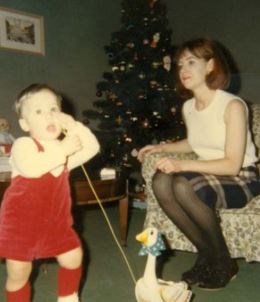 J.R. Moehringer's picture with his mother when he was a child (Source: Twitter)
But with the saddening demise of his mother in 2019, the author became an orphan.
Taking to Twitter to share the news, J.R. posted a picture of his mother from her earlier years and posted a small piece of his writing about his mother, which read as,
She had lustrous auburn hair, which she wore to her shoulder, and green-brown eyes that turned a shade greener whenever she smiled. Her most common facial expression, however, was one of enormous self-command, like a young aristocrat posing for her coming-out portraits. 
Further describing her attributes, the author praised his mother's ability to deal with hard times that got her through her single parenthood, raising J.R. into a responsible adult.
Supported by his loving mother, J.R. went to Yale University in 1986 and later began his professional journey working for The New York Times as a news assistant.
Having worked at Rocky Mountain News and Los Angeles Times, the well-proficient journalist received the prestigious Pulitzer Prize for his feature writing of 1998.
What Is He Up To Now?
Adding to his accomplishments, in his memoir The Tender Bar in 2005, the novelist has been one of the best sellers receiving tremendously good reviews.
Further collaborating with the tennis player Andre Agassi, the author later published another book, Open: An Autobiography, in 2009.
Following his stunning work, including Sutton, he is chosen to collaborate with Prince Harry, Duke of Sussex, to publish an autobiography of the prince in 2022.
Moreover, a rendition of his best-selling memoir will be released as a drama film anytime soon, starring Hollywood stars including Ben Affleck, Tye Sheridan, Lily Rabe, and Christopher Lloyd.
With several awards and recognitions under his belt, the author, who is not known to have been married to this date, continues to bless his readers with worthwhile reads.