The American talk show host Hugh Hewitt relishes a sound family life with his wife of almost four decades. Although Hugh does not fancy detailing much about his love life, his timely posts about his marriage keep his followers updated. 
Hugh Hewitt's Decades-Long Married Life
Taking to his Twitter account on July 10, 2019, The Hugh Hewitt Show host made a rare upload of his picture with his wife, Betsy Hewitt, from their wedding day back in 1982. 
As seen in the picture, the just wedded couple were making their way out of the Ranch House Chapel at Camp Pendleton. 
Hugh's wife, Betsy Hewitt, looked pretty in her long-tailed white gown holding a flower bouquet, while Hugh looked elegant in his black suit paired with a red striped tie.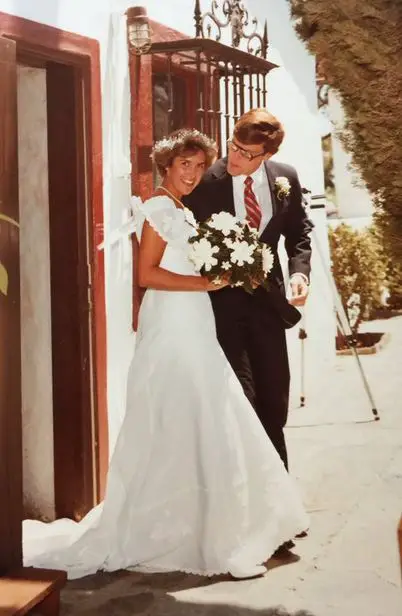 Hugh Hewitt's wedding picture with his wife, Betsy Hewitt (Source: Twitter)
The two first met each other in a fund-raiser program in San Diego. Having been together through thick and thin, the pair are now rejoicing in their 39th marriage anniversary as of 2021. 
Who Are His Children? 
Hugh and his wife are parents to three children, two sons and a daughter, who excel in their own field of work just as their professionally accomplished parents.
Hugh's daughter, Diana Hewitt, a Northwestern University graduate, has been working with her father for his show The Hugh Hewitt Show since 2016. Beginning her role as a media booker at the show, she is now a booking producer. 
Moreover, the recent whereabouts of his son, Will Hewitt, remains unknown. But his other son, James Hewitt, is well recognized as communications director and senior advisor at the US House of Representatives. 
James, the University of Colorado graduate, began his career in 2010. Undertaking various roles throughout his professional journey, he worked his way up, landing the role of communication director in the US House of Representatives in 2021. 
But, during 2018, Hugh received criticism for his controversial conflict of interest issue that involved his son James. 
Hugh Hewitt's Controversy 
In 2018, Hugh rose to public attention for allegedly defending EPA Administrator Scott Pruitt alleged for corruption. 
Pruitt was questioned for his ethics when he was found spending fifty dollars for a night at a condo. Some claimed that the low price for the condo was a gift from the lobbyist, but Pruitt denied it, saying he signed it off with an agreement. 
Hugh came to light when he defended Pruitt and was alleged for conflict of interest as his son, James, was serving as a political appointee under Pruitt. 
Regarding the controversy, some critics and democrats in congress asked the former EPA Administrator for resignation. However, the matter settled with time, and Hugh continued with his usual schedule. 
Career and Net Worth
The Harvard University graduate began his career in 1983 when he served as a clerk for the District of Columbia Circuit. 
Hugh also served during the Ronald Reagan administration undertaking several roles, including deputy director, general counsel, assistant White House Counsel and special assistant serving the attorney general. 
Working his way up, later he shifted to radio and television when he is most known for his shows The Hugh Hewitt Show and High Hewitt. 
Given his successful career of almost four decades, the multi-hyphenate media personality has surely garnered an impressive net worth. 
Moreover, he probably earns an annual salary of over 45 thousand dollars as a radio host while he also makes a good fortune from his television show at NBC News and MSNBC.