Griffin Cleverly and his wife, Bridgit Mendler, shared their vows in a private beach ceremony which Bridgit describes as 'magical.'
The happy couple, ​​​​embarking on the new chapter of life, express their excitement through the sweetest Instagram posts dedicated to one another. 
Griffin's Magical Wedding
Bridgit first broke the news of her engagement with her two-year-long boyfriend Griffin through her Instagram post on April 21, 2019.
Flaunting her engagement ring, the former Disney actress Bridgit shared a picture with her beau and paired the post with a caption reflecting her excitement as such,
"We thought we should share the news Griff you are a deep thinker, a steadfast companion, a cheerleader, and a challenger, and the biggest goof I know. Looking forward to holding ur hand forever."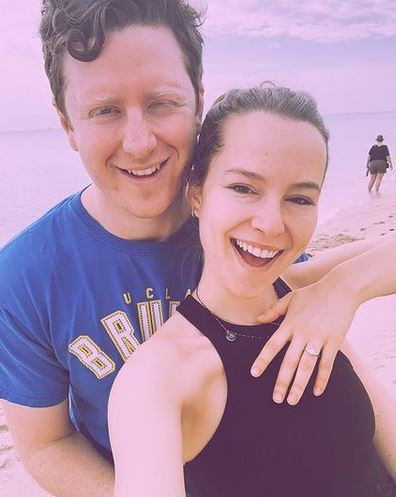 Bridgit flaunting her engagement ring in the picture with Griffing standing right behind her (Source: Instagram)
After almost six months of engagement, the pair shared their vows in October 2019. Then, the happy bride took to her 'gram to announce to the world that she sealed the deal with her better half.
On the Instagram post from her wedding day, the groom looked sharp in his black suit paired with a red tie that added to his elegance, while the bride looked fabulous in her spaghetti-strapped A-line white gown with a veil that completed her bridal look.
Bridgit, talking about her wedding to Extra, said,
"It was magical. There was a great sunset and there was actually even this dude who built a sandcastle behind us while we were getting married."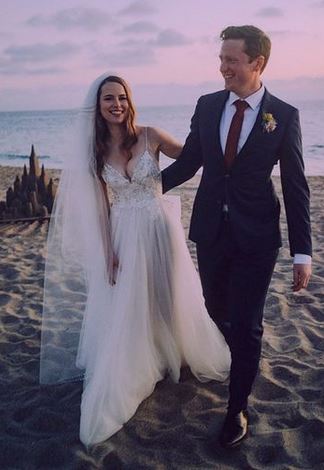 Picture of Griffin Cleverly and Bridgit Mendler from their wedding day (Source: Instagram) 
The pair shared their vows in a private ceremony in the presence of their close friends and family.
Moreover, the actress often shares glimpses of her married life through her socials, and the couple could not look any happier. Recently, Bridgit shared an adorable picture of her husband from their earlier days and dedicated a warm birthday wish to her 'wild person.'
Who Is Griffin Cleverly?
Griffin, who caught the public attention as the partner of actress Bridgit, is a University of California graduate mechanical engineer.
After receiving a master's degree from John Hopkins Whiting School of Engineering, the engineer began his professional journey as an intern at Magzor Corporation.
Griffin currently works as a mechanical engineer at Lockheed Martin with several years of expertise in his job.
Unlike Bridgit, Griffin does not fancy sharing his personal life online. However, the actress's social handle is enough to give her fans and followers a regular dose of her personal life with her beloved husband.
Short Wiki On His Wife
The American actress, singer-songwriter Bridgit has stolen many hearts with her stunning voice and praise-worthy acting.
Most known for her works in Good Luck Charlie, Undateable, and Nashville, Bridgit has even landed on US Billboard Hot 100 with her soundtrack of Lemonade Mouth.
She once again marked her place on the Billboard 200 in 2012 with her debut studio album Hello My Name Is…
Continuing to prove her prominence in the entertainment industry, the actress has appeared in over a dozen films and series since 2004.
What Is Griffin's Net Worth?
As per a source, the average annual salary of a mechanical engineer is cited as 85 thousand dollars.
Although Griffin has concealed his net worth, he must have garnered an adequate sum compared with the above-estimated amount of salary.
However, his wife's net worth is reported to be 2 million dollars, which she largely garnered from years of her successful career in Hollywood.