"But at 27, you'll creep out of that closet and realize there's community and love and family waiting for you on the other side," were Eugene Daniels's words for his younger self.
During National Coming Out Day in 2019, Daniels took his time to sit and write a heartfelt message to his younger self on his Instagram. 
Daniels started the message by addressing himself as 'the kid in the first picture.' He thanked his younger self for "taking all the pain so he can finally love for the both of you." 
He ended the message by encouraging all the people who are in the closet to come out in front of the world. 
With his rising popularity, Daniels' personal life also became a matter of interest for those wondering if such an inspiring individual had a partner or wife. 
Is Daniels Married? His Spouse
As you might have figured it by now, Daniels is openly gay and a proud member of the LGBTQIA+ community. 
He is not married yet, but he sure is engaged to his fiance Nate Stephens, a social facilitator from South Dakota. 
The two beautiful individuals got engaged on June 24, 2021. According to Daniels's socials, it seems as the two have been together since 2017, as on June 24, 2019, he took to his Instagram and uploaded a picture with his partner and captioned it as "Two years with my favorite human. Happy anniversary. love."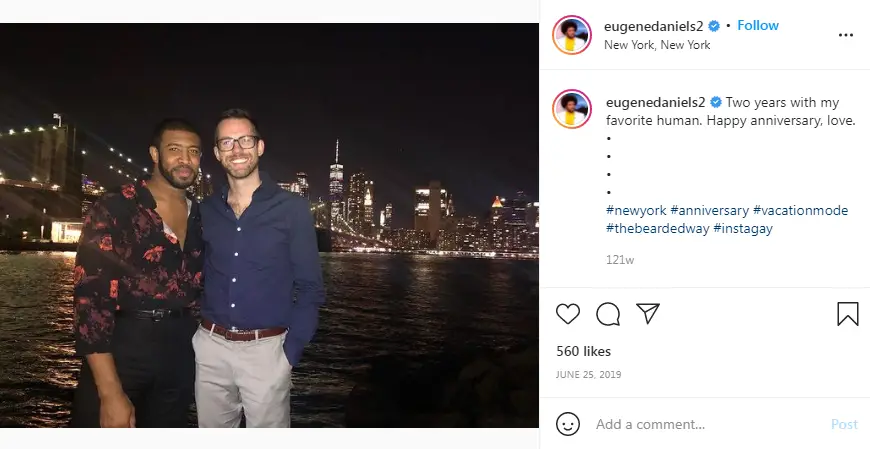 Second Anniversary Post of Eugene Daniels With His soon-to-be- spouse Nate (Source: Instagram)
Moving back on the time the couple was first spotted together on October 26, 2017, when Daniels posted a couple of pictures sharing a good laugh with his partner, Nate. The comments under the pictures were filled with nothing but supporting remarks. 
One of his followers commented, "You look happy.....Ugh, you're perfect!"

Daniels's Follower Reacting To His Pictures (Source: Instagram)
Daniels and Nate are both very progressive and good at their respective fields. Nate is currently working as a Facilitation Coach at UFacilitate, and Daniels is a White House Correspondent for POLITICO and MSNBC Contributor. 
Learn More About Another MSNBC Analyst: Dylan Byers Wiki, Bio, Age, Married, Wife, Gay, Family, Salary
Eugene Daniels On POLITICO
Daniels is a Playbook author and White House Correspondent, focusing on Vice President Kamala Harris, First Lady Dr. Jill Biden, the Second Gentleman, and emerging power players in Washington. 
He joined POLITICO in 2018, and ever since he joined the media company, he has covered the midterms, the Democratic presidential primary, video journalism, and podcasts. 
He's the first black co-author and the first publicly open LGBTQIA+ person in Playbook.
Before joining POLITICO, Daniels covered the 2016 primary, general election, and national politics as a political reporter at Newsy. He kicked off his career after completing his summer internship from Northern Colorado 5. 
Growing up, Daniels wanted to be a lawyer and a politician, but he realized that he was not interested in politics and took journalism class by chance and soon fell in love with it.
While talking to Advocate, Eugene mentions that it was his professor who set him on his career. He quoted- 
"My professor told me, if you do not want to go into politics, then go into journalism and hold politicians accountable. And I haven't looked back since that moment."
Well, he certainly has not looked back ever since. 
You might be interested in: Richard Lui Age, Married, Gay, Ethnicity, MSNBC, Salary, Height
Daniels Early Life & Education
Daniels celebrates his birthday every year on February 12. He was raised alongside his sisters, Jade Daniels and Maya Daniels.
His parents are Eugene Anthony Daniels Sr. and Leah Daniels. From his many social media posts, we know that Eugene Jr.'s father, also known as LTC (R) E. Anthony Daniels served in the U.S. Army.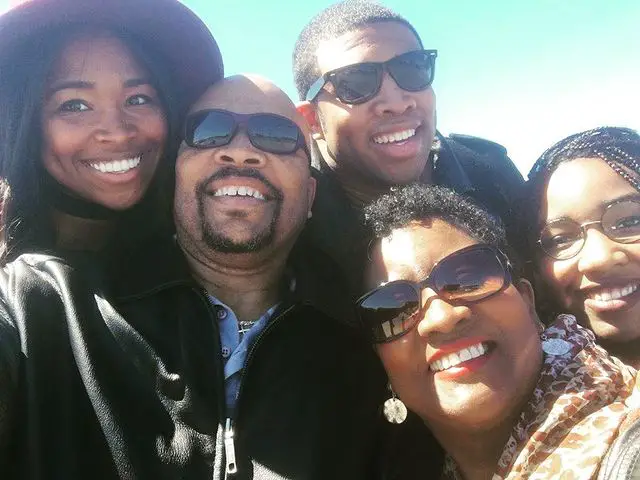 Eugene alongside his Family (Source: Instagram)
Daniels graduated from Shoemaker High School in 2007 with a high school diploma in general studies. Later, he enrolled at Colorado State University to study Journalism and Political Science and graduated in 2012.