"London, thank you for the amazing adventure. From the moment I arrived here ten years ago, I was completely enchanted by your beauty and complexity, and I feel the exact same way today. You'll always have a very special place in my heart. At the same time, I'm so excited to be going home," said Erin on her farewell post for CNN.
After more than a decade, the renowned former CNN correspondent Erin Mclaughlin parted her ways from the CNN family to start her new journey.
Erin's New Journey?
Erin had been a part of the CNN family since after her graduation. So, it did not come as a surprise when she posted an appreciation post on her Instagram before parting her ways with the company.
Though, McLaughlin started her career by writing for The Daily Californian in her college days. Erin became a part of CNN San Francisco in 2003 when she got an opportunity to work as an intern. After which, she worked as a researcher in 2004 for CNN Atlanta before settling down in London as an international CNN correspondent.
Her journey on CNN molded her into what she is now. With her brilliant correspondent agility, she reported terror attacks, including the Paris attacks in 2015, the Brussels bombing, and the Berlin attacks in 2016.
Erin even covered stories like aviation disasters and Britain's exit from the European Union. She has also worked on many high-profile stories, and Erin also covered the Brits Awards 2016 for CNN.
Erin parted her ways from CNN to start her new journey on MSNBC News as a Foreign and NBC News Correspondent. She has been with MSNBC since October 2019. In NBC, she reports for the Sunday Toast with Willie Geist, The Today Show, NBC Nightly with Lester Holt, and Weekend Today.
As a correspondent for over a decade and working for international media, Erin's estimated salary is around $80K per annum. So, it can only be anticipated that she has accumulated a hefty sum to this date.
Though Erin is a renowned personality in the journalism field, she has kept her personal life as minimal as possible.
All About Erin McLaughlin's Family
Erin, apart from her social media handles, has not talked about her family. However, looking at her profile, she has a family of four, her father, mother, and brother.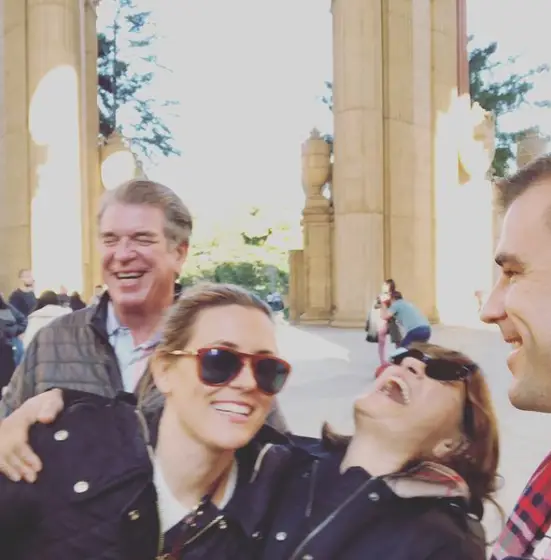 McLaughlin Family in Palace In Fine Arts, San Francisco Source: (Instagram)
Erin shared this post on Instagram with a heartwarming caption where she wrote,
"How to laugh...McLaughlin-style. Happy New Year, everyone! Hope y'all get one last belly laugh into 2017."
The joyous look of her family will make any individual smile from their heart.
Erin not only has a good relationship with her parents, but she also adores her brother equally. In one of her 'gram posts, she shared an adorable picture with her brother roaming around Paris, where she wrote,
#Sibling vibes in #Paris. So good to see my bro this side of the Atlantic!
With happy smiles on their faces, the siblings seemed to be enjoying each other's company in the picture.
Erin's thousands of followers are quite intrigued to know about her dream man. But, the correspondent has not shed any light regarding this matter.
On the contrary, some of her followers are confused about her wedding with the Style at Home editor-in-chief Erin McLaughlin. Style at Home's Erin tied the knot with her husband, Ken, in an intimate wedding ceremony.
Since both personalities have the same name, people are often baffled by it. Unfortunately, except for that confusion, there is no other information on Erin's marital status.
Erin's Short Bio
On August 24, 1980, Erin was born in Los Angeles to a Southern Gospel lead singer. Her mother is also a violinist. Getting musical inspiration from her parents, Erin played alto saxophone for eight years in a jazz band. 
In her high school, McLaughlin was athletic and participated in volleyball, softball, basketball, soccer, and many more. Moreover, Erin also did volunteering for various organizations. 
From the young age of nine, McLaughlin aspired to be a journalist. She used to write articles about the history of Iraq and the 1991 Gulf War in her own imitated newspaper. 
Regardless of that, she could not pursue her undergraduate in Journalism as Erin realized that Berkeley's Graduate School of Journalism program already had abundant aspiring journalists than it needed.
Reflection on the matter to BerkeleyHaas Newsroom, Erin said,
 "I quickly realized journalism was going to be a tough road."
So, she graduated in Business Administration with high honors from the University of California.
But she never let her dream falter and worked her best to gain recognition in the journalism field. And, at the age of 41, she has accomplished the name, fame, and glory in the field.