Desiree Wallace, along with her former husband, Darrell Wallace, has been the biggest support in shaping their son, the legendary Bubba Wallace, into a prolific NASCAR racer from his young age. 
Desiree & Darrell's Unconditional Support
The NASCAR legend Bubba often talks about how his parents have supported his racing career.
Sharing about his family's contribution to his success, Bubba mentioned, 
I just try so hard to be successful at everything I do, and my family pushes me each and every day, and they might not even know it, but I just want to make them proud. But yeah, I just love my family and having everybody here from my mom, my sister, my uncle.
Bubba and his sister, Brittney, were lucky to have been born to parents who reluctantly supported them through their journey.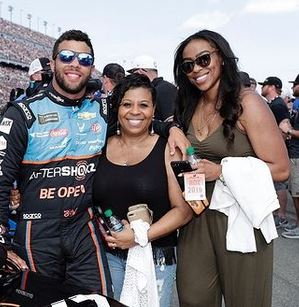 Desiree with her son and daughter (Source: Instagram)
Desiree traveled across the US supporting her daughter, Brittney, to pursue a career in basketball, while Darrell made sure to be there for Bubba, encouraging him into racing.
The proud parents are often seen in the arena rooting for their kids' success.
Desiree Raising Her Kids Right
Belonging to black ethnicity, Desiree always understood that the ride to success would not be as easy for her kids as African-Americans. So she made sure to prepare them to speak up for the right thing. 
Talking to People, Bubba addressed that he had dealt with racism on the tracks. Especially, given his field of sport, where racial diversity is fairly scarce, he described his approach on dealing with the issue as such,
Whenever I was younger, I never would understand it, but my parents would always just be like, 'You know what, don't mind that BS that's going on over there. Let's come back next week and beat their tails.
His parents' words encouraged him to do his best no matter the circumstances. He further added,
And that's what we did. We'd come back and eventually shut them up. So, it's been like that ever since.
Following the principle his parents taught him, Bubba, the first African-American racer in NASCAR, made history with his support for banning the Confederate flag at NASCAR tracks.
Moreover, Desire and her husband's unconditional love and support for their kids have only shaped them into responsible adults, never hesitating to speak up for the truth.  
A Short Bio
Desiree, famously known as the mother of NASCAR racer Bubba, is not an unfamiliar face to the moto racing fans who avidly follow Bubba. The racer often mentions the influence of his mother on his career whenever he gets a chance.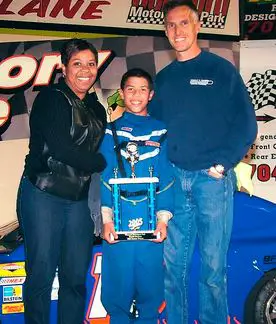 Picture of Desiree Wallace with her husband and son from several years ago (Source: People)
Besides, the proud mother, probably in her 50s, is a social worker, while her former husband Darrell owns an industrial cleaning company.
Desiree and Derrell, parents to Bubba and Brittney, ended their marriage long ago when their kids were still young. But the ex-couple has never let their divorce hinder their kids' bringing up in any way.