Dallas Yocum said her former husband, Mike Lindell, was too boring for her taste. 
DallasYocum's Short-Lived Marriage
Dallas is a businesswoman who rose to fame after her association with the entrepreneur Mike Lindell.
Two years after dating, they shared their vows in June 2013. But the news that stuck the most is their divorce in less than a month from their marriage.
Not long into their marriage, Mike already felt Dallas being 'distant' and 'distraught.' Talking to Star Tribune, Mike said,
"She looked at me while I was driving and said I don't love you. I never loved you. You're boring. We don't have anything in common, and you've ruined the last two years of my life."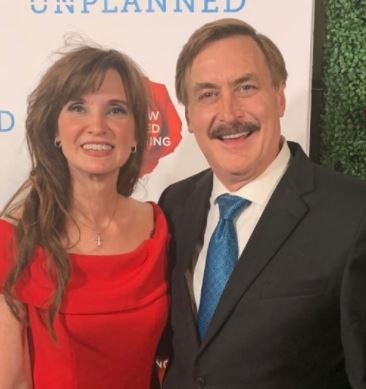 Dallas Yocum posing with her former husband, Mike Lindell (Source: factsbio)
The devastating confession from Dallas proved there was no future for their marriage, and the pair separated in a few weeks.
However, the marriage wasn't the first one for the couple. Dallas had been married thrice before Mike, while Mike was previously married to Karen Dickey, with whom he shares four children, Charlie, Heather, Lizzy, and Darren.
As Dallas leads a private life, her whereabouts remain concealed since she ended her relationship with her short-term husband.
On the other hand, Mike again made headlines for his alleged relationship with actress Jane Krakowski. But, later, Mike and Jane addressed the rumor claiming it was false.
Get To Know Mike Lindell
Mike, age 60, is an entrepreneur, most known as the CEO of the pillow manufacturing company MyPillow that he founded in 2009.
Although Mike has made it amongst the successful manufacturers in the US, his beginning story is much different. Before diving into the business world, the entrepreneur was struggling with cocaine addiction.
While he struggled with addiction, he ventured into different business ideas such as running a bar, carpet cleaning and raising pigs.
But it wasn't until he founded MyPillow that he reached the heights of success. In addition, he has overcome addiction and has been sober for over a decade. 
What Is Mike Lindell's Net Worth?
Over the years, the Chaska, Minnesota-based company has grown by several folds and has sold more than 41 million pillows, mainly through TV infomercials. 
Started with only five employees, the company is now a massive success with over 1500 employees.
However, the company's misleading advertisement, claiming that the pillow could cure insomnia and sleep disorders, has even led him to deal with several lawsuits.
Despite the lawsuits, the company is doing impressively well and has marked its place in the local and global market.
Going from a cocaine addict to becoming a prominent businessman, the pillow manufacturer has amassed a net worth of 100 million dollars.