"Beach Babes" captioned Cody Rigsby in a picture with a not-so-mysterious man (his potential boyfriend? Guess we'll have it find out). When Cody posted this picture on his Instagram profile on July 27, 2021, his fans flooded the comment section with nothing but wholesome comments. 
Not only that, Cody has been posting pictures with this man for a very long time now. And his fans are wondering about the identification of this not-so-mysterious man Cody's been with since 2018.
Is Cody Rigsby Gay?
Multi-talented Cody Rigsby is Peloton Instructor, a professional dancer, and a fitness trainer; not only that, but he is also a cast member of Dancing with the Stars Season 30. 
Currently based in New York, Cody has received abundant love from his fans, but sorry girls, Cody is taken by another man.
He identifies himself as a proud gay man. In addition, His Instagram bio identifies him as "Opinionated Homosexual."
Speaking with Vogue in November 2020, he recalled discovering his orientation after listening to Britney Spears and Spice Girls songs. 
"I remember screaming like a little girl"
Said Cody while stating he did not understand how his mother did not figure out he was gay then.
Also, in the same interview, Cody explained that the homophobic rhetoric was pervasive. He said,
 "It stops you from completely being who you want to be"
Cody is paired with Cheryl Burke in season 30 of Dancing with the Stars, but he revealed that he is in a relationship with Andrés Alfaro, an instructor at Barry's Bootcamp.
Who Is Cody Rigsby's Boyfriend/Partner?
Fellow fitness instructor Andrés Alfaro and Cody have been dating since 2018. 
While talking to Vogue, the DWTS star recalled when he went public with his boyfriend two years ago, which eventually helped them grow this relationship in a good way. 
"I've been a little guarded, but I've recently opened up because so much of what we do [at Peloton] is storytelling and being vulnerable"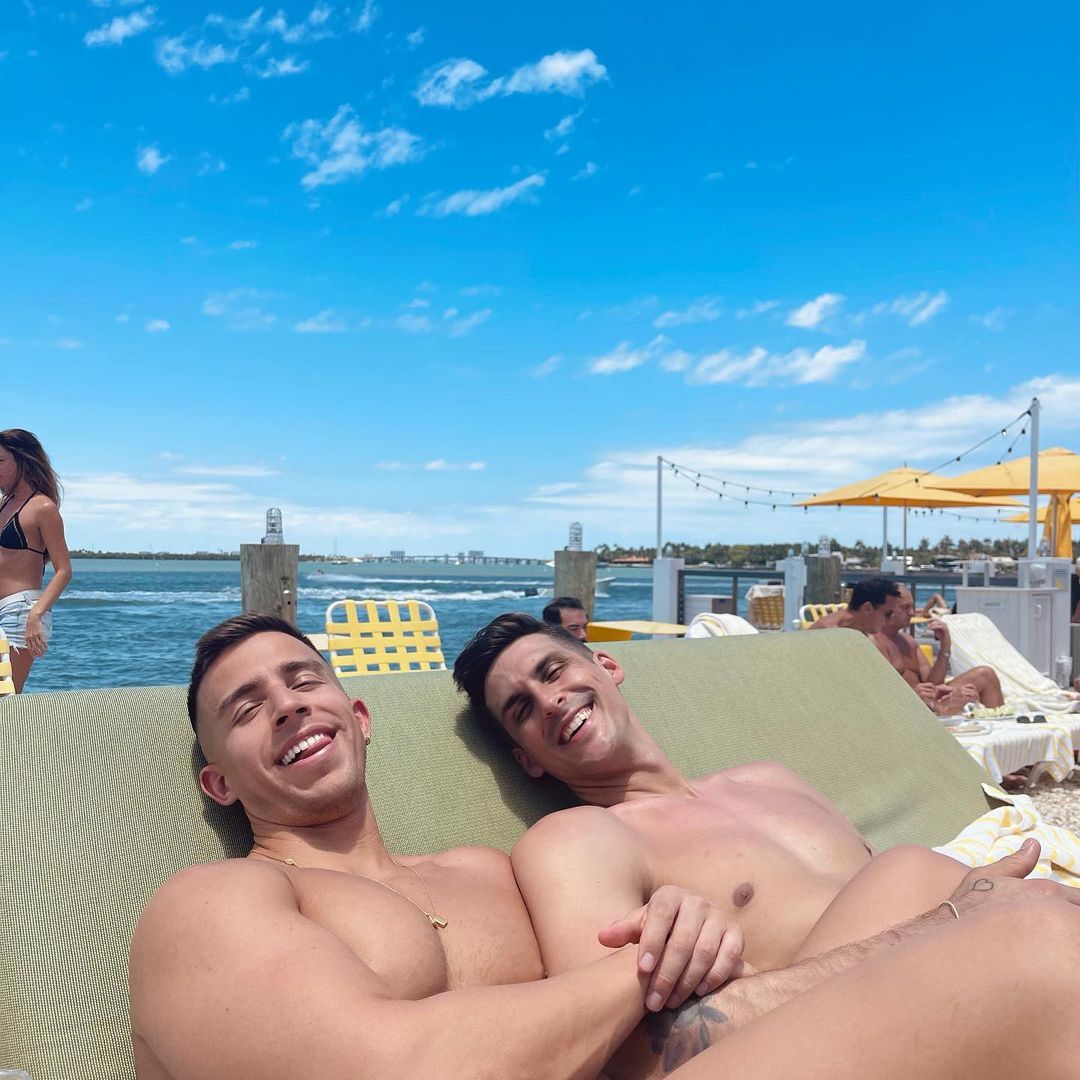 Cody Rigsby and His Boyfriend Andres Alfaro (Source: Instagram)
And since coming out with his boyfriend, the couple is regularly spotted together, especially on social media.
They make sure to snap a photo for their 'gram whenever they go out for vacations, games, or even at their home.
Further, Cody spends a lavish lifestyle with his boyfriend, Alfaro, while performing in Dancing with the Stars. 
Cody Rigbsy's Net Worth
According to celebhook, Cody has an estimated networth of $4 million. It would not be wrong to say that his impressive talent and sweating work experience pay him handsomely.
In addition, his primary source of income is from being a Peloton Instructor and a fitness trainer.
Also, Cody just recently bought a $1.46 million penthouse in Brooklyn. He shared a picture of his house keys and captioned it as,
 "As someone who has experienced homelessness in my life, this is huge accomplishment that I'm so proud of"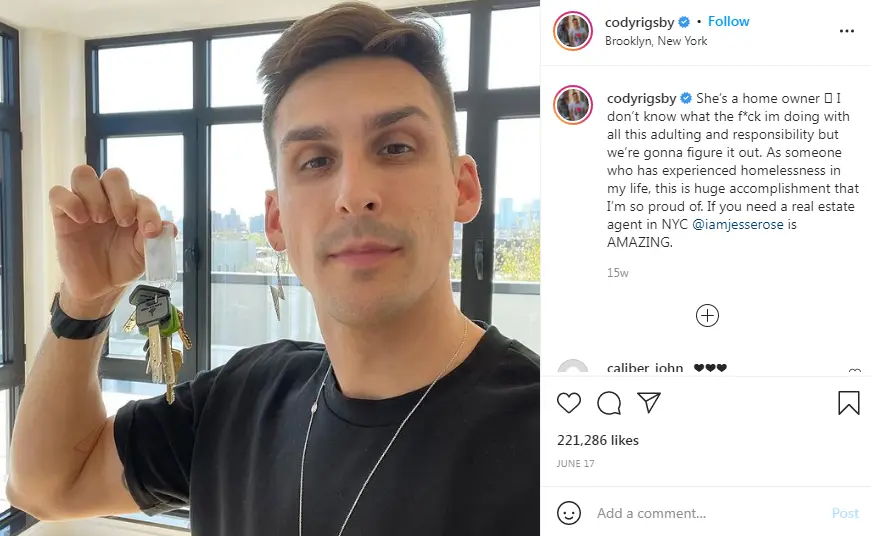 Cody Rigsby Posting A Picture With His New House Keys (Source: Instagram)
His earnings from different sources help him lead a very lavish and comfortable life for sure. 
More About Cody Rigsby (Height/Age)
Cody celebrates his birthday on June 8 every year. He was born on 1987, in Greensboro, North Carolina. He reached 34 years of age as of 2021 and his height is 5ft and 10inches. 
He is the son of Cindy Rigsby who is a Panera Brad connoisseur. Cindy raised Cody as a single mother. 
At 18, he attended free ballet classes at a community center and started his career as a professional dancer. He also worked as a dance teacher in the Girls High School. 
After moving to New York from North Carolina, he got an internship program at Broadway Dance Center and worked for Victoria's Secret Fashion Show. 
He has also danced with many big artists such as Katy Perry, Nicki Minaj, etc. 
According to his instructor's page on their website, Alfaro is known for his "driven and challenging" classes.
The website also states that Alfaro "can't live without Nespresso."
He recently announced that he had caught COVID-19 through an Instagram video and recently, his partner Cheryl Burke also tested positive.
We at MarriedDivorce wish the couple a speedy recovery and good health.