Chris Santos, a renowned chef, and owner of four restaurants, shower his love to his girlfriend through his social handle on the occasion of their anniversary. 
"Happy Anniversary to the love of my life, my quarantine valentine, my partner in crime, my biggest cheerleader, and my forever dinner date."
Writing an adorable caption, the chef shared glimpses of his beau's pictures. Reciprocating the love, his girlfriend, Natalie Makenna, also took to her 'gram to wish her beloved on the special day of their fourth anniversary and hinted towards their marriage. 
Is Chris Santos Married? 
"The best first date ever turned into my forever best friend and future husband. Fly me to the moon any day, babe. You are so loved!,"
Natalie wrote on her Instagram on July 11, 2021. 
Chris Santos with his girlfriend, Natalie Makenna, an actress, seemingly in a restaurant (Source: Instagram)
Through the post, she did spill that Santos is her soon-to-be fiance, and it's just a matter of time to see the two getting married. 
Chris and Natalie's relationship dates back to 2017, and they have been transparent about their love life from the start. 
Though they are yet to have kids, Chris and his girlfriend are already parents to their fur-baby, Frankie, whom they adopted in 2020. Undoubtedly, the pair are relishing their togetherness as they appear on their socials. 
Past Relationships
However, before Chris met Natalie, he had shared vows with his former wife, Taryn Santos, in April 2009. 
During their time together, Chris made several public appearances with his former wife. The two were even featured together in an article of the New York Post in 2010, where they talked about the duplex they had settled in after their marriage.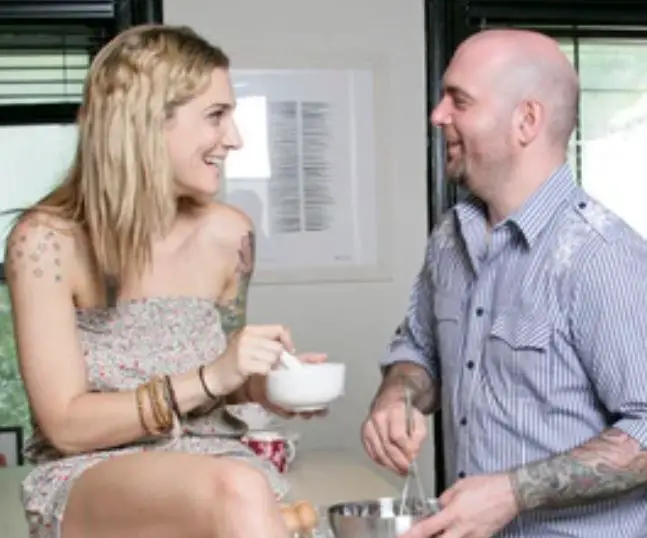 Chris with his former wife, Tayyn Santos (Source: New York Post)
However, besides Chris, his actress girlfriend also shares a similar relationship history. She was previously married to Zane Howard Wilemon in 2004 but later separated for an undisclosed reason. 
Having faced their share of failed marriages, Chris and Natalie seem to be taking their time before rushing into marriage. But their tremendous love and support for each other do not go unnoticed on their social handles. 
Chris's Girlfriend's Support In His Weight Loss
Chris credits his girlfriend for being an inspiration on his weight loss journey. 
"Thanks to everyone who have been supporting me and keeping me on track, especially my inspiration @nataliemakenna !"
Chris wrote on his Instagram post.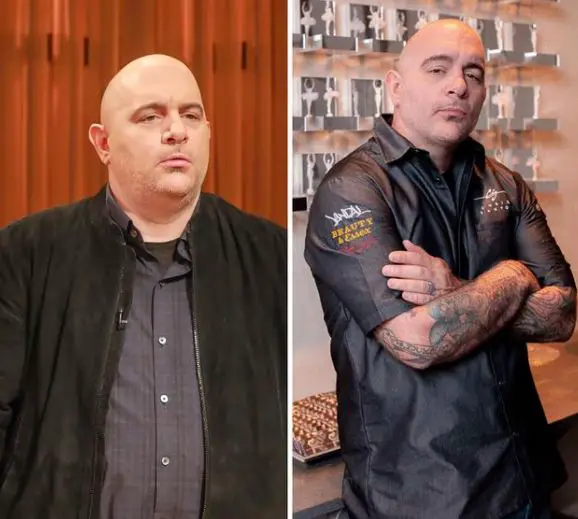 Chris sharing his weight loss result (Source: Instagram) 
Having gained 50 pounds in ten years while he was a judge in the food show Chopped, the chef realized it was high time he changed his eating habits. 
Talking to Today, he mentioned his secret to weight loss was intermediate fasting. Changing his eating habit since June 20, 2018, the chef had lost 30 pounds in four months. 
His girlfriend had been his most significant encouragement throughout his weight loss journey, helping him towards a healthier lifestyle. 
More on His Net Worth
Just as how persistently Chris handled his weight gain, the same trait helped him be amongst one of the renowned personalities in culinary. 
His continuous dedication and perseverance to become the best have garnered him a net worth of 8 million dollars. 
One of the significant sources of his fortune includes his restaurants, Beauty & Essex and The Stanton Social. 
Besides, he is also the author of his recipe book Share, which is up for grabs on Amazon. Moreover, his assets include his stunning 900 sq. ft. apartment in East Village.