"Look at this beautiful Mama!! Happy Mother's Day to our daughter, @chelsegray she is gonna rock motherhood!!" said Scott Bakula's second wife, Chelsea Field, to her step-daughter, Chelsy Bakula.
Scott's second wife shared a picture of her step-daughter, Chelsy, flaunting her baby bump on Instagram to wish her on Mother's Day.
Chelsy Flaunting Her Baby Bump (Source: Instagram)
In addition, Chelsy took to social media to share the joy of motherhood with her husband, Robert, and shared the picture of her firstborn child on her social media on 27th May 2021. Since the major change in her life, Bakula is enjoying the family moments with her husband and newborn child. Inside Chelsy's Married Life
Scott's followers might not know, but their idol's daughter is happily married to the love of her life, Robert Lee Gray, for almost a decade. 
From Chelsy's Facebook account, it is evident that the couple has been in a relationship since 2009. After dating for a few years, they finally tied the knot on 7th October 2012. 
On their first wedding anniversary, Chelsy shared a picture of them on her Facebook, where she wrote,
Who says the first year is the hardest! So far it's been pretty amazing! Happy 1 year Robert Gray your the best!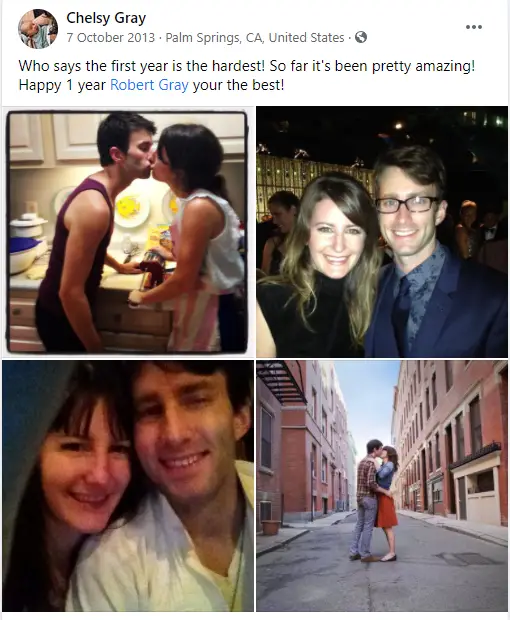 Chelsy With Her Husband, Robert (Source: Facebook)
The couple loves to go on adventures, and before their newborn member, the two were parents to their fur baby, Faye, and traveled from one place to another in their RV van. 
Chelsy and her husband also created an Instagram handle named @theoutpostgang, where they share their travel adventure. Looking at their Instagram, it is evident that Chelsy and Robert love the nomadic lifestyle.  
About Chelsy's Family
Chelsy was born on February 27, 1984, in New York to actor Scott Bakula and his former wife, Krista Neumann.
When she was young, the Bakula family settled down in Los Angeles due to Scott's commitment to Quantum Leap. The family also adopted a child named Cody Bakula in 1991. 
Talking about Chelsy's parents, they too had one of the most intriguing love stories. The Bakula couple met at the musical nightclub, Confidential for the first time in the mid-1970s. Then, after dating for some years, they exchanged their vows in a private ceremony in 1981.
Unfortunately, the couple got divorced in 1995 when Chelsy was just eleven years old. The reason behind their divorce was not disclosed until Scott revealed it in People magazine.
In the interview, he claimed that the distance between them increased due to his work commitment, which led to the separation. He even said,
It took me a long time to work out my feelings about our relationship.
Moreover, he also revealed that he regretted not being indulged in his daughter's life. After the divorce, Scott and Krista both co-parented their two children.
Later, after separation, Krista built her name in the entertainment industry and lived a single life. Whereas Chelsy's father, Scott, married his girlfriend, Chelsea Field, after dating for 15 years. From her father's second marriage, Chelsy has two half-siblings, Will and Owen Bakula.
Did Chelsy Follow Her Father's Footsteps?
As Scott was one of the renowned actors of his generation, it is not impossible for his daughter to follow in his footsteps. So, at nine years old, Chelsy debuted in Hollywood with an uncredited role of Memphis Melody in the series Quantum Leap.
Eventually, instead of doing movies, she opted to be a theatrical actress and even performed for a couple of Broadway plays. She also appeared alongside her half-brother, Owen, once in the Mother's Day edition of Broadway in May 2017.
Nonetheless, Chelsy is currently enjoying her motherhood phase away from the glitz and glams of the entertainment industry.