American golfer Brandon Hagy first broke the news of becoming a father on March 9, 2020, through Instagram. In the upload, Brandon and his wife, Jay Hagy, wore a matching pair of papa-mama t-shirts and held a tiny t-shirt that wrote baby on it.
Though the picture was enough to describe their big news, he further shared the excitement of starting a new chapter in life through the caption on the post. He wrote, 
We're having a baby!!! @jaylaurenhagy you are going to be the best momma and we already know my dad jokes are on point
Not only that, but they also had quite a unique gender reveal. 
Brandon And His Wife Embracing Parenthood
The proud father surprised his followers with his unique approach to gender reveal. Nowadays, when people are bringing out all sorts of new ways of a to-be-born child's gender reveal, Brandon also came up with his creative style.
Taking to his Instagram on March 19, 2020, the golfer shared a short video where he held a golf club ready to hit a ball while his wife stood right behind him.
The video revealed the pair were having a baby girl when pink color burst out of the ball after Brandon's strike.
American golfer, Brandon Hagy's love for his family is all over his social media. With an addition of a little one, the golfer and his wife are already embracing their new role as parents impressively well.  
Their most awaited moment of bringing their baby girl, Hunter Reese Hagy, to this world came to be on August 18, 2020. Sharing the first glimpse of his adorable daughter on Instagram, Brandon poured his heart out through the caption that read as,
The most beautiful little nugget came into our life Tuesday. @jaylaurenhagy was absolutely amazing bringing, Hunter Reese Hagy into the world, and we have been cherishing every little moment with her these last few days. Daddy loves you so much, baby girl.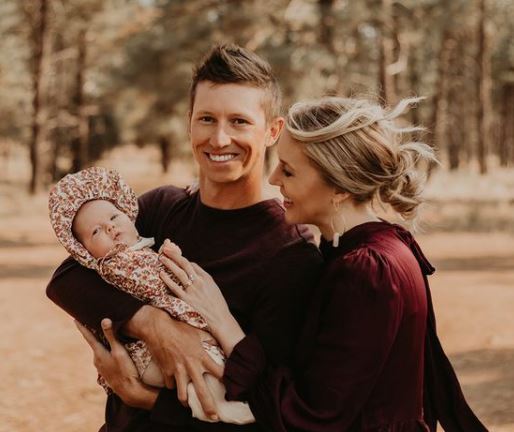 Brandon with his wife and daughter (Source: Instagram)
Since then, the adorable little has frequently appeared on Brandon and his wife's socials, and the proud parents are more than happy to treasure her beautiful memories.
Inside Brandon Hagy's Wedding
The happy couple's love story dates back to 2016 when Brandon took to his social handle to announce to the world that he was off the single's list.
Having dated for a few years, the golfer decided to surprise his long-time girlfriend with an engagement ring.
He shared his surprise proposal moment through his 'gram on June 1, 2019. The golfer knelt on his knees on the sandy beach of Southampton, holding a ring on his hands while Jay's elation was visible from afar.
After six months of engagement, the pair exchanged vows on January 2020 with their dreamy wedding venue at a luxurious Sadona resort, L'Auberge de Sedona.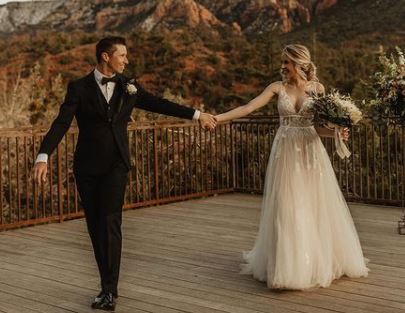 Brandon and his wife on their wedding day (Source: Instagram)
In the wedding picture shared by Brandon, the bride looked elegantly beautiful in her seemingly peach-colored dress with sleeveless straps and plunging neckline that fitted perfectly with her toned physique, while the groom looked sharp in what looked like a formal black tuxedo paired with a black bowtie.
Their adventure through life together has been remarkably fulfilling, as it appears on their socials, and with the recent addition of their baby girl, they are yet to have many more adventures to come along.
A Short Bio
Besides his fulfilling married life, the golfer is blessed with a family with whom he has shared a tight knitted bond since childhood.
As much as he posts about his wife and daughter, he frequently shares glimpses of his parents and other family members on his socials.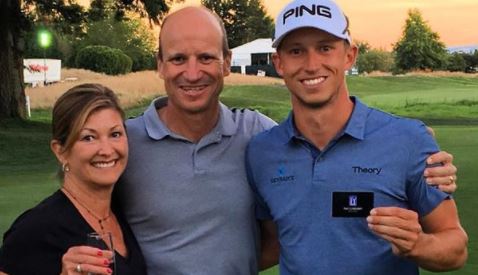 Brandon with his parents (Source: Instagram)
Born to parents Rick Hagy and Karyn Hagy, Brandon has reached the age of 30, and his astonishing accomplishments as a golfer at such a young age are remarkable.
The University of California graduate has played golf since his college, where he even bagged the 2014 Byron Nelson Award.
Given the nature of his profession, Brandon is mostly out touring for golf tournaments, but whenever he gets time to be with his family, he makes the most out of it. As mentioned in his recent 'gram post, the golfer is currently preparing for his 2021/22 PGA Tour.