American reality star Zach Nichols is famously known for being the MTV personality as he has appeared in its successful shows like 'The Real World: San Diego' in 2011 and 'Battle of the Exes II' in 2015.
Besides that, he has also appeared in the recently concluded 'The Challenge: War of the Worlds 2', where he ended up being a finalist. 
Being a participant of the challenge oriented shows, he maintains a strong built with the help of his muscular body structure and a height of 6 feet 3 inches (1.91 meters).
Also Know About: Shane Farley Married, Divorce, Girlfriend, Dating, Family, Age, Net Worth
Moreover, Zack holds a degree in Sports Science and Exercise Physiology from Northern Michigan University.
Zach Nichols Engaged With Girlfriend Jenna Compono
Long-time lovers, Zach Nichols & Jenna Compono, have got engaged as Zach proposed to Jenna with a ring on Saturday evening of 21st December 2019 at the Rockefeller Center Christmas tree in New York City.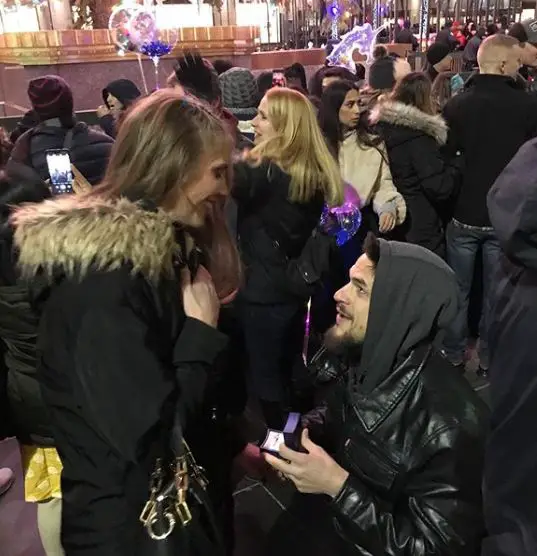 Zach Nichols engages Jenna Compono with an engagement ring on 21 December 2019 (Photo: Zach Nichols' Instagram)
After accepting the ring, the newly engaged lady expressed her happiness by saying,
I was so surprised! We went to see the tree every year since we met and a lot of memories have happened in New York City. I was so surprised and it was so sincere and sweet. I couldn't be happier.
Now, with that news, the couple's admirers must just be waiting for them to tie knots soon. 
Dating History
Zach Nichols and his fiancee, Jenna Compono, former MTV's Challenge participate, have been together since 2014 after they first met during the reality show, The Challenge: Battle of the Exes 2. 
The love birds have had ups and downs in their love life, like any relationships. 
In a similar instance, Zach accidentally called Jenna by the name Brooke Wells, a CrossFit star, in front of the camera in The Challenge show, which disheartened Jenna. 
Read More: Abram Boise Wiki, Age, Girlfriend, Family
However, they have been able to manage, understand and trust each other most of the time, which has made their fights smaller in front of their love. 
7 Things To Know About Zach Nichols
Zach is currently 32 years of age, as per his date of birth, that being 4th August 1987. 
His birthplace is Michigan, Unites States. 
He used to work at a physical therapy clinic while playing semi-professional football. 
His now-fiancee, Jenna, considered leaving the show 'The Challenge,' after he broke her heart by calling her by another girl's name. 
In 2016, he had blocked Jenna's number a day after calling her by another woman's name. 
He has over 332K followers on his Instagram account. 
He once was in a relationship with the reality star Ashley Kesley when they were in the MTV's The Real World: San Diego and according to Zach, she ripped his heart out, put it in a blender and served it to him for breakfast.