Angel Iris Murphy Brown rose to fame as the daughter of famous American comedian Eddie Murphy and famous British singer Melanie Brown.
She became the talk of the town because of her parent's controversial relationship.
Angel's birth became a controversial issue in the lives of Eddie Murphy and Melanie Brown because Eddie was hesitant about accepting Angel as his child.
The court also had to get involved when Melanie files a case against Eddie. To know more, keep reading the article!
Angel Iris' Age, Siblings
Born in 2007, Angel Iris Murphy celebrates her birthday on 3 April in California. Currently, she is of 12 years of age, and the birth sign is Aries.
More interestingly, she shares her birthday with her father, having been born on his 46th birthday in 2007.
Currently, she is living with her mother Melanie and her siblings.
Don't Miss: Taron Egerton Girlfriend, Dating, Gay, Shirtless, Wife
Through her father Eddie, she has three brothers Miles Mitchell Murphy, Christian Murphy, and Eric Murphy, and five sisters Bria Murphy, Shayne Audra Murphy, Zola Ivy Murphy, Bella Zahra Murphy, Izzy Oona Murphy.
She has two siblings from her mother: Madison and Phoenix.
On 24 March 2018, Angel was spotted along with her three siblings and mothers attending Nickelodeon's 2018 Kids' Choice Awards at The Forum in Inglewood, California.
Angel Iris' Parents: Eddie Murphy Denies Parentage
Angel Iris was born to parents Eddie Murphy and Melanie Brown (also known as Mel B or Melanie B).
Her mother Melanie Brown, who has the net worth of £8.29 million, is a singer, actress, and television personality.
She is popularly known as a member of 1990s girl group the Spice Girls whereas her father Eddie is a comedian, actor as well as producer.
Angel's parents started dating each other in the year 2006, and by the time she was born, they were no longer together, and they got split after their short fling.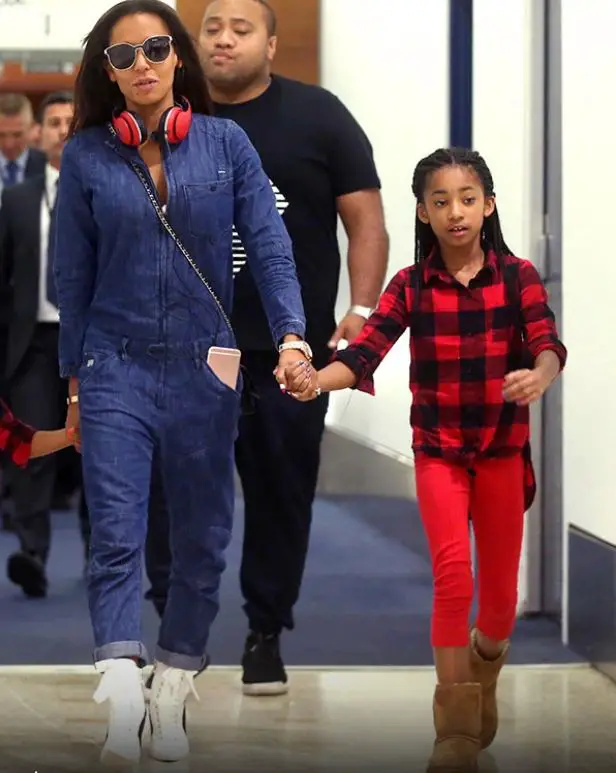 Angel Iris with her mother Melanie Brown (photo: hollywoodlife.com)
Melanie became pregnant with Angel when she began dating another film producer, Stephen Belafonte. She got married to Stephen in the year 2007, and the same year she gave birth to her daughter Angel.
See Also: Erica Dixon Wiki, Boyfriend, Dating, Engaged, Daughter, Net Worth
Later, Mel B became the subject of controversy as she acknowledged that Eddie was the father of her unborn baby daughter, Angel. However, Eddie denied the claims of Melanie being pregnant with his baby.
As they got separated on December 2006, Eddie told a journalist of the Dutch TV show RTL Boulevard at the Dreamgirls film premiere that the parentage of Mel B unborn baby could not be proven until a paternity test was performed.
On 22 June 2007, a court-ordered DNA test confirmed that Angel is the daughter of her biological father Eddie Murphy and she is her ninth child.
Later on, Eddie Murphy admitted paternity and had to pay $35K a month as child support until his daughter becomes 18 years old.
Ever since admitting his paternity, Mel B has revealed that Eddie is an amazing father to Angel. She has unveiled the fact that Eddie fills Angel with hundreds of gifts during any special ceremonies, like Eddie's birthday or Chrismas.
Besides, in one of her 2019 interviews, Mel B mentioned that Eddie always remains the love of her life as she has never been able to feel a similar kind of emotion with anyone else.
But Eddie, on the other hand, is happy in his life with his six years long girlfriend, Paige Butcher.
Eddie and Paige have been fiances for a year now and have been parents to their second baby together. Conjointly, Eddie is a father to 10 children from different relationships in his life. 
Stephen Belafonte Demands Visitation Rights Over Angel
Stephen was fighting to maintain contact with his stepdaughter Angel Iris, Mel B's daughter with Eddie Murphy. He claimed that his former wife Mel B was withholding access to his stepdaughter.
Stephen believed that Angel's biological father had played a limited role in her life while he has acted as her father, sharing parental responsibilities with Mel B throughout their marriage.
Even Mel B's ex-boyfriend Eddie supported her in an attempt to stop Stephen from seeing their daughter Angel.
You Might Also Like: Tess Sanchez Wiki, Age, Net Worth, Married Life With Max Greenfield
It was claimed that Mel B might allow monitored visits with their child, Madison, but she did not allow Stephen to be in contact with her child Angel.
However, in August 2017, the court granted Stephen monitored visitation with for Madison, who was with Mel B, but Angel was not included.