Valerie Vaughan has long ago called it quits with her famous ex-husband, Joseph Simmons, a rapper, better known as the stage name "Reverend Run." However, it is still her connection to Joseph, Valerie, is recognized.
Joseph is a member of the influential hip-hop group Run-D.M.C. He starred in MTV's reality show Run's House, a series that chronicles his extended family life. The show was filmed in the Simmons family home in Saddle River, New Jersey, in the Simmons offices in Manhattan, New York, and a few more sites connected to the family.
Meanwhile, Valerie made only one or two appearances on the show.
Nineteen Years And Counting!
Valerie Vaughn tied the knot for the second time with her husband number 2, Alfonzy Vaughan III, on the 18th of March 2000.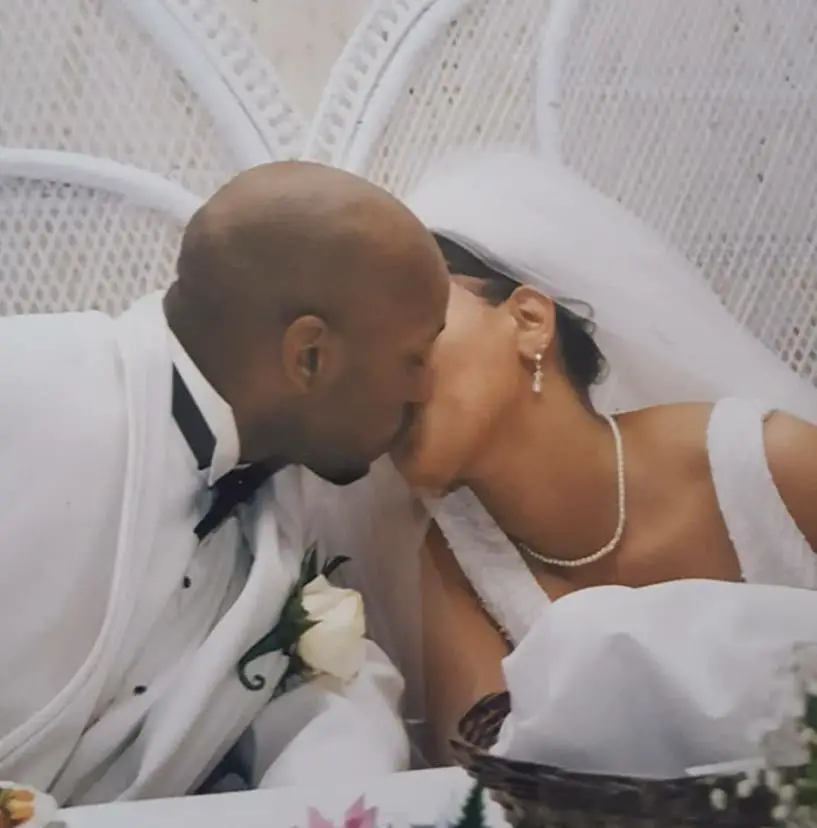 Valerie Vaughn and her husband Alfonzy Vaughan III on 18 March 2000 (Photo: Alfony Vaughan III's Facebook)
Alfonzy, a self-described husband and father, is fitness as well as Martial Arts enthusiast. Also, he defines himself as an artist and jokester on his Instagram account registered under his full name.
Also, Landed Fame, Tying The Knot To A Celeb: Haleigh Mullens Wiki, Age, Net Worth, Nick Mullens, Facts
Last heard of Valerie and Alfonzy was on 1st January 2020, when Valerie shared a picture with her husband and wished her Insta-family, "happy and blessed New Years"– in her exact words.
Kids From Previous Marriage
Valerie Vaughn's now ex-husband, Joseph, has been married to Justine Simmons since 1994, and he has a total of seven children from his multiple marriages.
Valerie and Joseph, together have three children: Vanessa Simmons (born on 5 August 1983), Angela Simmons (born on 18 September 1987), and JoJo Simmons (born on 29 September 1989). The eldest one, Vanessa, is an American businessperson, a shoe designer who, as an actor, made appearances in movies Speed Dating, Boogie Town, and Dysfunctional Friends.
Likewise, Angela, also a shoe designer, is the co-owner of Pastry Footwear company with her sister Vanessa, and the youngest of all JoJo, also known as Joseph Simmons, Jr., is a member of the rap group, Team Blackout. According to Celebrity Net Worth, Angela values a net worth of $7.5 million, Vanessa, an $ 8 million, and JoJo, a $2 million.
Valerie Vaughn's Short Bio (Age)
Valerie Vaughn was born in the year 1966. In June 2016, Valerie's daughter, Angela, threw her fiftieth birthday bash in Manhattan, New York.
More Of Celebrity Wives: Rachel Reichard Wiki: Relationship With Husband Chris Sullivan & More
Valerie went to Andrew Jackson High School and further pursued his studies at Queens College, City University of New York.
It was said back on 1st August 2016 that she was soon to be receiving her doctoral degree.
More Facts on Valerie Vaughn
Valerie's son, JoJo, got engaged to Tanice Amira in August 2018. At the time, they shared a three-year-old daughter. The couple tied the knot in October 2019, after nine years of knowing one another, at the Legacy Castle in New Jersey.