Tina Wesson describes herself as "happy, content, adventurous, outgoing, and very much in love," and she is definitely the type of person to survive through whatever the life throws her with.
She firmly believes that it is a mistake not to live all one can.
And, maybe this was the reason that made her join the CBS reality competition, SURVIVOR: THE AUSTRALIAN OUTBACK- which is about a group of strangers in a specified isolated location, where they are to provide for food, fire, and shelter for themselves as a grand cash money of $1 million awaits for the luckiest one!
Tina became the sole survivor of the season second renewal of the show and took home the reward in 2001. 
Husband, Divorce?
Tina is a married woman, and there should be no doubt about that!
Continue: Presilah Nunez Age, Net Worth, Husband
She tied the knot with Dale Wesson, a vice president of a construction firm, back in 1999. And since, the couple has been living to their happily ever after in every way possible.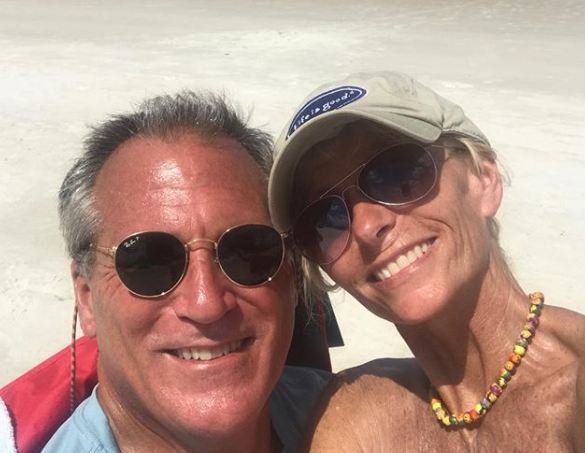 Tina Wesson and her husband, Dale Wesson, on 16 August 2018 (Photo: Tina Wesson's Instagram)
And, while the pair do not have any children together, Tina was already blessed with two young ones from her previous marriage with Jim Collins. 
She married Jim in 1986, and eventually, the husband-wife duo became exes as they resolved the issues of their separation over a divorce in 1997. 
Tina Wesson's Bio: Age, Son Killed In Car Accident
Now, 58, Tina is a registered nurse and motivational speaker who has appeared on several other 'survival' related TV shows.
She must have made quite a fortune from her TV ventures. But then, her leading a lower profile made it difficult for the sources to keep track of her actual net worth.
This might have to do with the misfortune she endured back on 3rd December 2013, when her son, Taylor Lee Collins, was killed in a horrific car wreck in Chattanooga, Tennessee- in a car driven by his friend, Braylon Davis.
Later, Braylon was convicted of criminally negligent homicide and imprisoned to two years for the car crash incident.
Tina, completely devasted from the loss, took three whole years to forgive the person considered responsible for the death of her son.
Fascinating Read: Tammy Leitner Married, Husband, Children, Parents, Net Worth, Height, Survivor, Family
Face-to-face with Brayon, during one of his court hearing, she told that she no longer held any bitterness and only had forgiveness for him. She also wished him for a better future where he would make better choices.
Meanwhile, looking at a brighter side, the mother, who still misses her son to the extent no one can apprehend, is blessed with the most beautiful daughter.

Tina Wesson with her daughter, Katie Collins, on 28 June 2017 (Photo: Tina Weston's Instagram)
Katie Collins, following on her mother's footsteps, has been one of the contestants on the Survivor: Blood Vs. Water.