The Kid Mero is a multifaceted personality: a proven writer, comedian, voice actor, music blogger, as well as television and social media personality. He rose to fame co-starring on the weekly podcast show Desus vs. Mero alongside Desus Nice, a comedian, and television personality. The weekly podcast show and web series premiered on 18 December 2013 and ran for a year.
Since then, the duo, The Kid Mero, and Desus have gone to appear in numerous projects, including a reality comedy television series, MTV2's Guy Code, and late-night talk shows, Viceland's Desus & Mero (2016), and Showtime's Desus & Mero (2019).
The Kid Mero Bio: Age, Real Name
'The Kid Mero' is a professional name; his real name is Joel Martinez. Joel was born into a large extended family in Washington Heights on 15th May 1983.
Following high school, he started working in the mailroom at Lehman Brothers, making his way up to its I.T. department. After that, he worked as a paraprofessional in a special-education class at I.S. 117 in his neighborhood, the Bronx. During that time, he developed this hobby of blogging, and just like that on a certain day, he got an email from an editor at the pop-culture website, Complex, and thus happened his collaboration with Desus Nice.
Married Life: Wife, Children
The Kid Mero and his wife, Heather Leavitt Martinez resides in the Bergen County borough, on the banks of the Passaic River. Together, they have three sons, aged seven, five and four, and one-year-old daughter as of 13th of November 2018.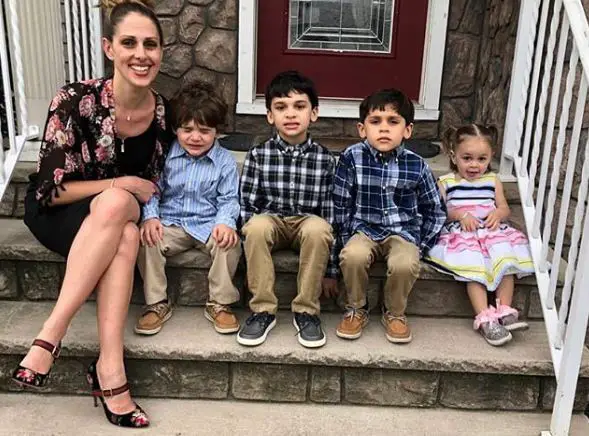 The Kid Mero's wife, Heather Leavitt Martinez, three boys and only daughter on 13 May 2019 (Photo: The Kid Mero's Instagram)
His wife, Heather, is a visual practitioner and lettering artist. Since 2016, Heather, the Neuland ambassador, has been practicing the masters of calligraphy, sign painting, and graffiti. Constantly search for new ways to share her insights, she also offers online courses, virtual sessions, and in-person workshops to her eager clients.
Interesting Facts on The Kid Mero
He found his comedic talent at a young age. His uncle would say something stupid, and Joel would parrot it back flawlessly, sending the room into fits.
His childhood nickname was "Romiro."
The day, 17 April, marks his wedding anniversary.
The Kid Mero and his professional partner, Desus Mero, attended the same summer school, so they were already familiar with each other before they started working together.
Back in the days, when Joel was into teaching, one of his students "popped off," refusing to do the assignment. He then explained it to the kids that he was not one of those "Teach for America from New Hampshire." The moment eventually mended the bonding with his students.