Terry Schappert, a Retired Green Beret, is well-recognized as the host of several combats and adventures based television shows such as Warriors, Shark Week, Hollywood Weapons, etc.
The particular force veteran and tv personality has had an adventurous career, but what is his personal life like?
Is Schappert married?
Although the details regarding his marriage is not accessible, it is known that Schappert has been married to Stefanie Schappert for a long, long time. In America, where, as per the reports,  military marriage has a high risk of ending in divorce, the couple managed to stay together and held their bond tight. 
Speaking to Fox News back in 2005, Stefanie shared her thoughts on the most challenging part of keeping the relationship going as such, 
It's not really being away that's the hard part...When they come home, it's back to the old relationship, and that's where the challenges begin. 
Furthermore, it is unknown if the couple has children together; their recent relationship updates are also unavailable.  
Military Service and TV Appearances
Schappert joined the U.S army in 1988 and gained his basic training, and was later assigned to the 82nd Airborne Division. Then he was selected to join Officer candidate School, considering his University degree, but declined the offer because of his inclination towards ground forces. 
As per his interest, he joined the recon squad and finished ranger School. His long-time dream of being a Green Beret came to reality after he served the Persian Gulf War. 
In addition, he also served as a Special Forces medical Sergent for almost five years, and after several years of military service, the veteran left the force and pursued acting. 
After the devastating 9/11 attack, he rejoined the military and served for several years until he retired in 2017. 
Talking about his TV career, he has been a host of various renowned tv shows; History Channel's  Warriors and Discovery Channel's Shark Week. His other notable appearances have been Red Eye w/ Greg Gutfeld, Dude, You're Screwed and Hollywood Weapons. 
His daring and adventurous career has earned him an approximate net worth of 1-5 million dollars, as per source reports.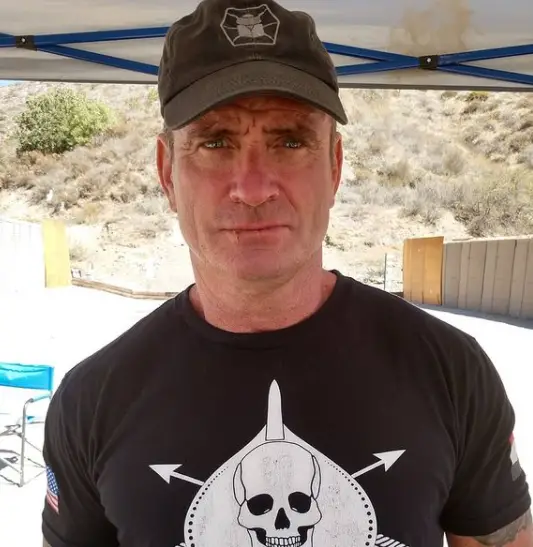 Terry Schappert on the set of Hollywood weapons. (Source: Instagram)
A Short Bio
Born on December 4, 1965, in New York City, the veteran went to the University of North Carolina Wilmington and received a bachelor's degree in Anthropology, and was a member of the social fraternity, Sigma Alpha Epsilon. 
Schappert was intrigued in being a Green Beret when he saw a picture of a U.S. special operation soldier from the military book on Vietnam War that he borrowed from his friend. 
Following his interest, soon after he graduated from the university, he enlisted himself in U.S. Army and began serving the country.