Today, the term "Plus-Size" has become somewhat controversial.
People have seen Australian Model Stefania Ferrario's campaign to end the use of the word "plus-size," claiming it to be a form of body-shaming. 
However, Tanesha Ferguson Awasthi, a fashion blogger and style expert, seems to be less fazed as she flaunts her thick body for the cameras earning a lot of attention. 
Tanesha boasts over 462K Instagram followers and has also been featured in several media outlets, including Glamour Vogue, Cosmopolitan, and Elle. 
Tanesha Awasthi's Family & Background Details
Tanesha Awasthi was born on 4th March 1981 in San Jose, California. When it comes to her family, her parents are 2nd generation Americans.
Not much is known about her father, but Tanesha did give a glimpse of her mother's business through her Twitter account. On 8th May 2011, Tanesha mentioned that her mother ran childcare business raising hundreds of children. 
Recommended: Grace Bonney Bio: Husband, Divorce, Lesbian, Adoption, Family
As per her ethnicity, Tanesha is as confused about her ancestry.
However, on her Instagram post on 7th March 2018, she revealed that she had been told that her father's side was Jamaican, Cuban, Creole, and Native American while she was Russian, German, Dutch, and Irish, from her mother's side. 
Moving towards her education, Tanesha earned a degree in English from UC Berkeley. In her family, Tanesha was the first to attend college. 
Attributes (Height & Weight)
Like most of the world's leading glamour models, Tanesha always loved modeling and fashion.
Her body, weighing 85 kg, never became a hurdle in order to get her dreams fulfilled. 
Tanesha's curvy shape is further accentuated by her excellent fashion sense as she beautifully flaunts her figure. 
At nearly 5 feet 10 inches (1.76 meters), Tanesha is beautiful in every sense of the word, with shiny black curly hair and a captivating smile that is contagious and also commendable. 
Married / Wedding Details With Husband
Tanesha is married to a North Indian Dave Awasthi from New Delhi, India.
Her wedding was no less than a fairy tale as it consisted of two ceremonies to honor her and her husband's culture. 
The family and close friends witnessed the two beautiful souls becoming one after Tanesha and her husband, Dave, accepted marriage vows, with their "I Do's" on 26th June 2010.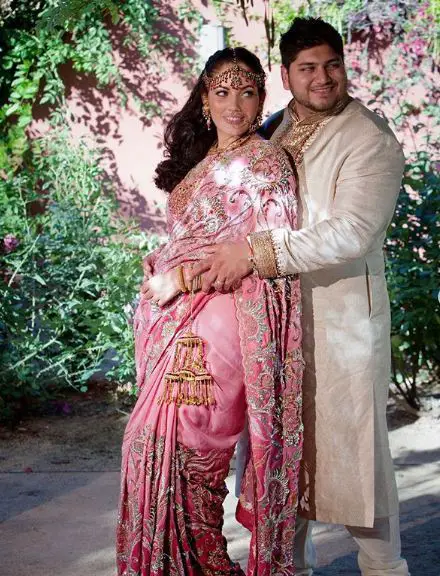 Tanesha Awasthi with her husband, Dave Awasthi on 26 June 2019 (Photo: Tanesha Awasthi's Instagram)
The duo also shares two children, son Narayan and daughter Madina aka Minnie. 
Don't Miss: Carmella Rose Bio, Age, Measurements- Life Of 'Maxim' Model
Despite having a busy schedule, Tanesha has well managed her responsibility as a wife and a mother. She also never hesitates to flaunt her family pictures on her social media account. 
Net Worth
In 2011, Tanesha started "Girl With Curves," where she shared her style tips and also expressed her passion for fashion.
Since then, she has become an inspiration to plus-size ladies; she speaks on behalf of self-acceptance and body positivity. 
In 2013, Tanesha began her designing clothing, and her first design was a tutu. Now, her clothing line features peplum tops, skinny jeans, crop tops, and skirts. 
In 2014, Tanesha even partnered with Pandora Jewelry.
Gradually, stepping to the higher goals, she made a name in the fashion world. As of now, from her career, she might have added a big load of chunk to her net worth.