Suzette Snider, widely recognized as the wife of the rockstar Dee Snider, celebrates her forty-five years of togetherness. And, the couple's social handles, where they frequently express their love for each other, is evident in their long-running romance.
Suzette Snider's Married Life
Snider was at the age of fifteen, while Dee had reached twenty-one when the two first met each other. Fallen for each other, Dee and Snider started dating shortly. 
Taking a step further in their relationship, Snider and Dee took their wedding vows on October 23, 1981. And after four decades of being together, their love for one another is still as new. 
Sharing the news of their 45th year of relationship, Dee took to his Instagram handle on April 17, 2021, to express his love for his lovely wife. He uploaded a picture with his partner and articulated his love and admiration for her through a caption that read as, 
45 years ago tonight I met the woman of my dreams...and held on for dear life! If I've had any positive effect on this world I owe it all to her. Suzette, I love you forever!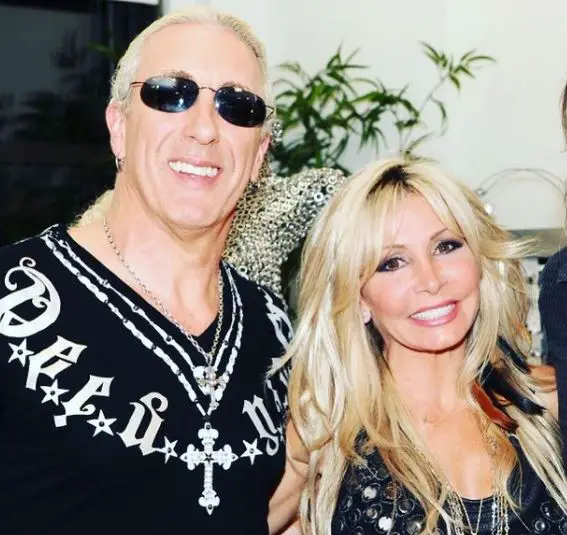 Suzette Snider posing with her husband, Dee Snider. (Source: Instagram)
On April 2015, the love birds talked with OWN about their early years of relationship. Walking down the memory lane, Dee shared that he was head over heels for her as soon as he met her, but Snider had no interest in him whatsoever. 
Madly in love with Snider, Dee did all he could to win her heart. Later in the 80s, Dee was in a rough shape while he had LSD syndrome. But, despite few rough years, they made their relationship work. 
Further, replying to the interviewer about the key to a successful relationship, Dee shared his opinion as, 
It's always a work in progress, and you can never take your partner for granted. You never assume that [relationship] is always gonna be the same...Life changes. Life affects you. And, you gotta care enough to work at it and impress the person that's most important to you.
Adding to Dee's comment, Snider also shared her opinion saying,    
I believe the key to a successful marriage, or relationship in general, is to always view it as the first or second or third date, when things were exciting and new, and you literally fantasized about meeting, seeing each other, the butterflies in your stomach. I think that's the way you keep it alive.
Snider's Children
Snider and Dee share four children, a daughter, and four sons, from their years-long relationship. 
Their firstborn is Jesse Blaze Snider, born in 1982. Likewise, they welcomed their second child, Shane Royal Snider, in 1988. Later, the family of four expanded after the arrival of Cody Blue Snider in 1989 and Cheyenne Jean Snider in 1996.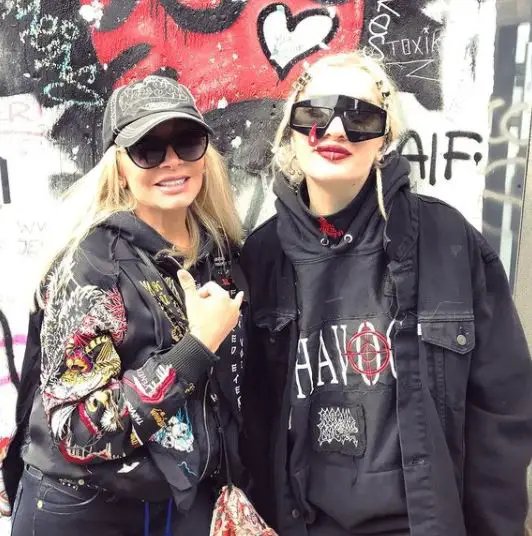 Suzette Snider posing with her daughter, Cheyenne Snider, in Berlin. (Source: Instagram)
As for their profession, Shane is an actor known for his works in Fool's Day, Calicoon, and The History of Future Folks. LIkewise, Jesse is a comic book writer, voice-over actor, and radio and tv host, while Cody is a director and screenwriter. 
Though none of Dee's children followed his career path, they excelled in their respective careers at their own pace. 
A Short Bio On Her Husband, Dee Snider
The globally recognized singer, Dee Snider, gained prominence as the lead vocalist for the heavy metal band Twisted Sister. Besides Twisted Sister, the 65-years-old has also worked on projects for his self-created bands, Desperado and Widowmaker. 
Given his prominence in the 80s, Dee secured 83rd position in Top 100 Metal Vocalists of All Time by the Hit Parader. 
With several albums under his belt and numerous television and radio appearances, the I Gotta Rock singer is entitled to a net worth of 7 million dollars.