Suzette Snider & Dee Snider's Four Decade Long Successful Married Life
Costume designer Suzette Snider is known for her work on The Howard Stern Show (1987), Behind the Scene (2011), and Fool's Day (2013).
On top of that, she is the wife of Being Twisted Sister's lead singer, Dee Snider.
Bio, Age
Suzette Snider, who hails from Long Island, New York, USA, was born on 16th September 1960. She had a brother named Vincent Gargiulo, who was shot and killed on 18th August 2003 on a Manhattan street.
All About Singer: Rob Giles Married To Actress Wife: Children & More
Later, upon investigation, a September 2008 Associated Press news account revealed that her brother was killed under the orders of a man from whom he was trying to extort money.
Married Details 
Suzette Snider is married to Dee Snider.
The couple first met when she went on to Dee's show, thinking Suzette was seeing a girl band. At that time, Suzette was 15 years old, and her husband was 21. After Dee saw her, he was impressed by hot Italian beauty; he immediately approached her and also told her that he would be famous one day.
Finally, on 23rd October 1981, Suzette and Dee exchanged their wedding vows.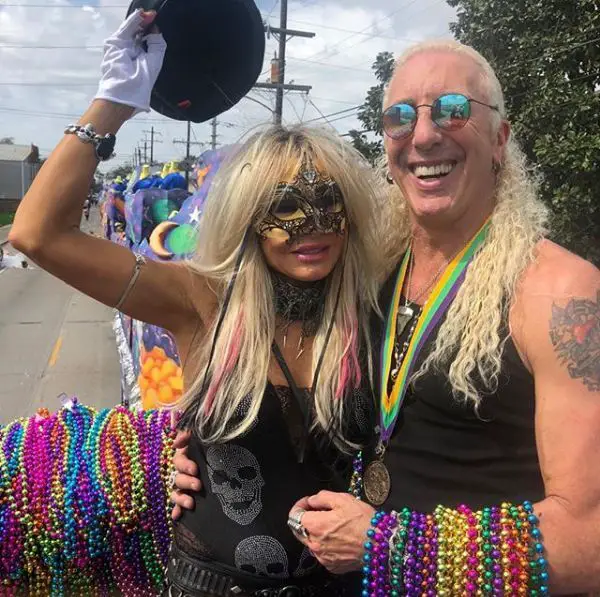 Suzette Snider and her husband Dee Snider on 24th February 2019 (Photo: Suzette Snider's Instagram)
However, in 1984, the couple nearly broke up after Dee's fame, and success made him became full of himself. He had become a megalomaniac. But the couple kept it together and made their relationship work.
When Suzette made an appearance on the Oprah Winfrey Network, she talked about her married life with her husband and said, 
"I believe the key to a successful marriage, or relationship in general, is to always view it as the first or second or third date, when things were exciting and new, and you literally fantasized about meeting, seeing each other, the butterflies in your stomach. I think that's the way you keep it alive. And I always fantasize if I was his mistress or girlfriend, what would I do? What would I have done [36] years ago?"
Now, Suzette Snider and Dee Snider are parenting their four children Jesse Blaze Snider, Cheyenne Snider, Shane Snider, and Cody Blue Snider. 
Husband Dee Snider
Suzette's husband, Dee Snider, is commonly known as an American singer, screenwriter, songwriter, actor, and radio personality. And according to Celebrity Net Worth, Dee has a net worth of $10 million. 
He, who was born on 15th March 1955, is the son of Bob, a retired New York State Trooper and Nassau County court clerk and Marguerite, a retired art teacher.
During his childhood, Dee sang in a church choir, in the Baldwin High School Concert Choir, and several school choruses. In early 1976, he joined Twisted Sister, an American heavy metal band, becoming the sole songwriter after that. Their released albums are Under the Blade; You Can't Stop Rock 'n' Roll, Stay Hungry, We're Not Gonna Take It, I Wanna Rock, and many more.
Check Out: Matthew Koma Age, Wedding Details & His Best Songs
In 1990, Dee formed Widowmaker and recorded two albums titled Blood and Bullets and Stand By or Pain. Later, in 1999, Dee began hosting a morning radio show on a Hartford, Connecticut Clear Channel station, Radio 104, called Dee Snider Radio.
---