It is not a big of a deal getting famous when your parents are one of the well-established actors in the Hollywood. So is the case for adorable little Suri Cruise. She landed in the spotlight as her father Tom Cruise is one of the anticipated actors in the film industry.
Fame always comes with some controversies or fake rumors, so is the case with the little Suri. There was a lot of controversies regarding Suri's name that got a lot of national and international attention. Following this controversy with her name, Suri and her family had other controversies regarding their marriage as well. 
Controversies Regarding The Name Suri!
Adorable Suri Cruise was born on 18 April 2006 in Santa Monica, California. She was born in St. John's Health Centre in Santa Monica, at the same time as the daughter of Brook Shield's daughter, Grier Henchy. Her father, Tom Cruise, openly had a dispute with Brook about the postpartum she went through.
Even before her birth, she was already famous, all thanks to her celebrity parents. Media's all around the world were excited about the gossips of the expected delivery. The breeze of Suri's birth took a whole new form in the Tinsel Town, swarming everyone with a strong gust of wind.
The real trouble and controversy started after her birth, when Tom made her name public, Suri. Suri has two meanings as per Tom Cruise, in Hebrew Suri means Princess while in Persian, it means Red Rose.
However, many magazines, publications firm, and linguists reported that Cruise misinterpreted the word from Hebrew because, in Hebrew and Arabic, Suri means From Syria. They also stated that Suri indicated a Yiddish pet form of Sarah. Further digging into the meaning of her name, netizens found that Suri meant Pickpocket in Japanese, To Sour in a French verb form. These all controversies led to being a joke on the internet and not a broad adoption as other celebrity names.
Family Life Of Suri Cruise
Suri's parents, Tom and Katie Holmes were a hot topic back in April 2005. After appearing together in Rome, Katie and Tom made their relationship status clear to the public. The couple quickly got married the following year on 18 November 2006.
The wedding took place in an actual castle of Odescalchi Castle, a magnificent 15th-century building in Bracciano, Italy. This grand event was attended by the Hollywood's biggest names like Will Smith along with the former football player David Beckham and his wife, Victoria Beckham.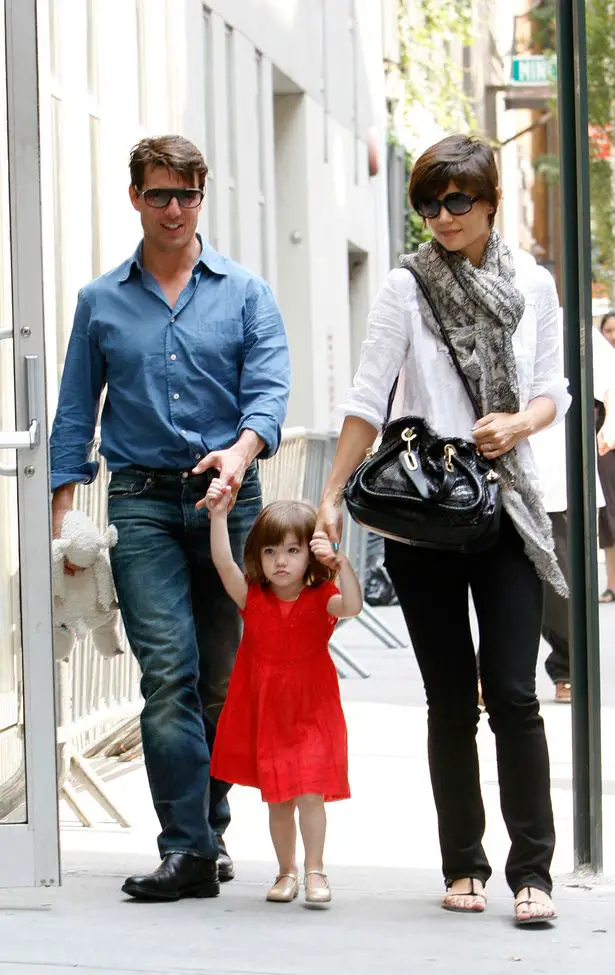 Actor Tom Cruise with daughter Suri Cruise and Actress Katie Holmes on 15 August 2008 in New York City. (Photo: Mirror.co.uk)
Suri has a half-brother named Conor and a half-sister named Isabella. Tom adopted them both and raised along with his ex-wife Nicole Kidman. Conor just like her adopted parents pursued acting as a career and starred in the 2012 remake of the action film Red Dawn. On the other hand, according to some wiki sources, she sister Isabella pursued careers in fashion and hairdressing. In 2015 Isabella married to Max Parker, who is an actor himself.
On 9 July 2012, Tom and Katie got divorced, and the full custody of Suri went to Katie. It was rumored that Katie divorced Tom because she was afraid of the faith Tom had along with the Church of Scientology. Katie also stated to lawyers that she wanted to protect her daughter from the controversial religion that Tom follows. To this, Tom reacted angrily but accepted it was one of the reasons for their divorce and admits he has not seen his daughter since August 2012.
As of now, since summer has already arrived, Suri has been attending Hamptons Parties. More recently, on 26 May 2018, she was spotted at a party of DuJour magazine at Gurney's Montauk Yacht Club. Her mother, Katie is usually seen by Suri's side when in public, but this time around she was not to be seen anywhere near. Suri, with her super hyped parents and the controversies, has accumulated a net worth of over $500 thousand.