The multi-talented personality Shura Baryshnikov not only has prospered in terms of her professional career but also has raised her two wonderful daughters to be talented in their craft. However, the dancer, actress, choreographer, and dance teacher put her marriage to an end long ago and hasn't remarried since. 
Who Is Shura Baryshnikov's Ex-Husband?
The actress's ex-husband is Bruce Bryan, but she hasn't disclosed further information about him. However, the dancer seems to have been with Bruce since her University days, as a picture suggests.
In the picture, which was taken on Baryshnikov's graduation ceremony, she was accompanied by her husband Bruce, her father, and her mother, who is holding the first-born daughter of the dancer. The picture sums up that the couple might have been college sweethearts. 
Although it's unknown when they tied the knot, they moved to Rhode Island in 2003 with their first child. After a couple of years, the actress gave birth to her second child, but unfortunately, the marriage couldn't sustain and end with a divorce approximately in 2008. 
Ever since the divorce, the choreographer hasn't remarried, also hasn't been rumored to be romantically involved with anyone.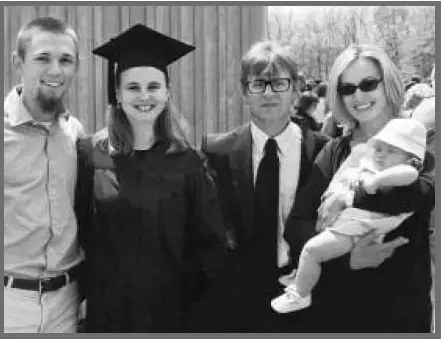 From left: Bruce Bryan, Shura Baryshnikov, Mikhail Baryshnikov, and Jessica Lange holding her granddaughter Adah. ( Source: Listal.com)
Baryshnikov's Talented Daughters
Not getting married again, Baryshnikov invested most of her time and energy to look after her daughters, Adah Bryan and Ilse Bryan. Recently, on March 8, the actress took to her Instagram to post the mother-daughters cozy sunkissed pictures. The adorable picture was paired with a caption:
In the last month, we each had a birthday and hit some hefty round numbers - 16, 18, and 40. Grateful for continued health and these two incredible humans. 
The mother of two keeps her Instagram updated with the latest happenings in her daughters' lives. A few posts later, she flaunted her elder daughter, Adah's graduation picture, wearing a navy blue graduation coat over a cute mini dress, and wrote:
Now a graduate - Suma Cum Laude! - and headed to Grinnell College in the fall. And she got to go to prom this week too. Proud mama. 
The proud mama sure raised talented kids. Besides her graduate daughter, her younger daughter Ilse is a circus star and constantly works on improving her craft. Practicing the circus from an early age, she began performing with an award-winning traveling youth circus, Circus Smirkus, since she was eleven.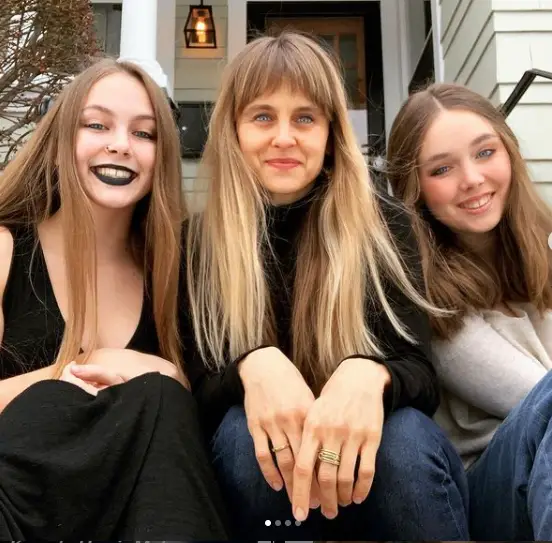 Shura Baryshnikov with her daughters. ( Source: Instagram )
Know More About Her Family
The 40-year-old was born in 1981 in Minnesota to the parents, Mikhail Baryshnikov, Jessica Lange, both artists. Her father is a well-recognized Russian-American ballet dancer, while her mother is an award-winning American actress. 
But, the bond between Mikhail and Jessica halted in 1982, a year after Baryshnikov was born. Jessica, also known for her long list of lovers, soon mingled the playwright Sam Shepard with whom she shares two children, daughter Hannah and son Samuel.   
Moreover, the dance instructor also has three half-siblings from her father's side, Anna Katerina, Sofia-Luisa, and Peter Andrew. She shares a close-knitted bond with her half-sisters Anna and Sofia as per her Instagram post from August 1, 2019, where the three are seen posing under the beach sunset, and Baryshnikov captioned the post as:
Three sisters on a trip from Rome. Sperlonga, Italy. Sun and sunsets. So much beauty. So far, it's been France, Germany, Italy, and on Saturday back to Germany. 2 weeks left out of six on the road. Feeling my great fortune. 
Shura Baryshnikov with her Anna Katerina Baryshnikov and Sofia-Lusia Baryshnikov. (Source: Instagram)
What is Her Net Worth?
Coming from a family of aspiring artists, Baryshnikov has established herself as a prominent figure in the industry in acting as well as dancing and has been recognized for several of her amazing work. Currently, she is the head of Movement as well as a teaching associate at Brown University.
She has probably amassed a bulky net worth based on her accomplished career, but no accurate number is available yet. Nonetheless, her father is estimated to have amassed a net worth of 45 million dollars, while her mother is entitled to 20 million dollars, as per a source.