Ryan ToysReview is one of the most famous Youtube personalities. At an unbelieving age, he has earned both name and fame through his toy review videos shared through his channel.
Currently, owning seven youtube channels with more than 30 million subscribers as a whole and eighty deals through Pocket. Watch which include video games, food brands, he has become a Youtube megastar.
Ryan ToysReview's Parents, Nationality
Ryan's mother, Loan has a Vietnamese family background as the daughter of Vietnamese immigrants in the US.
During her teenage years growing up in Houston, Texas, she was called by her friends as Loan though her real name is Kieu-Loan Thi Nguyen. 
While studying at the University of Houston, she was once caught shoplifting at a JC Penney department store in Houston's Almeda Mall on 28th June 2002.
She faced a court trial and remained in jail for sixty days after breaching the probation period. 
You Might Like: Alex Ernst: Gay Or Dating At Age 21? Also His Height, Net Worth And Family
After the incident, she was enrolled at Texas Tech University in Lubbock, Texas. In September 2009, she met Shion Guan, a four-years junior civil engineer student from Japan through mutual friends. 
From their first met, the couple was inseparable and they were living together. Loan graduated with a degree in arts and sciences in 2010 and the same year they welcomed their first child. 
After Shion returned to Houston from completing his master's degree at Cornell University in Ithaca, New York, the couple finally got married on 10th August 2013. 
His Wiki, Real Name
Ryan ToysReview was born on 6th October 2010 in Cypress, Texas with the birth name Ryan Haruto Nguyen. 
Since Ryan was born before their marriage, he had to use his mother's maiden name under Texan law.
But after the court's order, he was allowed to use his father's surname. So his real name is Ryan Haruto Guan officially named on 27th April 2017. 
His family includes his parents and twin sisters: Emma and Kate all of whom are featured in his Youtube channels.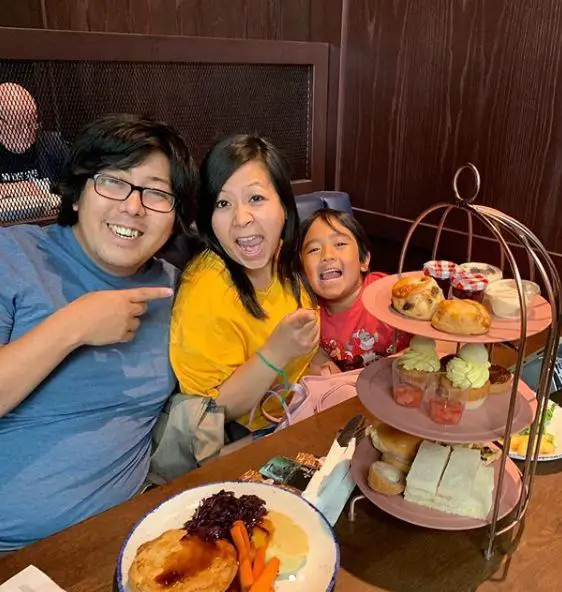 Ryan ToysReview with his parents on 23 August 2019 (Photo: Ryansworld's Instagram)
When he was three years old, he watched toy review channels and asked his mother about his interest to appear on Youtube.
His mother took that seriously and quit her job as a teacher for it. She bought him his first toy and published his first video on 17th March 2015 initiated the channel, Ryan ToysReview. 
Don't Miss: Mia Stammer Wiki: Age, Height, Boyfriend, Dating, Net Worth
From the very beginning, his videos went on becoming popular with millions of fans and followers.
In 2017, his parents signed a deal with Pocket. Watch which helped his youtube channel in marketing and merchandise. 
By now, his channel has 22.9 million subscribers becoming 97th among subscribers rank and 6th among video views rank. 
Nationality
Ryan ToysReview is Chinese by nationality. 
Net Worth
Being the owner of one of the most financially successful channels of all time it is needless to say that Ryan ToysReview's net worth is in million dollars.
His channel has gained over at least $15 million in revenue and is growing.