Celebrating the beautiful union, the American tattoo artist Rafael Reyes a.k.a. Leafar Seyer, and Kat Von D exchanged their vows in a spectacular goth-themed wedding in 2018. 
The pair, who got married on February 2018 in a private setting, yet lavishly celebrated their wedding ceremony just a few months later, on June 2.  
Inside Rafael Reyes's Stunning Wedding with Kat Von D
Reyes and Kat surprised their fans when Kat took to her social handle on February 21, 2018, and announced their marriage with a picture displaying their matching wedding rings that complemented their heavily inked hands. She paired the picture with a caption that read as, 
Today, I married my soul's mate, my mind's twin, my best friend.
While the wedding was held in Beverly Hills in a private setting, the couple surprised their fans yet again with their extravagant marriage ceremony on June 2 the same year. 
However, the second wedding was everything their fans had expected. With a venue at the Beverly Hills Hotel, every element of the wedding screamed a goth theme with blood-red decoration from floor to ceiling. 
Flaunting the unconventional look, the groom was dressed in an all-black suit while the bride stole the show with her eye-catching long-sleeved ruffled wedding gown dripping red from head to toe.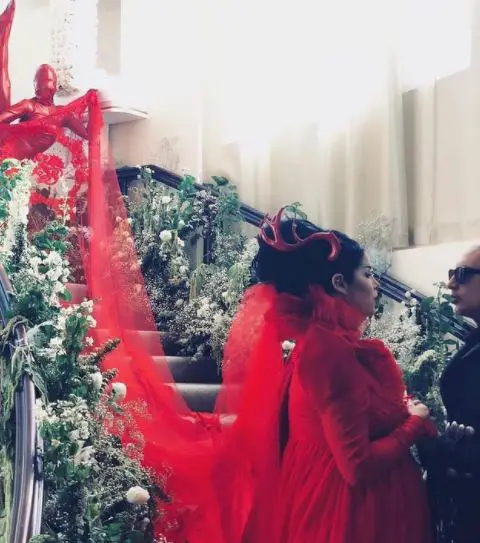 Rafael Reyes and Kat Von D on their wedding day. (Source: Instagram) 
Matching with the ceremony's theme, all the guests were dressed in black, making the event even more intriguing. The entire moment of their big day is treasured in one of the Youtube videos on Kat's channel.  
As much as the lavishly stunning wedding was entertaining, it also got the whole guests in teary eyes when the two took their heartfelt vows. 
Reyes, holding his tears back, went first with his vow saying, 
Katherine, I've always felt that love, the unconditional love, meant that one should put someone else's happiness and needs before their own. I spent the majority of my life doing just that, not once did I get to experience unconditional love in return until I met you...
The tattoo artist continued his vow in a shaky voice sharing the highs and lows throughout their journey together, and promised to always love and care for her for the rest of his life. Likewise, Kat took her turn to share her emotional vow and promised to love him endlessly. 
Does Rafael Reyes Have Children?
Keeping up with their wedding promises, the pair reside a happily wedded life to this date and have been blessed with a child, Leafar Von Drachenberg Reyes. 
Reyes and Kat welcomed their son on November 29, 2018. Sharing the big news, both took to their respective social handles, giving a glimpse of their newborn. 
Kat, who shared the father-son picture on her 'gram, wrote, 
Meet our beautiful baby boy, Leafar Von D Reyes. Thank you to all our beloved friends+family, fans+followers for your patience in us announcing his long-awaited arrival! 
However, this is not the first time experiencing fatherhood for the tattoo artist. It's known that Reyes has an estranged daughter, born in 1994, from his previous relationship.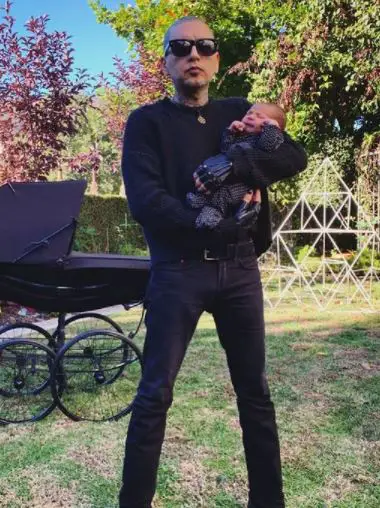 Kat Von D's Instagram post of her husband, Rafael Reyes, holding their son. (Source: Instagram)
What Is Reyes's Net Worth?
Besides having a resounding personal life, Reyes has a fulfilling career as a tattoo artist and a musician. The tattoo artist, also recognized for his meaningful tattoo's covering the majority of his body, has probably garnered a hefty net worth, which remains concealed. 
However, his wife, Kat, an Argentinian-American entrepreneur, tattoo artist, and reality tv star has accumulated a hefty wealth of 20 million dollars, as per a source.
Currently, the tattoo artist is busy with his upcoming music shows and will be performing as a part of his electric duo band, Prayers. As posted on his Instagram, the artist will be performing alongside his wife in four different shows.