Film personality Ondi Timoner, age 46, was born on 6th December 1972, who has contributed to the film industry with her skillful movie direction, scripting, and editing. 
Her most recent career achievement includes The Rogue Award (Ashland Film Festival, 2015), The No Limits Award (Sarasota Film Society, 2015), The Auteur Award (Kodak, 2017), and the Maverick Award (The Audience Awards, 2017). 
Even in her late 40s, Ondi seems to be busy with her works as she was occupied with her 2018's directorial movie Mapplethorpe's works and also was seen hosting the talk show, We Talk, in 2019. 
Ondi Timoner Married To Husband?
If you have followed Ondi Timoner on her social media, especially on Instagram, you must have seen her with her son, who goes by the name, Joaquim Timoner, now known as Juki Timoner.
This must have made you think that she is happily married and lives along with her kid and husband. However, it is not the case as she is a single parent of her son.
Read More: Josh Wiggins Wiki, Age, Parents, Dating
Narrating Ondi's personal life from the start, she and her ex-partner, Vasco Lucas Nunes, a cinematographer, gave birth to their first child, Juki, in 2004, after being in a relationship for a few years. 
The two took care of Juki and raised him with a proper upbringing.
But unfortunately, Vasco passed away on 11th March 2016 in Los Angeles due to a road accident. This incident shook both Ondi and Juki and put them in sorrows.
But Ondi and Vasco had not revealed whether they were married until then as well, which have made their relationship a mystery. 
After the death of Vasco, Ondi, now, looks after all the parenting duties of her kid and has not hinted anything regarding any new relationships.
It is very evident that she is more occupied with her career and parenthood of her son. 
Ondi Timoner's Family Details
Speaking about Ondi Timoner's family life, she is the daughter of Eli Timoner and Lisa Doane Timoner, the natives of Miami.
Professionally, her father, Eli, was an entrepreneur airline executive, whereas her mother was the support behind all his works.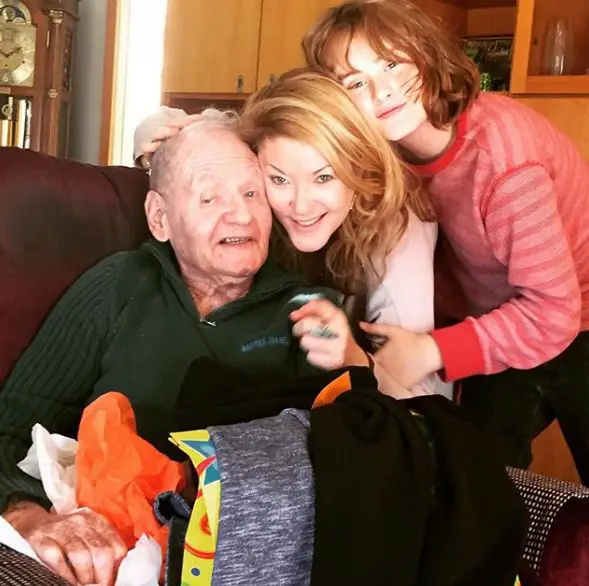 Ondi Timoner wishes her father his 87th birthday by sharing a photo of herself, her father and son Juki Timoner on 13 December 2015 (Photo: Ondi Timoner's Instagram)
Moving on, Ondi was raised by her parents, along with two siblings. One of her siblings is David Timoner, with whom she collectively worked in various projects in their initial years. 
The first project of Ondi and David, together, was the experimental sitcom, High Street 06511, which attained local cult status. 
Interesting: Beau Mirchoff Girlfriend, Married, Net Worth
Later, the brother-sister duo collaborated for music videos and documentaries, including the Sundance-winning rock doc DIG! and We Live in Public. 
Net Worth
Ondi Timoner has raised her worth to one of the renowned film personalities in the United States. 
She has worked as a director in dozens of movies as well as her credits as writer and editor are numerous.
The projects like We Live In Public, Dig, Mapplethorpe, Cool It, and Library Of Dust were all handled by her. 
From the 90s to date, Ondi, who stands at an average height, has worked like there is no end, and that dedication has earned her respect, fame as well as enormous net worth.
Although she has not revealed her total wealth to the public, Ondi surely has earned enough from her career to live a lavish lifestyle.