You might recognize Noah Borowski Ritter as the 'Apparently Kid' who became viral overnight with his entertaining interview with a local television station, WNEP-TV, during his visit to Pennsylvania's Wayne County Fair in 2014.
After his viral video, he went on to appear in other popular shows like The Ellen DeGeneres Show, Good Morning America, ABC Nightly News, and Today Show.
Furthermore, Noah is well-taken by the audiences because of his cute looks, speaking style as well as for his knowledge on various topics at such a young age. 
Noah Ritter's Wiki / Bio (Age)
The birthday of the 2008-born Noah Ritter is on the 19th of November. He is currently 11 years old, and his birthplace is Wilkes-Barre, Pennsylvania. 
You Might Like Reading About: Jonathan Sadowski Married, Net Worth, Family
Noah has interests over different things, which includes him playing Pokémon Go with his grandpa, learning Karate, and taking drum lessons. 
Furthermore, Noah also has his official Instagram and Twitter account that he runs with the help of his adult friends. 
On Instagram, he has over 167K followers, although he has not posted anything since 2015. 
His Family, Parents Details
Speaking about Noah Ritter's family, he is blessed with his loving grandfather, Jack, his mother, and his father.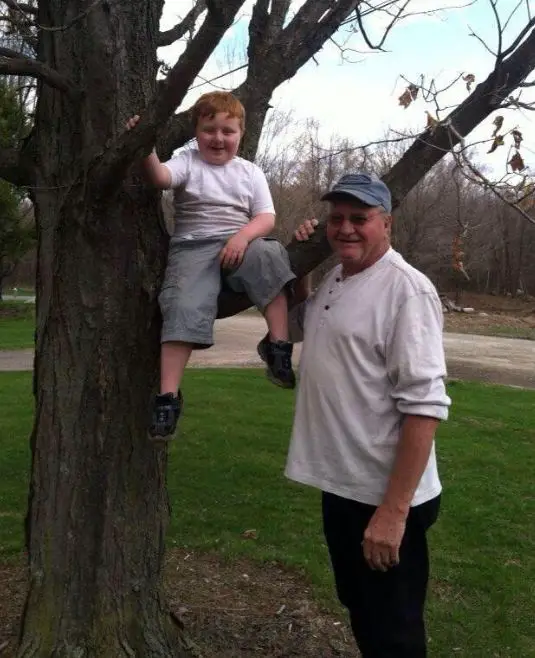 Noah Ritter shares his picture with his grandfather, Jack, on 3 May 2015 (Photo: Noah Ritter's Twitter)
However, Noah is not blessed to see his parents together because they seperated after Noah's birth.
He disclosed the information about his parents' seperation during an interview with Ellen DeGeneres in 2014. 
Moreover, he prefers to live with his grandpa, who is also his best buddy, in his own words. 
His Net Worth Now
After coming to fame with viral videos, followed by various interviews with famous personalities, Noah Ritter has found a way to earn for himself very early in his life as a child artist in various tv shows and commercials. 
In 2017, he appeared in the television show, The Toy Box, hosted by Modern Family star Eric Stonestreet along with other famous kids including Sophia Grace Brownlee, Aalyrah Caldwell, and Toby Grey. 
Also Read This: Chris McKenna Actor, Married, Wife, Girlfriend, Dating, Gay, Height
Now, although he earns decent earning from his appearances on TV shows, Noah's salary or his total net worth is not disclosed yet. 
Interesting Facts About Noah Ritter
Noah did his first commercial advertisement video for Freshpet, which makes refrigerated pet food, at the age of 5 in 2014. 
More than 42 million people have viewed his viral video on WNEP-TV's YouTube channel as of November 2019. 
The reporter to interview his viral video at the Wayne County fair in Eastern Pennsylvania is Sofia Ojeda. 
He is also an expert in judging the taste of food, especially pizza. 
He co-hosted ABC's show "The Year" for the Viral Videos segment with NFL star Michael Strahan in 2014.