It's no longer new to see different beauty gurus like Netherlands native Nikkie De Jager springing up from time and again on social media platforms.
However, people, who have witnessed the start of Nikkie's makeup tutorial journey, have been amazed at the level of success she has achieved in terms of YouTube subscribers as well as her Instagram following. She has over 12.4 million subscribers on YouTube and 12.9 million followers on Instagram.
Her work has also made her featured in many magazines, including Fashionista magazine and Vogue Netherlands, as well as TV shows and ads.
Bio 
Nikkie De Jager was born on 2nd March 1994 in Wageningen, Netherlands.
It seems like art runs in her family, as her mother is also a beautician who runs her online shop. Her mother has also made several appearances in her videos.
Another Makeup Artist You May Know: Erika La'Pearl Wiki, Age, Gender, Net Worth, Family
As for her education, Nikkie signed up for Makeup Course by Pascale Tesser at B Academy in 2010. Later, she added one more course, the Hair on the set: Level 1 Course at B Academy.
Further, to enhance her skill, she joined WE-R Agency's Hair School Course in 2013.
Experienced Tragic Loss
In May 2018, Nikkie experienced a significant loss when her younger step-brother, Mikai De Jager, passed away at only the age of 14. Despite the major age gap between Nikkie and her late brother, they were incredibly close, and his death was devastating for Nikkie and her family.
In 2017, Nikkie revealed that her brother was diagnosed with lymphatic cancer, and he was into remission of several rounds of chemotherapy. However, a year after the treatment, her brother was re-diagnosed, which lead him to say goodbye to the world and family.
Coming Out As Transgender
In the most recent YouTube video uploaded on 14 January 2020, Nikkie, for the very first time, spoke on her gender transition.
Wanting to start the year with the truth she had been hiding from the world, she explained that when she was younger, she was born in the wrong body, which. She further added that the whole process of filming the video was "scary," but, at the same time, "so freeing and liberating."
At the age of 6 or 7, Nikkie started growing long hair and began wearing girls' clothes. Later, she started taking the hormones and growth-stoppers when she was 14, and by the time she was 19, she was fully transitioned. All through this, her mother was always by her side, .means she is a transgender woman.
Luckily, her fiancé was very supportive of her addressing the transformation openly. She had taken a while before she revealed her past to Dylan, and after that, she was glad and only wished that she should have done it sooner.
Nikkie De Jager Is Engaged Now
Nikkie De Jager, who single-handedly taught how to blend a cut crease, will soon be leaning into bridal makeup.
Yes! She is engaged to her boyfriend, Dylan Drossaers. In August 2019, her boyfriend popped the question during their romantic Italy trip with a stunning heart diamond band. After then, Nikkie took her Instagram account to share her news of their engagement with her fan following.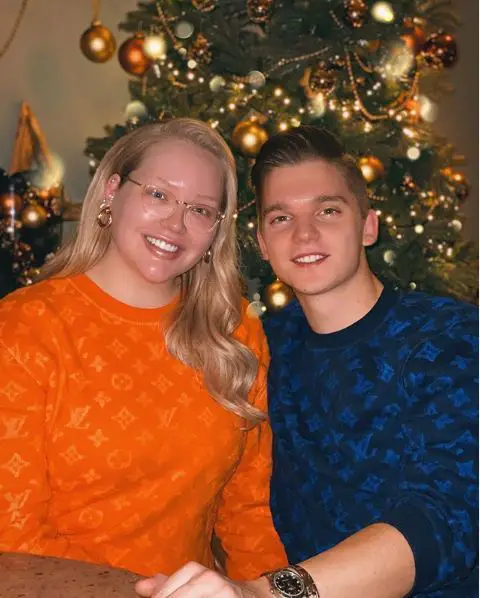 Nikkie De Jager and her fiancè Dylan celebrates first Christmas as an engaged couple on 26 December 2019 (Photo: Nikkie De Jager's Instagram)
The couple has reportedly been dating since 2018 before getting engaged.
Recently Got Engaged: The Dancing On Ice Star Ray Quinn Engaged To Girlfriend In New Year
Prior to her present love life, Nikkie was in a long-term relationship with Rick Smit from 2013 -- 2018.
Net Worth
According to Celebrity Networth, Nikkie has made a net worth of $6 million. 
Weight Loss
Nikkie stands at a height of 6 feet 2 inches (1.88 meters) and weighs about 92 kg.
During her journey in the field, she has faced criticism about her weight and look. She was even fat-shamed by TV personality Tila Tequila where he wrote;
"Nothing irks me more than fat chicks who pound on the makeup! They're already sinning grossly through GLUTTONY! THEN on top of that, they're full of VANITY AND DECEIT with all that cake on their face!"
Nikkie shut all the negativity and pushed herself towards a healthier lifestyle. Successfully, she lost 50-pound and proudly showed off her incredible transformation on her social media platform. 
Interesting Facts- Tattoo
Nikkie has at least 14 known tattoos.
She has a pair of fake eyelashes tattooed on her left wrist.
Her realistic images tattoo were done by tattooist Evan Kim