Nick Bare is a renowned American fitness instructor, nutritionist, entrepreneur, and a US Army veteran.
He is also an online coach active through his Youtube channel commenced in 2012.
He owns a fitness company Bare Performance Nutrition which he started in 2012.
Nick is helping his clients to enhance their health through his workout techniques and dietary supplement products.
Talking about his earnings, he is probably making a hefty amount from his company and Youtube channel. But Nick has not disclosed his exact net worth yet. 
Nick Bare Wiki-Like Bio
Nick Bare was born on 1st August 1990 in Pennsylvania, USA. The 29-year old fitness star stands at a height of 5 feet and 10 inches (1.77 meters). He has a weight ranging from 205lbs to 215lbs (88.5-93kg).
At an early teenage, Nick suffered a severe eating disorder. To recover from this, he started training in the gym and balancing his diet.
After continuous training and workout, Nick began to achieve a healthier and fit body. That is when Nick's passion and curiosity about nutrition and weight control arose. 
After getting encouragement from his physical progress, Nick decided to pursue an education in nutrition.
So he joined the Indiana University of Pennsylvania and graduated with a degree in Nutrition in May 2013.
Enjoy Reading: Is Katya Henry Dating? Boyfriend, Age, Workout, Family, Measurements
While in college, Nick had applied for the scholarship under US Army Reserve Officer Training Corps (ROTC) program.
He got a free scholarship and joined the army after graduating from college. 
In his active service in the US Army, Nick attended different schools and graduated from the U.S. Airborne School, Army Ranger School, and Air Assault School.
Nick has served as the First Lieutenant and Platoon Leader during his four-year active tenure and then got transferred to Reserve Army. After that, he came out to build his own fitness company.   
Nick Bare's Married Status
The young fitness and nutrition specialist were engaged to Stefany Banda in September 2018. Their romantic love story goes as follows. 
Nick and Stefany happened to follow each other on Instagram, somehow, in 2015.
Remaining just Instagram followers for two years, they started chatting only in 2017.
Since then, they were close and knowing each other through Instagram.
Through chatting, they decided to visit at John Party concert in Austin. So they first met face to face at Austin airport on 20th October 2017.
Since then, they began dating and got engaged. The pair have planned to get married in early May of 2020.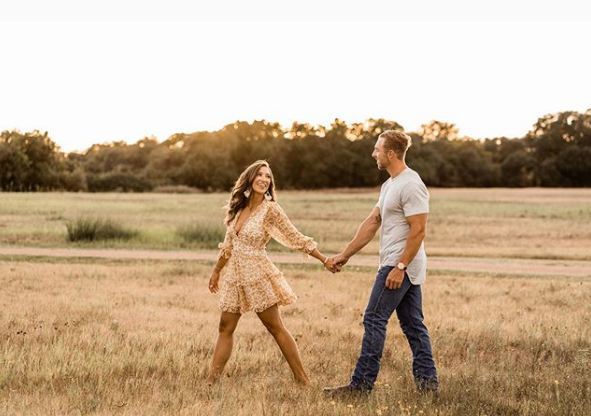 Nick Bare with her fiance Stefany Banda on 1st October 2019 (Source: Nick Bare's Instagram)
Introducing Stefany briefly, she is a graduate from Michigan State University with a degree in Journalism.
She has worked as a Social Media Manager at Rated Red and currently works as a blogger at StefanyBanda.com.