Mitch Albom Wife, Children, Family, Net Worth
Mitch Albom is a versatile personality who is prominent as an American author, journalist, screenwriter, radio and TV broadcaster, and musician. 
Best known as a world-famous author, he has written several worldwide bestselling books like Tuesdays with Morrie, The Five People You Meet in Heaven, For One More Day, Have a Little Faith, etc.
His books also hold well-known facts. Tuesdays with Morrie published in 1997, remained bestseller for four years in New York Times Bestseller list.
Today, the book has sold 14 million copies and has been translated into 41 languages. 
None will be surprised knowing Mitch's earnings in a million figures since he has incomes from various fields of his work. Stating precisely, he has a net worth of $10 million.
Mitch Albom's Bio: Age, Family
Mitch Albom was born on 23rd May in 1958 in Passaic, New Jersey. He was the middle of the three children born to his mother, Rhoda Albom, and father Ira Albom; his father was a US Air Force army. 
You May Like: Roxana Saberi Married, Husband, Boyfriend, Dating, Parents, Height
As of now, both of his parents have passed away. His mother died in 2015, and three years later, his father died on 8th December 2017 at the age of 88.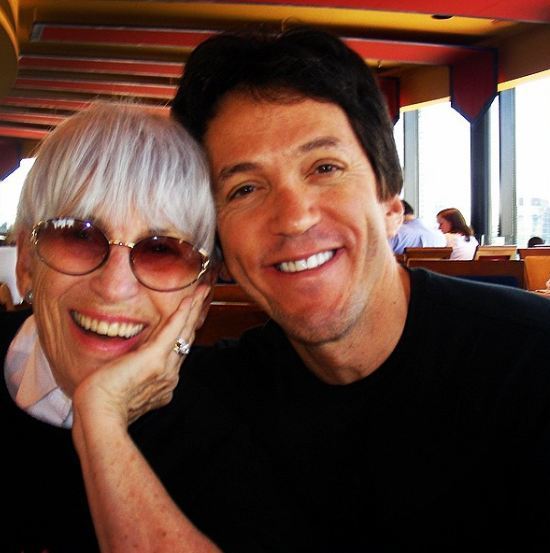 Mitch Albom with his mother, Rhoda Albom on a photo shared on 21st January 2015 (Photo: Mitch Albom's Instagram)
61-year-old Mitch remained very close to his parents throughout their life. He always adores and thanks his parents for all their support, care, and love that he got throughout his life.
Talking about his early life, he lived some time in Buffalo, New York, before his family settled in Oaklyn, New Jersey. Dreaming of becoming a cartoonist and fascinated by music, he grew up practicing piano and playing for bands. 
Amidst chasing his passions, Mitch has taken education in different fields. He graduated from Brandeis University in Waltham, Massachusetts, in 1979 with a degree in Sociology. 
Even though he graduated in Sociology, he followed his long-time passion and worked as a musician.
While working in the music industry in New York in his early twenties, he showed an interest in journalism and started working for the weekly newspaper, Queens Tribune.
Eventually, he ended up with achieving a Master's degree from Columbia University's Graduate School of Journalism, followed by an MBA from Columbia University's Graduate School of Business.
Mitch Albom's Wife & Children
Mitch Albom is happily married to the professional singer, Janine Albom. The couple is supportive and helping each other.
Amidst Mitch's busy career, his wife is always present in front of him to help in his work. Whether it is a fundraising campaign or other actions for his charities, she is always found standing with him.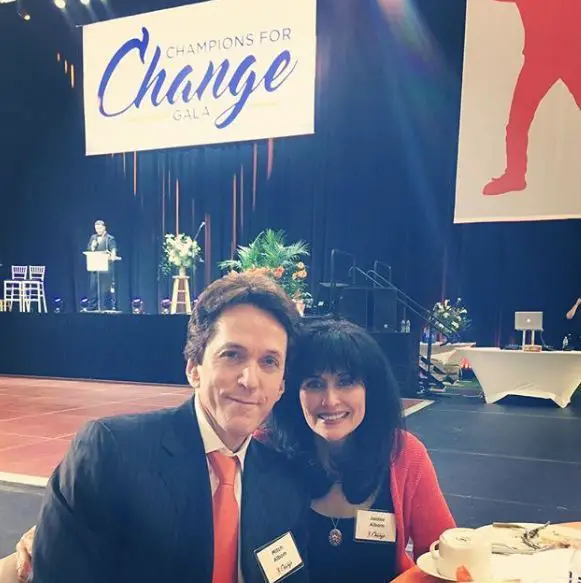 Mitch Albom with his wife, Janine Albom at Champions for Change Event on 14th May 2017 (Photo: Mitch Albom's Instagram)
Though the couple doesn't have any children of their own, they had a little girl named Madjerda "Chika" Jeune under their care and living with them.
Enjoy Reading: Vinnie Tortorich Married, Wife, Personal Life, Diet, Workout, Net Worth
Chika, born on 9th January 2010 in Haiti just three days before the country's massive earthquake, was one of the 50 children put under the care of Mitch's charitable foundation, Have Faith Haiti Mission & Orphanage.
In 2015, she was diagnosed with intrinsic pontine glioma (DIPG), a rare case of brain tumor.
She was brought to the USA by Mitch and his wife for treatment, and Chika underwent surgery in June 2015.
Though the couple tried hard to save her, Chika, unfortunately, died on 7th August 2017 after living for nearly two years with them as their daughter.
---