Whatever your educational background is, in the end, what takes you to the heights of success is the lead of your passion.
Michele Lepe attended St. Mary's University for her BBA degree in International Business, which led her to become an Account Executive for the largest Hispanic advertising agency.
However, the lady's passion for acting got her to take time out for her acting classes despite her battle with her clients like Western Union, Sprint, and Sunny Delight. Thus, Michele's passion for acting made her one of the most known faces of the Sprout Network.
Michele played the role of Nina on the Sprout Network's The Good Night Show which aired on television from 2006 to 2017. Apart from portraying a character, she served as the spokesperson for the network and also wrote many episodes for the show.
Besides The Good Night Show, Michele appeared on the show, Macy's Thanksgiving Day Parade for six whole years. Further, the popularity of Nina in "The Good Night Show" gave rise to the new animated show, Nina's World which aired on television on September 2015.
In the show, Michele voices the character, Mami, the mother of Nina. Apart from being the voice for the lead character's mother in the show, Michele is also the Executive Producer and Co-creator of the show, Nina's World. 
As of now, the show airs in Universal Kids owned by the NBCUniversal. 
Check Out: Danielle Robay Wiki, Age, Married, Salary
Michele's role as an actor earns her an average salary of more than $50K while as a producer, the lady earns more than $68K. 
Hence, all her works in her career undoubtedly guarantee Michele an incredible amount of net worth. 
Michele Lepe Married To Husband, Baby 
Michele Lepe got married to her husband on 4 November 2001. It seems like Michele's Mexican native husband doesn't like the limelight as he tries to stay away from Michele's famous image. Further, despite being married to Michele for nearly two decades, the man has not even revealed his name to the public.
However, his name doesn't matter as much as his love for his wife and family. And, Michele's Instagram profile is undoubtedly the evidence to their love for each other.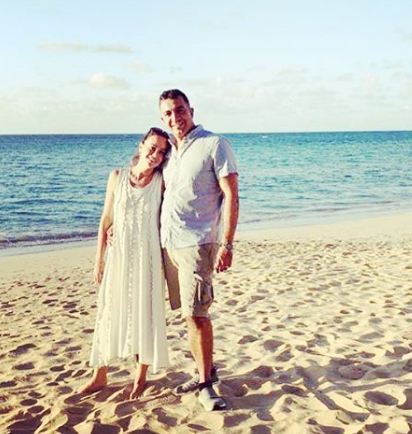 Michele Lepe poses with her husband during their beach vacation to the Dominican Republic on 9 August 2018 (Photo: Michele Lepe's Instagram)
Apart from that, Michele's children with her husband are supposedly the primary evidence to their endearing love for each other.
Michele and her husband have two daughters together. Their elder daughter is Gia while the younger one is Bianca. Baby Bianca was born on 1 September 2012, and the elder one Gia was born on 7 September 2010.
Michele's bond with her family is apparent in her Instagram profile, where she keeps sharing pictures of her husband and daughters.
In August 2018, the whole of Michele's family went to the Dominican Republic for their family vacation. Michele shared many pictures with her daughters and husband in her Instagram profile.
See Also: Stacy Washington Wiki Unveils Age, Married, Husband & Family | Details
Hopefully, the couple will be heading for more travels and vacations with their daughters in their coming days.
Age, Parents
Born in the year 1975, Michele Lepe is 43 years of age. The North Carolina born television host celebrates her birthday on 25 September every year.
Born to a Spanish mother and an American military father, Michele embraces mixed ethnicity. Further, when it comes to her mother's nationality, Michele's mother became an American citizen only in August 2016.
Being the daughter of a military father, Michele lived some years of her life in England and Spain, where she learned to speak English and Spanish respectively, in her initial childhood days. Later, her parents moved on to San Antonio, Texas where Michele spent most years of her childhood.