Melanie Craft is an American author and romance novelist who came to a profound spotlight after tying the knot to the billionaire software CEO Larry Ellison back on the 18th of December 2003.
The matrimony was special for a great many reasons. The ritual was conducted beside a waterfall at the moneyed groom's 45-acre Japanese-style compound in Woodside.
And, one of the attendees of the big day was none other than Steve Jobs, Apple Computer co-founder, and Larry's best friend - who did double duty, also serving as the wedding photographer.
Interesting Read: Nia Sioux Bio, Family Details, Boyfriend, What Is Her Net Worth?
Meanwhile, the then gorgeous bride: used to keeping her affairs away from the media and public eyes, has forever been an intriguing subject to her fans and admires. And no doubt they would love to know just about everything in her life!
Married Status
As expected, it looks like she is not much active on social media, making it hard to track her marital status in recent times.
Last heard, she was signing off from her married life with Larry, hubby of six long years.
According to the papers filed in a San Mateo County court, the pair parted ways after settling for divorce on the 9th of October 2010.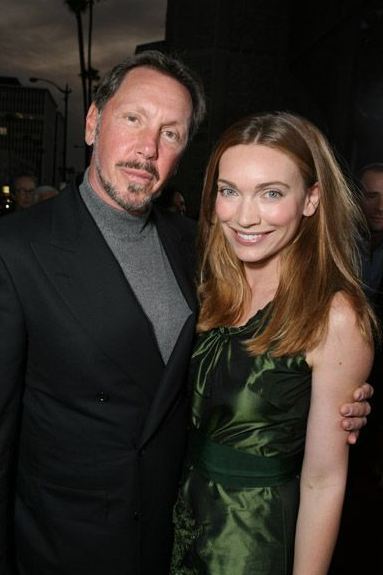 Melanie Craft and her husband, Larry Ellison (Photo: fanpix.famousfix.com)
It was quite unbelievable, the news to their split because they seemed so content with one another. This was what Melanie said, back in the days, about getting married-
We reached a point where we knew we would not be breaking up whether we got married or not, so it seemed to make it easier by just getting married.
It was Melanie's first time getting married, while with her, it was Larry's fourth one.
And, before that, Melanie was known as Larry's girlfriend for eight long years. Everything started after they met in a restaurant in San Francisco in 1995. And, it is said that Melanie was pursued by Larry, then listed in the 'Forbes-ninth-wealthiest man in America', while she was still with her boyfriend.
Get To Know: Is Sarah Magusara Married? Baby Daddy, Husband, Net Worth
And, now that it is all in the past and Larry is openly moved on with his yet another love interest, all the while being a parent to his two children- David and Megan Ellison who are film producers; we can only hope that Melanie too does the same.
Melanie Craft Wiki: Age, Net Worth
After the divorce, Melanie, 50, was speculated to have acquired big chunks of money as per the settlement from her "high-tech mogul" husband, who reportedly boasts a whopping net worth of $70 billion.
Nevertheless, what many might have no idea is that Melanie, even if she was not to "snag" a billionaire is capable of doing a lot by herself, be it yearning for a living herself.
An individual thinker, and determined writer, apart from a great many ventures of her, also makes money for writing her thoughts on romance.