Mary Joe Buttafuoco is an American author who gained widespread popularity after being shot in 1992 and featuring in several TV shows to share her story. 
She is known for her book named Getting It Through My Thick Skull: Why I Stayed, What I Learned, and What Millions of People Involved with Sociopaths Need To Know. 
She is also remembered for appearing in The Oprah Winfrey Show, Celebrity, The Dr. Oz Show, and 20/20. 
Age
Mary Jo Buttafuoco was born on 15th March 1955 in the United States of America.
Mary Jo Buttafuoco' Married Life & Children
Mary Jo Buttafuoco got married to Joey Buttafuoco on 4th September 1977. The couple has two children: son Paul and daughter Jessica Buttafuoco.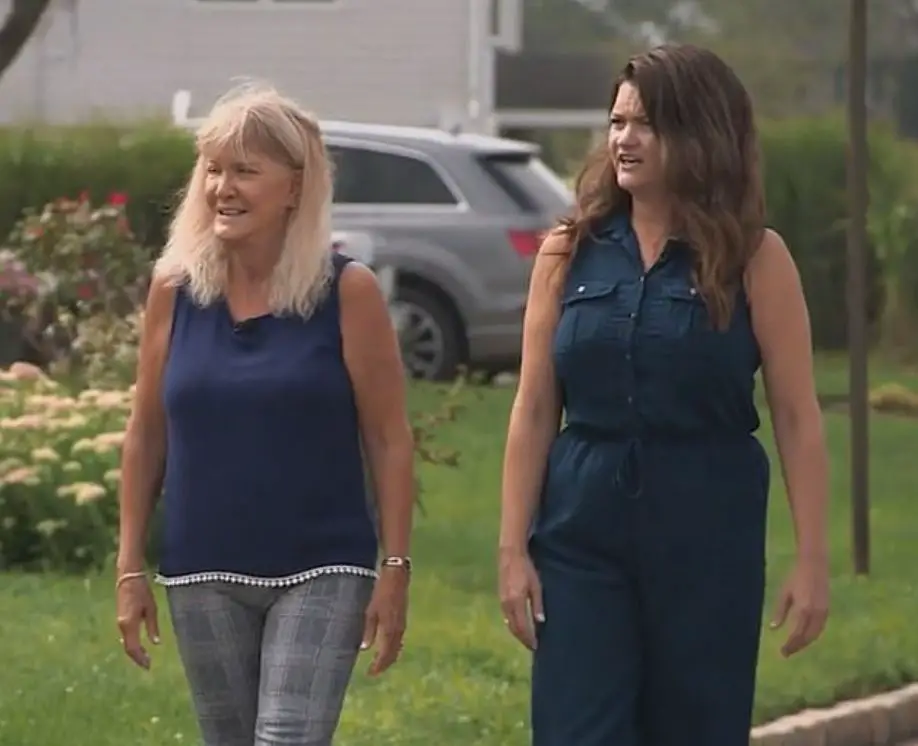 Mary Jo Buttafuoco with her daughter (Photo: 20/20)
Back then, during their married life, her ex-husband owned an auto body shop in Long Island, New York. While working there, Joey was involved in a sexual relationship with then-16-year-old Amy Fisher. 
You May Like: Devin Alexander Married, Husband, Boyfriend, Weight Loss, Instagram
In 1992, Mary Jo was shot by her ex-husband's lover Amy on the right side of the head, but she survived the incident. Years after upon a deteriorating relationship, the couple divorced on 3rd February 2003. 
Twenty years after being shot and recovering from it, Mary got married to print shop manager Stuart Tendler on 25th February 2012 in Las Vegas.
However, upon growing misunderstandings, this couple also divorced in February 2018; Stuart died on 10th November 2018 due to cancer.
Shooting & Injury Details
In 1992, Mary Jo Buttafuoco's ex-husband, Joey Buttafuoco, had an affair with Amy Fisher when she was just one month to reach 17. 
Amy, popularly called "the Long Island Lolita," became jealous of her lover's husband and tried to kill her.
Amy hired two men to murder Mary, but those men failed to do so.
Then, Amy went to Mary's home in Massapequa, New York, on 19th May 1992 and shot her in the head with a .25 caliber pistol provided by Peter Guagenti. 
Mary was injured on the right side of the head, but she miraculously survived the injury after nine hours of surgery.
However, the incident left her face partially paralyzed, one ear deaf and bullet still lodged in her neck after doctors became unable to take it out. This was a long-time physical and mental suffering for her and her children. 
After the incident, Amy was sentenced to 5 to 15 years of imprisonment on 2nd December 1992, whereas her gun provider, Peter, was sent jail for four months.
Joey was also found guilty fo statutory rape since Amy was underaged at that time and was sentenced six months jail. 
Where is Mary Joe Buttafuoco Today / Now?
After 27 years, several TV specials and tabloid stories have been released featuring the Buttafuoco family, making them and the incident celebrated. 
As of now, Mary Jo Buttafuoco has forgiven Amy Fisher. She has also written a book and featured in several TV shows about her sufferings and recovery. 
On the other hand, Joey Buttafuoco went to jail several times after the shooting incident. He remarried Evanko Franjko in 2005 and appeared in several movies and TV shows. As of 2019, he is working on a new film about his early life. 
See Also: Jane Velez-Mitchell Personal Life, Married, Husband, Partner, Lesbian, Now 
Interview of Mary Jo Buttafuoco about Amy Fisher
In an interview with Dr. Oz in his eponymous TV show in November 2017, Mary Jo Buttafuoco revealed that she had forgiven Amy Fisher for the betterment for herself and since Amy was a teenager when she did the crime.
She further said, "I don't have a lot of thoughts about her other than kind of a waste — she's kind of a waste."
Previously, Amy had also asked for forgiving her in the court.
Net Worth
Mary Jo Buttafuoco has earned a remarkable sum from her book and TV shows, but she has not revealed her exact net worth yet.