Marjorie Bridges-Woods is better known as the wife of the famous host/comedian Steve Harvey. She is also known as the Instagram star with more than 1.6 million followers. She has started the initiative The Lady Loves Couture to recognize the beauty needs of women and shows them how to lead a lavish life on any budget.
Moreover, she is an inspiration for many women due to her initiative apart from being a wife of the well-known personality.
Glimpse On Marjorie Married Life
Marjorie is a successful fashion designer who is better known as the third wife of the widely recognized television personality Steve Harvey. After being in a relationship for a couple of years, both tied knot on 25 June 2007. They both met at a Memphis comedy club in 1990, and started dating before splitting initially, but reconnected in 2005.
Marjorie and her husband Steve isn't blessed with children together but have seven children altogether from their past failed marriages. Marjorie has three children while Steve has four children from his past relationship including twin daughters; Karli and Brandi and sons; Wynton and Broderick Jr.
Marjorie and Steve share a close bond with all of his children and spends quality time with the family especially when they have an event to attend together.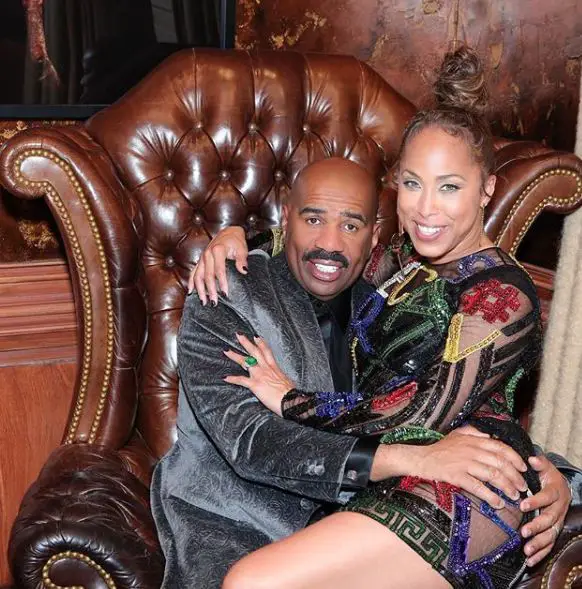 Marjorie with his husband Steve during National Cuddle Up Day back on 6 January 2018 ( Photo: Steve's Instagram)
After experiencing numbers of failed marriages, both Steve and Marjorie compliments each other and is compatible. 
Marjorie Woods Divorce Life
Marjorie Woods faced two failed marriages and both drug dealers before she ended up with Steve. Her first marriage was with Jimmy Townsend, a Memphis drug dealer who was later sentenced to life in prison. Later, she married the infamous drug dealer, Darnell Woods who was infamous Woods brothers, but their marriage did not last long, and they split.
Short Biography On Marjorie Bridges-Woods
Marjorie Bridges-Woods who possesses an African-American ethnicity was born on 10 October 1964; she is an American nationality in the United States. Other than that, her early information about childhood and her details about parents are missing except her mother's name, Doris Bridges.
Marjorie is a fashion icon and internet sensation with a global following. Due to the support of her husband she turns her passion into a fashion and lifestyle blog. She is mainly recognized as a comedian talk show/radio host Steve Harvey's wife.
Moreover, she is aware of the importance of education and issues face today's youth. A few years ago, she initiated, to begin with, her husband Steve and Marjorie Harvey Foundation. This helps to establish programs nationally and internationally to encourage quality in lives of children and their family.