For a military man, the nation's security and sustainability ranks as the utmost importance.
It is same for the former United States Navy's chief senior petty officer, Malcolm Nance, who served for the nation's wellbeing for two decades.
It was in 1981 when Nance took an oath to protect his country from potential threats. With the time passing by, Malcolm got himself involved in numerous counter-terrorism, intelligence and even combat operations.
Furthermore, Nance served as an instructor in wartime and peacetime Survival, Evasion, Resistance and Escape (SERE). He trained the Navy and Marine Corps pilots and aircrew to survive as a prisoner of war.
Finally, in 2001, Malcolm Nance hung his boots as a military man. In those 20 years, he did praise-worthy tasks to assure the security of his nation.
Malcolm Nance's Bio
Malcolm Nance was born as Malcolm Wrightson Nance on 20th September 1961, in Philadelphia, Pennsylvania. An American by nationality, he possesses African-American ethnicity.
Nance grew up in a military family as the ninth of 11 children to his parents. His father was a master chief petty officer, who served in the Army in World War I and World War II.
You May Also Like: Sophia Miacova Before And After: Age, Height, Family, Boyfriend, Dating
Besides, Malcolm's five brothers were in the Navy. American military reporter Lea Gabrielle also served in the United States Navy for many years before retiring. 
As of his academics, Malcolm enrolled at West Catholic Boys High School in Philadelphia.
Besides learning Spanish, French, and Latin languages, he took free classes in Russian and Chinese at South Philadelphia High School every Saturday.
Later on, Nance completed his graduation from New York's Excelsior College with a Bachelors of Arts degree.
Malcolm's Post-Military Career
After retiring from the Navy in 2001, Malcolm founded an intelligence support company, Special Readiness Services International (SRSI).
He continued his fight against terrorism serving as an intelligence and security contractor in Iraq, Afghanistan, the UAE, and North Africa.
Moreover, Nance has garnished his career as an analytical writer.
Some of his appreciable books on counter-terrorism and intelligence include An End to al-Qaeda, Terrorist Recognition Handbook, The Terrorists of Iraq, Defeating ISIS, and Hacking ISIS.
Personal Life: Wife's Fight Against Cancer!
The fact that Malcolm Nance was married has remained known for some time. However, the identity of his better-half is still a matter to be unveiled on social networking sites.
Though keeping his relationship life on a low key, Nance often posted wife related tweets on his Twitter account.
One such instance was on 27 July 2016 when Malcolm, with his bike-riding picture, captioned that his wife had won the debate.
Besides, it was clear from the article published on 18 April 2018 that his wife was battling with cancer with already phasing to stage 4.
Malcolm, via an interview with C-SPAN, also mentioned the fact that he and his wife had adopted three kids from Moscow, who were born in 1990, 1991 and 1993.
More From Marrieddivorce: Sandi Bogle Wiki, Age, Married, Boyfriend, Family, Net Worth
Furthermore, Malcolm confirmed having a daughter via his tweet on 25 April 2018.
Malcolm Receives Multiple Death Threats From ISIS!
In the year 2017, the former Navy server, Malcolm Nance received 50+ death threats from some RW site self-proclaiming as an ISIS member.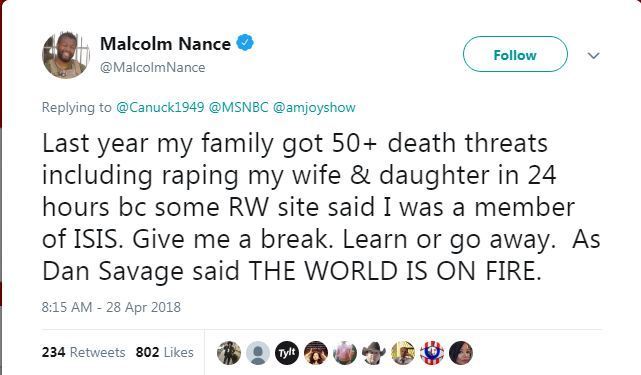 Malcolm Nance unveils past death threats from ISIS on 28 April 2018 (Photo: Malcolm Nance's Twitter)
Malcolm, through his tweet on 28 April 2018, flashed about the incident stating the threats were even to rape his wife and daughter in 24 hours.
It could have been the bluff threat as nothing disastrous is reported to have ever taken place in his low-key personal life. 
Wife's Death
After the long battle against ovarian cancer, Malcolm's wife said her goodbye to this world on 11th September 2019. 
After losing his wife he wrote an eloquent and moving message and said his wife was a brilliant landscape architect, devoted mother, fierce patriot, a proud Navy wife and one great-great love of his life. 
See Also: Faith Jenkins Married, Husband, Family, Bio, Salary, Age
No one can fill the space of his wife's place in his heart but hopefully, he overcomes the pain.
Even on his Twitter account, he sent the condolence to his wife and wrote a heartful message for her.