The inspirational woman, Lisa Borders, was born on 25th November in the year 1957 as per her bio. 
She grew up in a family that had great respect from society for their social causes.
Her grandfather, Rev. William Borders, was a civil-rights pioneer who worked alongside Dr. Martin Luther King Jr whereas her father practiced internal medicine for the welfare of society. 
Hence, she acquired proper education as her family inspired her to learn and gain knowledge. 
Besides empowering women, Lisa, age 61, is also a supporter of gay rights and equality; she even waked in 'Pride Parade' in New York on 26th June 2016.
Lisa Borders' Personal Life: Husband, Son's Allegation
Lisa, who is currently a single mother separated from her husband when her son, Garry "Dijon" Bowden Jr., was only 2-year-old.
She raised her son through a lot of hardship so that she can provide him proper upbringing. 
Lisa's ex-husband was a medical student with whom she moved to Boston after getting married.
Read More: Stephen Ringer Bio, Net Worth, Wife, Parents
Moreover, the details of Lisa's ex-husband was also known through a couple of Instagram posts from Garry regarding his reconnecting with his father.
The posts revealed how Garry met his father and his feelings of being alone during his childhood as he grew up with his mother, who was busy most of the time in her work.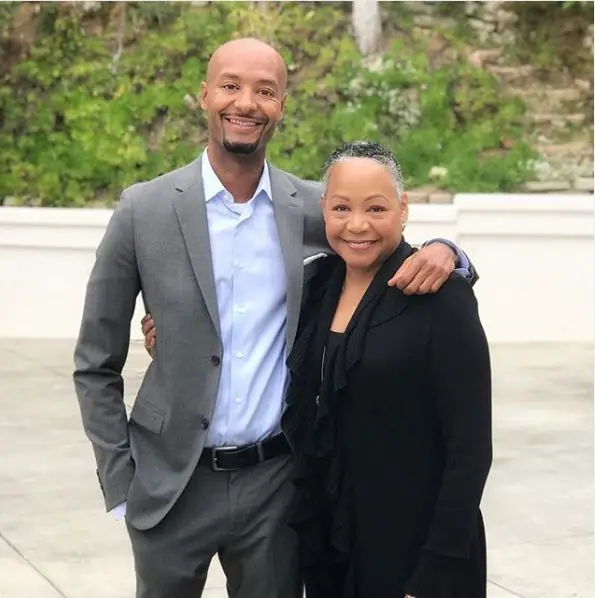 Lisa Borders and her son, Garry "Dijon" Bowden Jr., posing for a mother-son picture on 10 January 2019 (Photo: Garry "Dijon" Bowden Jr.'s Instagram)
Moving on, Lisa's son, Garry, is a podcaster and life coach, which is his professional career as well.
However, he was recently accused of sexually assaulting yoga instructor, Celia Gellert, after she agreed to his offer of 'healing session.' 
Celia stated in her allegation that Garry groped her, kissed her neck, and brushed his erect penis on her body during the session. 
But Garry, who did not agree to the allegation made on him, told that he made no inappropriate touching to her.
Moreover, he also showed a message that was sent by Celia, thanking him for the massage, which was "gentle and authentic and loving." 
After hearing the news of her son, Lisa immediately resigned from her CEO position of Time's Up to defend her son, Garry, in February this year.
As of now, the final verdict is yet to be heard, which will surely reveal the truth. 
Net Worth / Salary From Career
Lisa Borders is one of the most inspirational women who has always come forward to boost women and helped them achieve greater heights. 
In the process, she served as the President of the Women's National Basketball Association (WNBA) and Vice President of Global Community Affairs at The Coca-Cola Company.
Interesting: Lynette Nusbacher Wiki, Spouse, Gender
Besides that, she has worked as president of the Atlanta City Council of Atlanta, Georgia from 2004 to 2010 after she was elected through a special election.
Although she has changed her organization and roles in them, her goal remains the same, to encourage women and provide a platform for fighting for safe, fair, and dignified workplaces for women. 
With her long-working career, she has achieved success, fame as well as decent net worth. She is celebrated by many independent women today. 
Speaking about her net worth, Lisa has kept her total net worth confidential from the public
However, she surely has earned a decent fortune, in fact, more from her long working period at Atlanta City Council where the average salary of the CEO is $149K per year.