Popularly known as a wife of an American TV producer Nev Schulman, Laura Perlongo is equally a professional freelance copywriter and creative director. Prior to that, she had worked as a staff writer for Haute Living Magazine.
Moreover, she has also gained reliable Instagram followers with more than 200K followers. 
Laura Perlongo's Bio, Age
Laura Perlongo was born in the United States on 6 September 1985. She graduated from Boston University in 2007 with a degree in Commercial Advertising Art and Social Psychology. 
Married & Engaged Details
Laura Perlongo and her husband, Nev Schulman, got married on 22 July 2017. Before exchanging wedding vows, the couple had a quiet romantic dating life, and in the midst, they even faced ups and downs.
Explore About Producer: Shane Farley Married, Divorce, Girlfriend, Dating, Family, Age, Net Worth
Laura and Nev first met through social media account Instagram. Nev started following her, and she also followed him back, but the first real interaction came much later.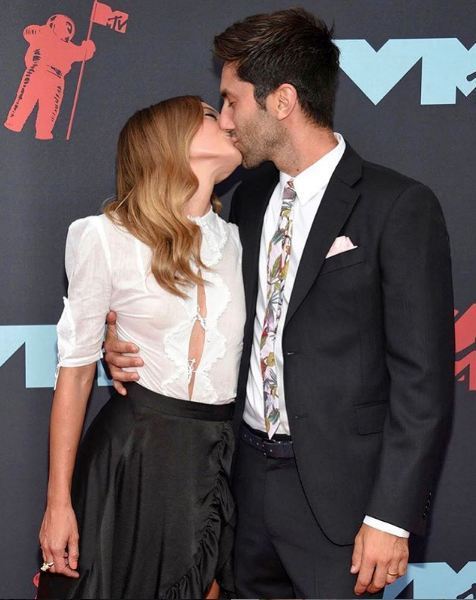 Laura Perlongo with her husband Nev Schulman on 27 August 2019 (Photo: Laura Perlongo's Instagram)
In June 2015, Nev posted a picture of his new dirt bike with the caption, 'Wanna go for a ride?' After then, he received a notification from Laura saying, "ha duh," followed up with, "But I wore a skirt today without panties." Although Laura thought her response was a flirty way to decline, Nev, on the other hand, knew it was a go. He pulled up to Laura's work to take her out, and interestingly he even brought a pair of underwear for her. 
With the new spark, they rode to Brooklyn, and Nev fell hard and fast for Laura. However, at first, Laura didn't exactly feel the same, which led them to take a break. Their break only lasted for two months. They somehow rekindled their relationship, and soon pregnancy, engagement, and a wedding followed their relationship.
Husband Nev Schulman
Laura's husband, Nev Schulman, born in New York City on 26 September 1984, is an American TV host and producer best known for the 2010 documentary film Catfish: The TV Show on MTV.
Also Read: The Bachelor's Lesley Murphy Gets Engaged! Meet Her Fiance
He is of German Jewish, Russian Jewish, Polish Jewish, and Romanian Jewish descent. He is also a younger brother Marek Ariel "Rel" Schulman, an American actor, film director, and producer.
Children Details
Laura and Nev are the parents of two children. The couple welcomed their first baby daughter, Cleo James, on 21 October 2016 and their second child, Beau Bobby Bruce, on 9 January 2019.
Interesting Facts
At Laura's wedding, she wore a lace embroidered bodice and a flowy skirt with a boho fishtail braid designed by Inbal Raviv. On the other hand, her husband, Nev, wore a white suit jacket and black bowtie. 
After the wedding, Laura and Nev's first dance took place near Long Island's pool.
Laura's husband stands at the height of 6 feet 1 inch (1.85 meters).