Kathryn Adams Limbaugh is in all grief after losing her husband, Rush Limbaugh, to lung cancer in February of 2021. Rush Limbaugh & Kathryn Adams' wedding of a decade faced rumors of cheats, a broken marriage, cancer diagnosis, and many more. Here's a story on Kathryn Adams Limbaugh's Bio and dating history.
Kathryn Adams Limbaugh's Wiki (Bio)
Kathryn Adams Limbaugh, also known as Kathryn Elizabeth Rogers, was born in Massachusetts, United States. Growing up, Kathryn often moved around with her family because of her father's career as an international businessman. She spent her early life worldwide, including places such as Rio de Janeiro, London, Guinea-Bissau in Africa, the Philippines, and Hawaii.
More Of American Conservatives: Ben Domenech [Meghan Mccain's Husband] First Wife, Now
Kathryn Adams' date of birth is 19 December 1976. She is a direct descendent of the United States President and "founding father" John Adams. Kathryn's father, Richard Rogers, attended the United States Naval Academy in the same class as the late Republican presidential candidate, John McCain.
Kathryn Adams Limbaugh Weds Rush Limbaugh after Dating For Six Years
Kathryn Adams met Rush Limbaugh in 2004 as Rush was concluding his third marriage to Marta Limbaugh. At the time, Kathryn was organizing an annual celebrity charity golf tournament, and Rush was one of the competitors. Later, the two began seeing each other.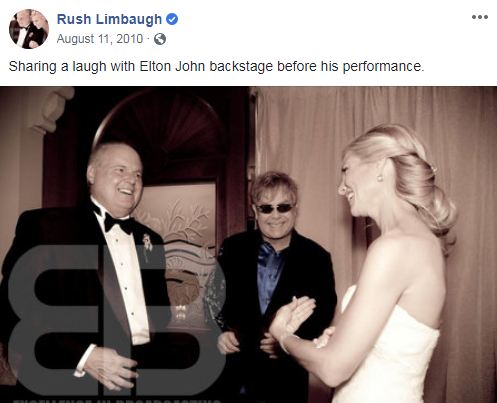 Kathryn Adams Limbaugh and her husband, Rush Limbaugh, with Elton John on their wedding day on 5 June 2010 
Kathryn Adams Limbaugh got married to Rush Limbaugh on 5 June 2010. As the couple exchanged the wedding vows, Elton John gave away his soulful melodies to the 400 audiences in a very private ceremony in Palm Beach, Florida. 
Kathryn faced cheating allegations from the media; however, her husband quickly denied all the rumors. Kathryn & Rush lived a happy wedded life for more than a decade until she lost her husband to lung cancer.
Kathryn Adams Limbaugh's Husband Rush Limbaugh Dies Of Advanced Lung Cancer
On 3 February 2020, Kathryn Adams Limbaugh's husband, Rush Limbaugh, shared with his radio audience the news that he has been diagnosed with advanced lung cancer. He then explained that his planned-medical treatments might cause him to miss some shows in the future: the one that he has been hosting for more than three decades.
Keep Reading About Another Conservative Radio/TV Personality: Chris Salcedo Wiki, Married, Family, Net Worth
Shortly after the announcement of the diagnosis, news of Rush Limbaugh was made public. Rush Limbaugh died on February 17, 2021. 
More Facts On Kathryn Adams Limbaugh
As per Radar Online, back in 2017, Kathryn and Rush faced infidelity rumors, after Kathryn was accused of cheating on her husband; however, the tabloid newspaper later added that Rush had denied the rumors.

According to Celebrity Net Worth, Kathryn's husband, Rush, values a net worth of $600 million.

Together with her husband, Kathryn co-authored several books, including children's series, Adventures of Rush Revere. The first book was published in 2013, and the 5-part of the series became a New York Times bestseller.